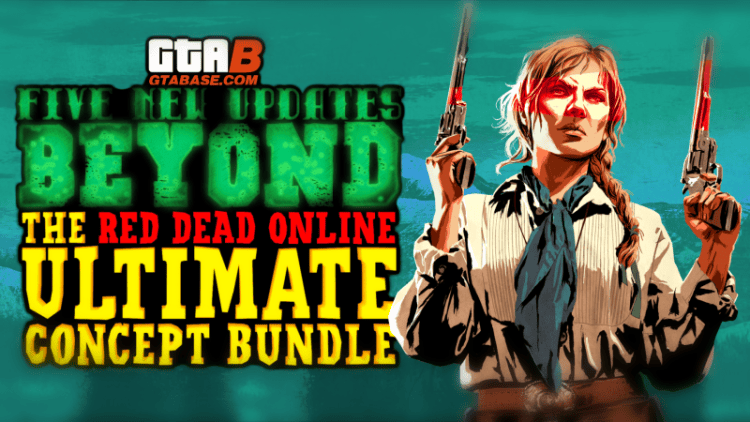 Page 4 of 7
Update 14: "Dancing with Devils"
Seasonal Changes and Events:
The bank and government buildings in Blackwater have been completed, and significant progress has been made on the train station and railway line.
Thieves Landing has grown into a full-sized town, much akin to how it is seen in Red Dead Redemption. It features a general store, fast travel post, fence, butcher and bar.

Much like in RDR1, Thieves Landing will not host any Law Enforcement, and any violent actions will only be retaliated against by locals. The law will not follow players into the town from elsewhere either, making it a local safe haven.

County Fair – Emerald Ranch:

Marstons, MacFarlanes and Geddes' all partaking in the events.
Works much like the County Fair seen in the 'The Art of the Trade' update, with most of the stalls being across the bridge to the West of Emerald Ranch or just South of the barn.
There is now a food stall with some picnic tables, selling unique consumable items which each offer II Fortified gold cores:

Hot dogs (Health)
Popcorn (Health)
Cotton candy (Stamina)
Lally Cola (Stamina and Deadeye)
Rusty Brew (Health and Stamina)
West Dickens' Special Horse Medicine (Horse Health)
Prize Carrots (Horse Stamina)

Live events:

Cutscene: On the first week of the season, players are immediately taken into a cutscene at Emerald Ranch, in which the Marstons, MacFarlanes and Geddes' are all preparing their cattle for the new seasonal County Fair. The player is brought to their stall where they can display whichever animal they choose if they own a Ranch.
Event: On the third week of the season, and persisting on, three new random encounters can be seen around the County Fair:

The Geddes prize bull will escape its pen, pulling ranch hands across the fair and breaking the fence of the Emerald Ranch sheep pen.
A disgruntled fair employee will sneak into the MacFarlane stall to poison their display chickens, but Drew will catch them and throw them over the fence.
Uncle can be found asleep, face down in cow muck in the Marston stall. Abigail will kick him in the leg to wake him up angrily, but burst into laughter when she sees his face.

Event: Half way through the season, a man in a suit can be seen lurking near the Marston family stall each day. They will persist here until the rest of the season, and sometimes take notes.
Cutscene: On the final week of the season, a cutscene will play showing John and his family sitting around the lounge in their ranch, which is suddenly interrupted by ten US Marshalls bursting through their doors and arresting them all. John puts up a struggle and is knocked out. Cut to Cochinay, where Dutch is seen shaving his beard seen in the RDR2 epilogue to match his RDR1 appearance more. One of his followers asks what they're going to do about government agents moving up on them to which Dutch utters the phrase: "Don't you worry my boy, I have a plan."
"No Serendipity Here" Storyline Progression:
This next part of the storyline sends the player on the hunt for 'Esteban Lozano' after finding out he ordered Zoe Rosales' death. This eventually will lead into the events of the Guarma Heist. The scripts for these missions can be read by clicking here.
Chapter 9: The Father
Chapter 10: The Son
Chapter 11: The Holy Spirit
These lead into the first playthrough of the Guarma Heist.
Guarma Heist:
First playthrough revolves around saving Sadie with the help of "Coates" – A criminal with a pet Monkey, "Horatio" in Tumbleweed. Further Heists will simply involve stealing loot.
Three boat approaches: Beach, Fort and Town. Each have their own set of loot, guards and challenges.
Setup requirements:

Intelligence - Map, Loot, Guard Patrols
Difficulty - Disrupt Weapons, Disrupt Provisions
Approach - Locate Boat, Locate Captain, Locate Explosives, Make Deal with Buyer
Stealth - Disguises, Keychains

Functionally similar to Cayo Perico in terms of loot and gameplay, however players will use their own weapons.
Five primary targets, randomised:

Yara's Amulet ($8000)
King's Lance ($9500)
Golden Skull Rose Tequila ($10,000)
The Soul of the Ocean Sapphire ($12,000)
(Special Event) The Crown of Guarma (60 Gold)

Six secondary targets, can be found in other locations:

Cash (Up to $2500 carried in bag)
Gold (Up to 7 bars carried in bag)
Capitale (Up to 30 notes carried in bag)
Rare spices (Up to $2000 worth of spices carried in bag)
Gemstones (Up to $3000 worth of gems carried in bag)
Rare flora (Up to $2250 worth of flora carried in bag)

Fleeing captives will also net players an extra $400 per prisoner. First playthrough, Sadie will be the only captive and will make a remark to the player before fleeing. She will offer a first-time bonus of $1250.
Dance Parlour Social Space:
A new social space has opened up in Blackwater: The Diamond in the Rough Dance Parlour!
The Dance Parlour offers special drinks with unique benefits, a dance floor in which players can dance by themselves or with a partner.
There is a live band playing songs from moonshine bars, general saloons and the RDR2 score.
Here, all of the Stranger contacts of Red Dead Online will cycle round each week offering players their usual missions but with a 2x RDO$ and Gold bonus.
Miscellaneous Changes and Additions:
Outlaw Pass: Outfits themed around dancing and jazz mostly tuxedo variants and such, some Guarma clothes inspired by the workers. Halberd weapon and Sadie's iconic yellow-shirt outfit.
Halberds are a new two-arm melee weapon in which players can throw slower, heavier attacks.
Added a variation of new lines to 'Blind Man Cassidy', including:

"Dance like there is no tomorrow, because there may not be one."
"What you reclaim may not last forever."
"Family is all some of us have. For others, not even that."
"Careful, for nostalgia is a killer."
"The prisoners you flee. They are grateful."
Justification:
People have been asking for a proper return to Guarma for our Red Dead Online characters in a special heist since Cayo Perico released for GTA Online, so tying it into the storyline allows a natural progression into the Heist whilst keeping it as a form of endgame content. Having the Cayo Perico-style setup and finale also helps keep it separate from the rest of the heists within Red Dead Online, and the ability to free captives helps it play into the honour system too.
The growth of Thieves Landing, and other areas, helps us naturally move the world further forward as we reach the time period of the first Red Dead Redemption game. It also provides a safe haven for players to fight and play as much as they like without having to worry about interference from the law.
It has been a while since we had the last County Fair, and the world of Red Dead Online has grown tenfold since it came around. That's why I felt it would be fun to bring it back with all of the new ranchers across the Frontier. Instead of having a few missions related to this one, I felt it would be easier to just have some live events surrounding the area. Not to mention, all of the new consumable foods were already available during this time period - be sure to stock up on them, however, because they won't be available until the next County Fair!
The Dance Parlour is RDO's answer to the nightclubs and Music Locker in GTA Online, whilst offering rotating reward boosts for stranger missions, which at this point in time of my Red Dead Online roadmap would perhaps be racing minor redundancy with all of the content available. Helping keep the older cash methods relevant keeps the gameplay fresh and a lot less repetitive – After all, without this, chances are nobody would be playing these missions.
The seasonal events focusing on the arrest of the Marston family brings the timeline forward, giving additional context to the trauma John Marston faced between the titles and adding more to his tragic backstory.