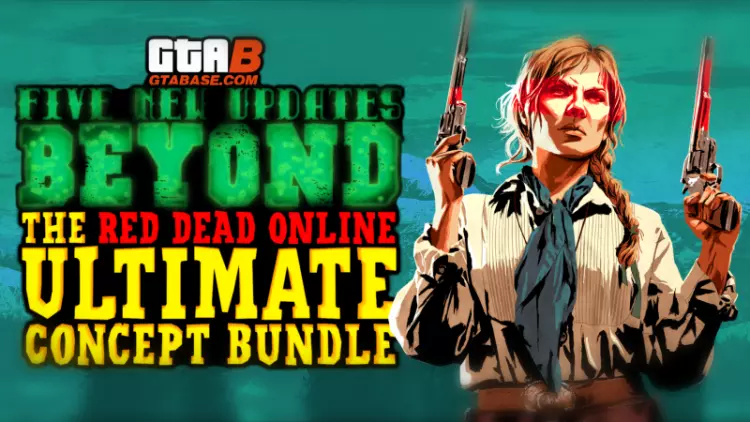 Page 3 of 7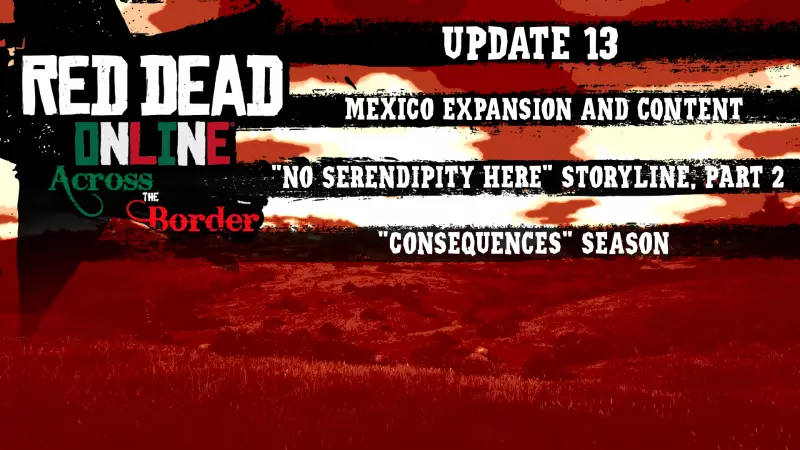 Update 13: "Across the Border"
Seasonal Changes and Events:
Bridges and such have been built between USA and Mexico area, crossing over the San Luis River.
Ross and Fordham's investigation on John can now be seen with new collectable documents scattered across the map. Uncover all 20 pieces of evidence to catch up on the investigation.
Live events:

Cutscene: The first live event takes three weeks into the season. Edgar Ross is standing over a grave in Saint Denis. He speaks of pursuing John, and planning on using him to get justice against Dutch. Fordham joins him for a minute, before they leave together.
Cutscene: The second live event takes place in the Blackwater general store, three weeks later. In this cutscene, Abigail Marston is shopping. She's approached by a woman, who proclaims herself to be Jemima Milton. She tells Abigail of her years without her husband, and how she will never forgive her. Abigail threatens Jemima before leaving the store.
Cutscene: The third and final live event takes place at the end of the season, showing Javier Escuella meeting up with Captain de Santa at El Presidio. He tells him to pass his thanks to Allende for allowing him back into the country in order to hide from Van Der Linde prosecution.
Mexico Expansion:
RDR1's Mexico area is now fully explorable and interactive in Red Dead Online, with each of the currently available properties having new locations in the region. Including:

A bounty board in each town with new regular, Legendary and Infamous bounties
Two Moonshine Shacks, in the South and East
Two Lodges, in Escalera and Casa Madrugada
One Estate in Escalera.
Eight new player houses of varying sizes across the country.
Two Ranches in the centre of the region and to the East.
One Treasure Vault in Las Hermanas.
One Dungeon in El Prisidio.
Three Safehouses in Escalera, El Prisidio and just south of Las Hermanas.
One Logging Facility between Casa Madrugada and El Prisidio.
Three Warehouses in Escalera, Chuparosa and Casa Madrugada.
Twenty hidden grotto locations with new presets to match the environment.
Ten tomb locations with new presets to match the environment and culture.
Two new 'Gus' trapper store locations.
Two new Harriet Davenport tents.

The new bounties include:

Legendary:

Fernando Alvarez – The Rebel

1 – 4 players
Planning to overthrow El Prisidio, rebel leader Fernando Alvarez is wanted dead or alive. Help defend the fort from his men, and take down Fernando.
Completing this will unlock the 'Mexican Rebellion' poncho.

Julian Maxwell - The Priest

1 – 4 players
Julian Maxwell has been seen down by the San Luis River claiming to "baptise" his followers, but has reportedly been drowning anybody he proclaims to be a sinner. He claims only God can judge, and now he is about to find out.
Completing this will unlock the 'Holy Cross' belt charm.

Infamous:

Escalera: Alvarez' Lieutenants – Three people. Wanted for treason.
Chuparosa: Perez Sisters – Six people. Wanted for train robberies.
Las Hermanas: Pig Josh and his Brutes – Nine people. Wanted for robbing nuns.
Casa Madrugada: Ugly Chris' Gang – Five people. Wanted for extortion of hotel guests.
El Prisidio: Defectors – Four people. Wanted for stealing weaponry and ammunition.

The region also has a variety of new spawns for all ingame collections
The region has a collection of new Strangers:

Captain Vincente de Santa: Low honour missions, Blood Money contracts. Based in El Presidio.
Victor Melendez: Low honour missions. Based in Tesoro Azul.
Abraham Reyes: Low honour missions. Based in Casa Madrugada.
Luisa Fortuna: High honour missions. Based in Chuparosa.

The region supports new flora:

This is including a special "Mexican Flower" collection for Madame Nazar:

Mexican Sunflower
Laelia Orchid
Mexican Honeysuckle
Mexican Marigold
Chocolate Cosmos
Dahlia
Birds of Paradise

The region supports new fauna:

Axolotls
Mexican Rattlesnakes
Anteaters
Ocelots
Prairie Dogs
"No Serendipity Here" Storyline Progression:
This chapter of the 'No Serendipity Here' storyline takes the players into the land of Mexico on the hunt for justice for Zoe Rosales. You can read each of the missions by clicking here.

Chapter 5: Una Tierra Extranjera
Chapter 6: Enfrentamiento Mexicano
Chapter 7: Alma de la Fiesta
Chapter 8: El Alto Castillo
Miscellaneous Changes and Additions:
New Spanish and Mexican-themed set of songs for Moonshine bars.
New Spanish and Mexican-themed decorations for Estates, Lodges and Houseboats.
Three new 'Call to Arms' maps have been added:

Chuparosa
El Prisidio
Las Hermanas

Outlaw Pass mostly has traditional Mexican styled clothing on the free path and clothes more inspired by Pinkertons and Private Eyes on the paid tree.
Players can now swim and boat across the San Luis River without being killed by the drown barrier.
Added a variation of new lines to 'Blind Man Cassidy', including:

"These words, I do not know them, but they are said in spite."
"The father angers, the mother seethes."
"She will be taken, soon."
"I see a land of tropics, once again. And I see you, leaving."
"Hey! Hey! Horatio! Put that down!"
Justification:
Everybody has been asking for Mexico to be added to RDR2 for a long time, but we'd need something to do there and a reason to cross the border. Naturally, I wanted all of my existing content from the Ultimate Concept Bundle to fit into the region to help pad out the area a little. Adding some new Mexican-themed styles to my currently-existing content helps make the area feel like a natural addition, too.
The live events showing some of the fates of the characters in RDR2 helps bridge the gap between titles. Closing up Milton's story and showing Javier move back to Mexico is a solid way to pad out their stories with additional context.
Having some bounties and contacts in the region helps bring back fan-favourite characters whilst introducing a small amount of new content to help the area feel fresh. I didn't want to add too much new content outside of the storyline, however, as adding the region is already a large undertaking for the developers.
Continuing the "No Serendipity Here" storyline to take our characters across the border felt like the smoothest way to introduce the country. Adding new bounties and strangers across the region also helped make it feel like a worthwhile journey. To keep within the theme, I gave each of the new story missions a Spanish title related to their events.