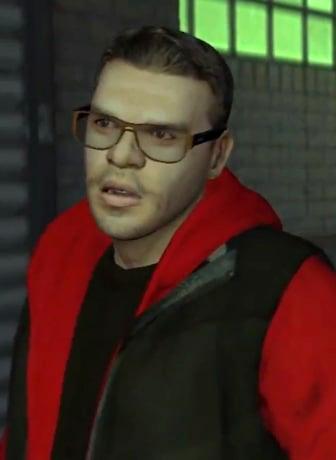 Henrique Bardas appears as a Major Character and Friend in GTA IV: The Ballad of Gay Tony.
Henrique and his constant companion Armando Torres, are two of Luis' oldest friends.
The trio are said to have grown up together, gone to school together, and got in a lot of trouble together. After Luis' departure, the trio became a duo, Henrique filling the role of the dumb muscle.
Henrique's IQ is said to be 76, and is therefore considered borderline retarded. However, he is intelligent enough to know what is wrong or right and often times acts as the peacemaker when Luis and Armando argue.
Friendship Activities
Henrique is one of Luis' great friends. Henrique can be taken on friend activities by Luis.
Friendship Rewards
Henrique can be called to deliver vehicles to Luis. As the game progresses, more vehicles are available.
Henrique Bardas: Character Info
Game Edition

GTA IV: The Ballad of Gay Tony
Role in TBoGT

Major Character

Friend

Gender

Male

Born In Year

1983 (25 years old in 2008)

Nationality

Dominican RepublicUnited States

Occupation

Drug Wars; Drug Dealing; Weapon Dealing

Location

Governor Greg Johnson Projects, Northwood, Liberty City

Vehicles

Cavalcade FXT

Also Known As

H; Rique
Performer / Actor

J Salome Martinez Jr.
Henrique Bardas: Appearances
As Mission Giver

In Story Missions
Henrique Bardas: Videos