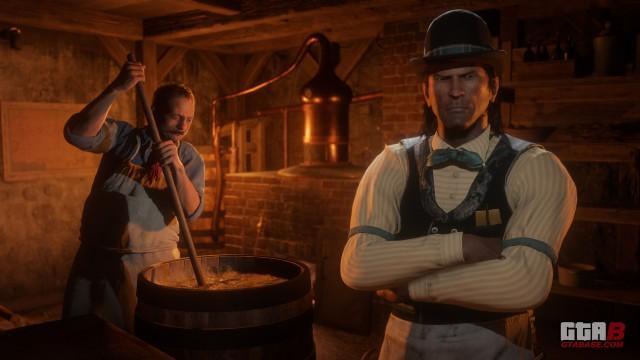 Associated Role

Online Price

$625.00 or

25 Gold Bars
Red Dead Online Moonshine Shack Guide:
The Moonshining Shack is the first purchasable property in Red Dead Online, as part of the Moonshiner Frontier Pursuit Role. Establish your own bootlegging business and run your own speakeasy. Unlock unique role-specific skills as you perfect your distillation methods, avoid the law, and put rival peddlers out of business.
Any Trader who has completed a Sell Mission or reached Rank 5 in the Trader progression will receive an introduction via Cripps to meet the infamous distiller Maggie Fike down at Emerald Ranch. She will help you get your Moonshine Business up and running - from a choice of 5 locations.
The main floor will act as a homestead front, while the business distillation takes place in the basement. You can also set up an Underground Bar serving your own shine, with customizable décor and the option to add a country band complete with dance floor to entertain your friends and clientele.
You'll also work with Maggie through a series of Moonshine Story Missions to be played solo or cooperatively, as you build your business and help Maggie get revenge on those who tried to take her down.
Moonshining Shack: Locations & Prices:
How much does it cost to start the Moonshine Business in Red Dead Online?
The cost for purchasing a Moonshining Shack is 25 Gold Bars, regardless of the location selected.
You can purchase a Moonshining Shack by choosing one of these five Locations:
How To Change The Location of the Moonshine Shack
If you want to change the location of the Red Dead Online Moonshiner Store after purchasing, you can move your Shack by using the "Camp & Properties" options in the Player Menu for a price of $250.
Moonshine Shack: Upgrades & Improvements List
After setting up the Moonshine Business with a cook and equipment, you'll be able to customize your Moonshiner Store.
This is the list of Upgrades and Improvements that can be added to the Moonshining Shack:
ITEMS
Flammable Moonshine (2 Role Tokens + $20 + Moonshiner Role Rank 5)

Highly potent alcohol that can be poured and set alight. Not suitable for consumption.

Toxic Moonshine Bottle x1 ($5)

Creates a cloud of toxic fumes on impact, choking and disorienting enemies.

Toxic Moonshine Pamphlet (1 Role Token + $500)

A pamphlet recipe on how to craft Toxic Moonshine.
BUSINESS UPGRADES / Equipment
Condenser Upgrade (2 Role Tokens + $825 + Moonshiner Role Rank 5)

Allows the operation to produce average strength Moonshine. This will attract more patrons to the bar.

Polished Copper Upgrade (3 Role Tokens + $875 + Moonshiner Role Rank 10)

Allows the operation to produce strong Moonshine. This will attract more patrons to the bar.
This is free of charge for Twitch Prime members
Shack EXPANSIONS
These are the Expansions you can add to the Moonshiner Store:
Bar Expansion (1 Role Token + $950)

Remodel the basement to include an Underground Bar.

Band Expansion (2 Role Token + $850 + Moonshiner Role Rank 5)

Expand a section of the bar to add a Country Band. You and your friends will also be able to play in the band as well!

Bar DECOR
Basic Décor (Free)
Floral Décor (+15 Gold Bars)
Hunter Décor (+15 Gold Bars)
Refined Décor (+10 Gold Bars)
Gothic Décor (FREE - Halloween Pass)
Bar PHOTOS
O'Creagh's Run Photograph (+$150)
Dockyard Photograph (+$200)
Estate Photograph (+$175)
Rio Bravo Photograph (+$165)
Chapel Photograph (+$260)
Buck Photograph (FREE - Outlaw Pass)
Fox Photograph (FREE - Outlaw Pass)
Bear Photograph (FREE - Outlaw Pass)
Elk Photograph (FREE - Outlaw Pass)
Dawn Elk Photograph (FREE - Outlaw Pass)
Naturalist Photograph (FREE - Outlaw Pass)
Falls Photograph (FREE - Outlaw Pass)
Emerald Ranch Photograph (FREE - Outlaw Pass)
Hunting Cougar Photograph (FREE - Outlaw Pass)
Screenshots
Artworks
Video