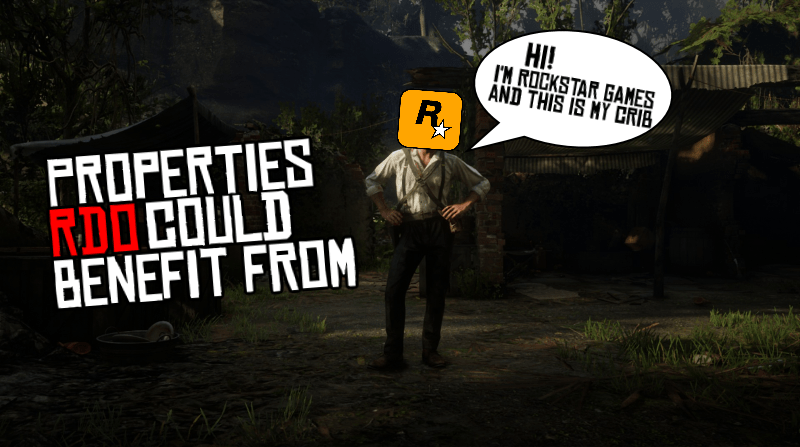 The History of Owning Land
Last December, Red Dead Online got it's first purchasable property, the Moonshining Shack - and it was certainly cool to open your own speakeasy and drunkenly jam with your mates on the band stage. However, it still left quite a lot to be desired. Players wanted to really live in their home, they wanted a wider variety of properties. They wanted them to be bigger, more expansive, and definitely a lot more profitable.
The original intent for Red Dead Online was to "live rough" out in the wilderness and survive in your Camp, but it's apparent that Rockstar are taking a new direction of having our online characters evolve over time, growing their empire.
Here, I've compiled a list of five new different properties that would allow us to do this, along with possible locations and gameplay features that they could pack to keep the game interesting and fun.
1. Stable / Ranch (20 Gold / $500)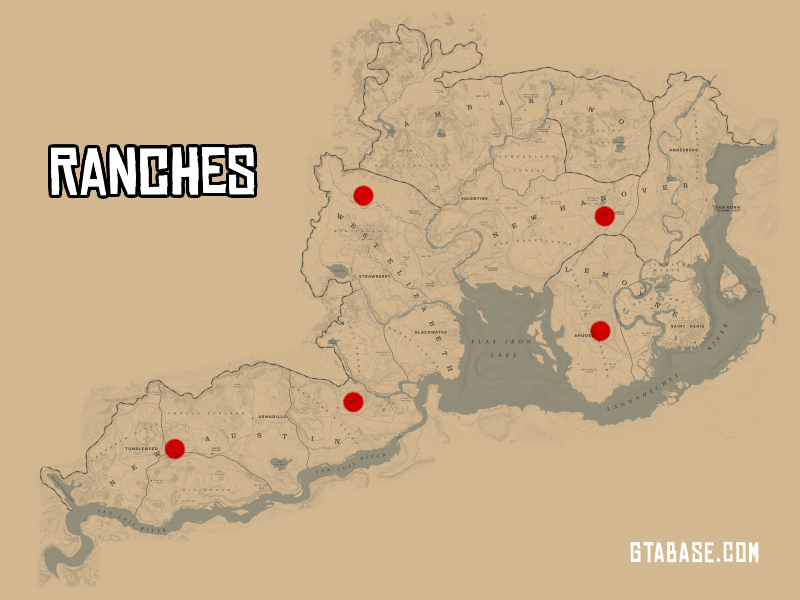 Enter your ranch and manage your animals.
Milk your cows.

Milk exports for $0.25 per pint. 50 pints max for $12.50, boosted to $15.
Max 4 cows.

Collect eggs from your chickens.

Each egg is worth $0.30 with a max of 50 eggs for £15.
Max 10 chickens.

Sheer your sheep.

A bag of wool is worth $2, 15 bags maximum for $30.
Max 6 sheep.

Full delivery of all stock would be $60, but doubled to $120 for bulk sell
Feed your animals more often and hire ranch hands (Up to 3, $2 per day each) to increase the speed the produce is made. Up to triple speed.

Each ranch hand adds 100% extra pay to deliveries, taking the pay up to $480 (Which could be boosted to $500 for the complete bulk sell).

Animals can be bred, taking 3 ingame days to birth the baby version and 3 more days for that baby to grow.

Livestock can be sold separately from stock to NPCs:

$10 per cow
$3 per chicken
$5 per sheep

Other players can also purchase your animals, including any horses you put up for sale, for a negotiated price.
Re shoe your horse to improve it's core drain rate for a short while.
2. Treasure Vault (20 Gold / $500)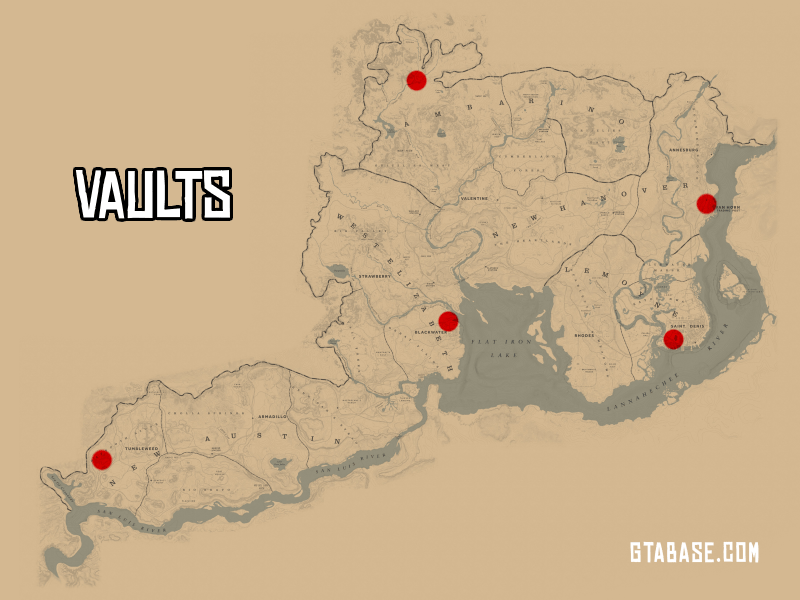 For new treasure hunter role.
Like collector but it is based on maps and tips.
Tombs and catacombs to explore.
Items are stored in the vault until exported all together as cargo.
Can store up to 50 artefacts at $15 each. ($750 total, meaning it almost pays for itself).
Vault is likely to be raided without security upgrade.

Two guards can be hired at $2 per day each. Their weapons can be upgraded from revolvers to repeaters for a one-time fee of $400.
You can defend it yourself, but if the whole posse dies it will result in a failure.

Other treasures can be found like special clothes and weapons (Crown, golden mace with damage boost) which treasure hunters can keep or sell to a fence for 2 gold bars.

Very rare to find as these have a less than 5% chance of spawning as loot.
3. Dungeon / Prison (25 Gold / 5 Unlock Tokens / $625)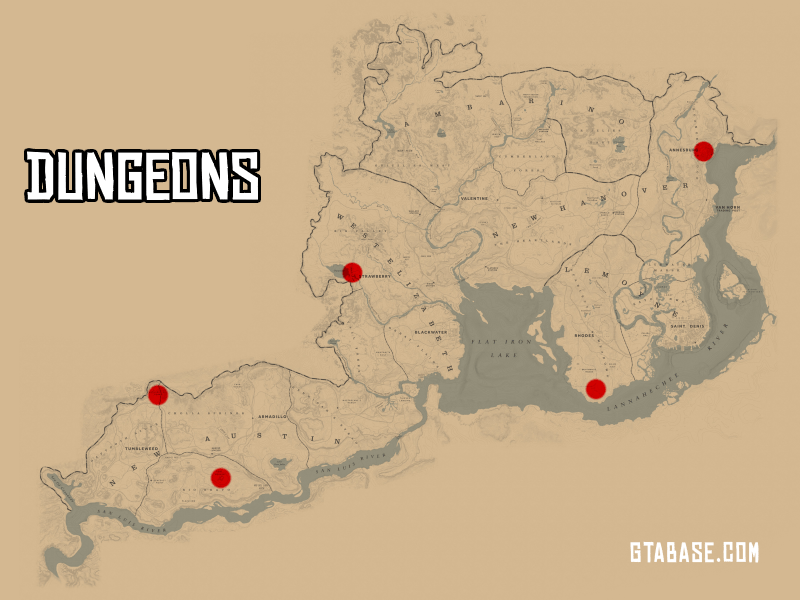 Next step of Bounty Hunter. (Ranks 20 - 40)
Capture bounty gang members and deliver them to the police as larger units, perhaps in multiple wagons.
Upgrade cells and hire guards (Up to 5, $4 per day) to reduce the chance of a breakout and manage the way your personal prison is run.
Prisoners can be interrogated for clues to other locations of gang members and evidence, but can sometimes lead you to traps.

The information depends on how well the prisoner is treated, the gang difficulty and the approach you take to interrogation.

Good cop/bad cop is available.

Up to 20 prisoners can be kept, including two higher ups and the leader, with 5 pieces of evidence per case.

Crime cases are selected from crime boards in Sheriff offices and police stations, but one can be purchased for the personal dungeon to save some travel.

Each prisoner is worth $5, the higher ups are $10 and the leader is $20 but they're harder to get.
Evidence is $0.50 per piece.
Bonus cash for full "stock", taking delivery from $127.50 up to $900.

I mean, you brought in a whole gang and evidence of their crimes by yourself. That deserves a juicy bonus.

Criminals can be found as random events by any posse member, and delivered to the cell whenever. Much like pelts for Cripps.

They can still be hunted as "Bounty sheet" targets from your crime board.
4. Estate (80 Gold / $2000)
This one is just a big fancy house.

Serving as a huge, endgame goal

Hire a butler for $8 per day to cook you high-quality meals and serve guests at luxury parties.

You can now eat more than just stew! The bar meals in single player are now available in online! They work just like stew, but your character won't throw the plate once they're done eating as they can only be ate at tables.
Luxury parties work like the parties at the Diamond Casino and Resort and cost $100 to host

Drink much fancier drinks than your typical beers, moonshine and whisky.

Luxury imports are now available, including gins, Scottish whisky and champagne. All available at your personal bar or through ringing your butler bell.

Your butler bell is now in your items menu, but can only be used in the estate.

Gain faster core and health regeneration in your king sized bed.

And actually sleep under the covers, like a normal person. Looking at you, GTA.

Invite friends to stay and heal in guest rooms.

Posse members can enter whenever, and have their own assigned beds and wardrobes across four guest rooms.
If the posse member has a weapon locker at their camp tent, the weapon locker will be at the foot of their bed.
Posse member's dogs will also sit by their beds, as will yours. At meal times, they can be seen eating in the kitchen.

Sit by the fire and read books, improving your dead eye core and filling the bar.

Different types of books can be purchased for different levels of core and bar fortification.

Poetry books are the strongest, because why not?

Have a bath to clean all the dirt off your character after a long day's work.

No, your butler won't help with this. You've got to have some independence.

Choose your wallpapers and rugs to feel more at home.

Nine different colours to choose from, with six different styles of wallpaper and twelve different types of rug.

Keep your horse warm and groomed in your own personal home stable, where you can see all your horses together - Next to the horses of visiting posse members.

You can brush your horse and give it a full horse care package for a 25% discount.

Fast travel for a reduced price from your map on the wall.

You can also fast travel to a custom destination, rather than preset locations. Price will be depending on distance.

This can be used as a new spawn location in the main menu, as well as a fast travel target
5. Greenhouse (10 Gold / $250)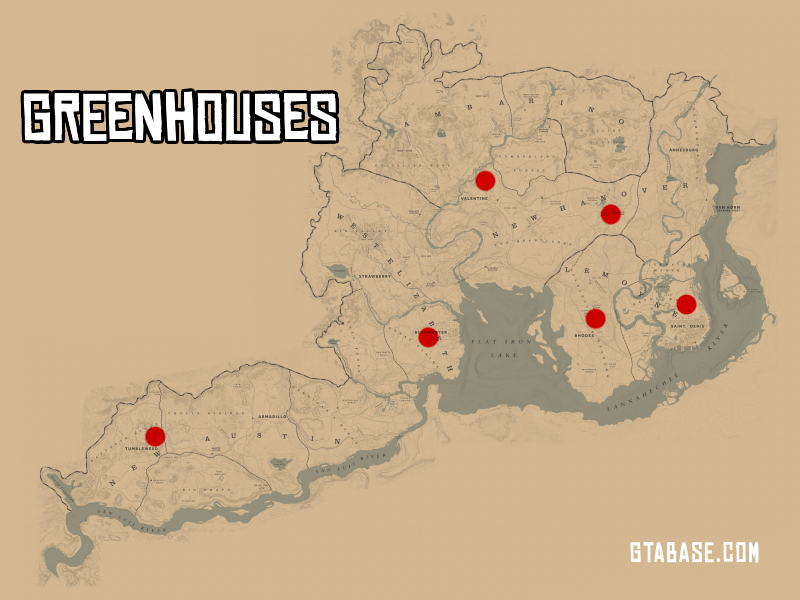 More of a side business.
Grow your own plants and tend to them.
Take cuttings of wild plants around the map to grow them here to assist in your moonshine operation, making tonics and medicine or for cooking meals.
One plot for a rare flower to be farmed.

Can be harvested once per day to sell to Nazar without being too OP.

60 other plant pots to fill with whatever the herbalist chooses - Berries, herbs or vegetables.

A wagon of 60 plants can be exported to doctors for quick deliveries of around $50.
A gardener can be hired ($2 per day) to double the sell price as they will increase plant quality.
---
Do you like these ideas? What do you think should be added to Red Dead Online? Would you buy an estate? Let us know!