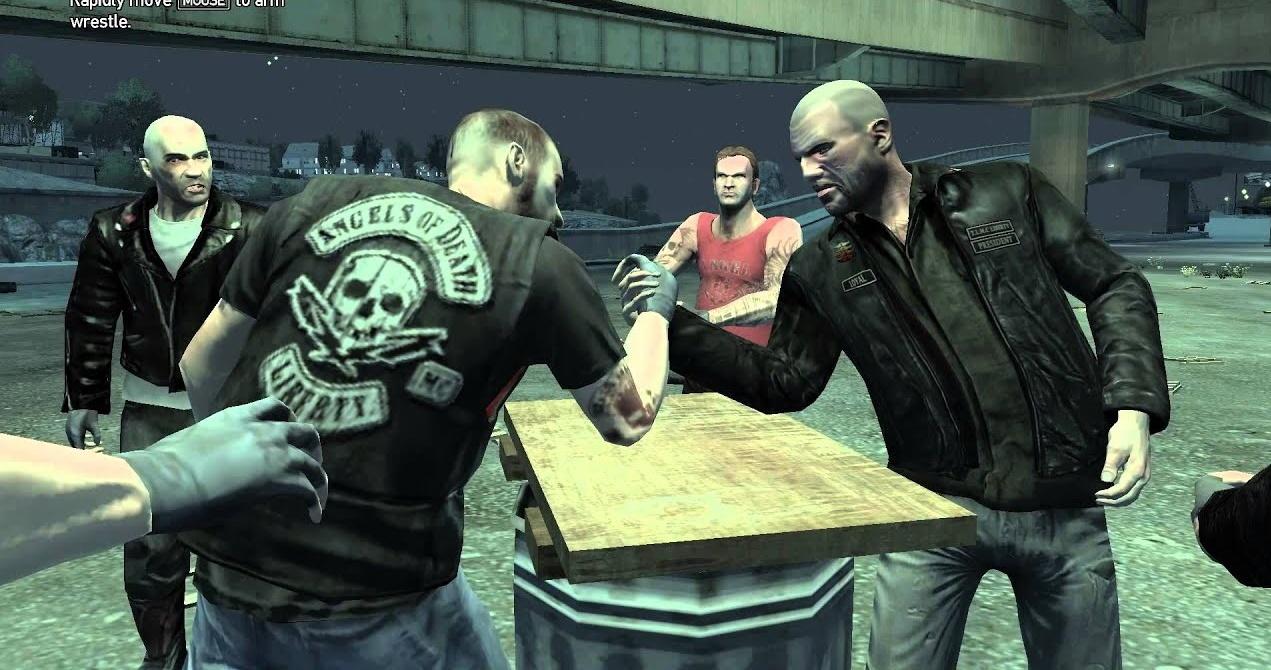 Arm Wrestling are an Activity in GTA IV: The Lost and Damned.
This is an optional endeavor, but it is required for 100% completion of the game. It's not time-sensitive, meaning it can be played at any point, even after the main storyline is completed.
Arm Wrestling -
Activity

Details:

Arm Wrestling is an Activity present in Grand Theft Auto: The Lost and Damned. The player can place a wager on the game and play against a random enemy, for two or three rounds in a best of three match.

Arm Wrestling can be accessed inside the Lost MC Clubhouse in Alderney or outside of the Angels of Death or the Uptown Riders clubhouses. To win a match, the player must rapidly move the thumbstick (on Console) or the Mouse (on PC) from left to right. The tougher the opponent, the faster the player needs to act in order to win.

The wager placed on a game depends on the game's location: At the Lost MC Clubhouse, the player places a 100$ wager. At the Angels of Death Clubhouse, the wager is 200$, while at the Uptown Riders clubhouse, the wager is of 300$. If the player loses the game, they can kill their opponent afterward to gain their money back.
Arm Wrestling: Activity Info
Game Edition

GTA IV: The Lost and Damned
Mission Type

Activity

Location

Several clubhouses in Liberty City

State / Area

Alderney

Required for 100%

Yes
Arm Wrestling: Video Walkthrough