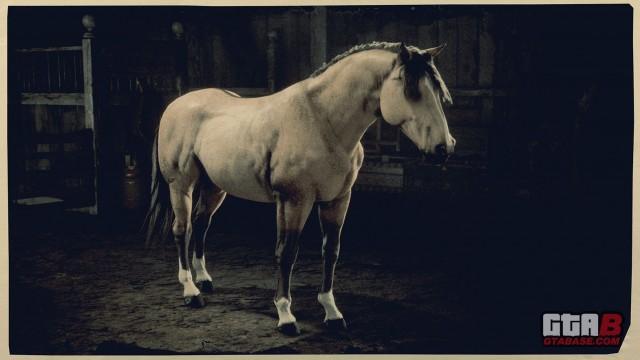 The Dun Criollo is a horse of the Criollo Horse breed featured exclusively in Red Dead Online, added to the game as part of the 1.11 Frontier Pursuits update on September 10, 2019.
It's classed as a Multi-Class, with a Standard handling type.
How to get the Dun Criollo in Red Dead Online:
The Dun Criollo can be purchased in Red Dead Online at any of the Stables or from the Handheld Catalogue, for a price of $150.00 or 6 Gold Bars .
This coat variation of the Criollo Horse must be unlocked in Red Dead Online as part of the Collector Role progression. Requires Collector Role Rank 1 + 1 Role Token.
Dun Criollo Statistics
Speed

50.00

Stamina

40.00

Health

30.00

Acceleration

30.00

Handling

40.00

Overall

38.00
Dun Criollo Info
Horse Breed

Criollo Horse

Horse Class

Multi-Class

Handling Type

Standard

Associated Role

How To Unlock

Requires Collector Role Rank 1 + 1 Role Token

Coat Style / Color

Dun

Price Value

$150.00 or

6 Gold Bars
Dun Criollo: Appearances
Screenshots
Coming soon.
Artworks
Coming soon.