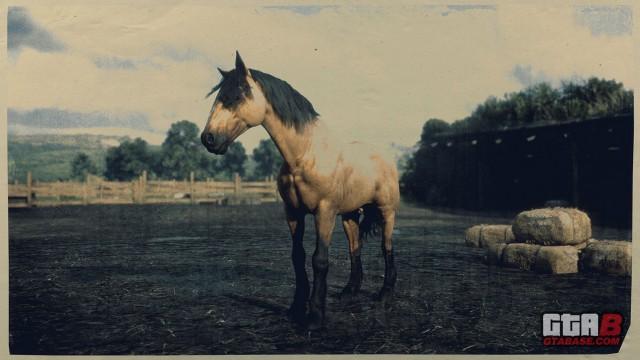 The Buckskin Mustang is a horse of the Mustang breed featured exclusively in Red Dead Online, added to the game as part of the 1.26 Bounty Hunters update on December 1, 2020.
It's classed as a Multi-Class, with a Standard handling type.
How to get the Buckskin Mustang in Red Dead Online:
The Buckskin Mustang can be purchased in Red Dead Online at any of the Stables or from the Handheld Catalogue, for a price of $500.00 or 20 Gold Bars .
Mustang horses are known to be one of the harder breeds to break. This loyal and bold breed of horse is invaluable in combat situations.
Buckskin Mustang Statistics
Speed

60.00

Stamina

70.00

Health

70.00

Acceleration

40.00

Handling

40.00

Overall

56.00
Buckskin Mustang Info
Horse Breed

Mustang

Horse Class

Multi-Class

Handling Type

Standard

Coat Style / Color

Buckskin

Price Value

$500.00 or

20 Gold Bars
Buckskin Mustang: Appearances
Screenshots
Artworks