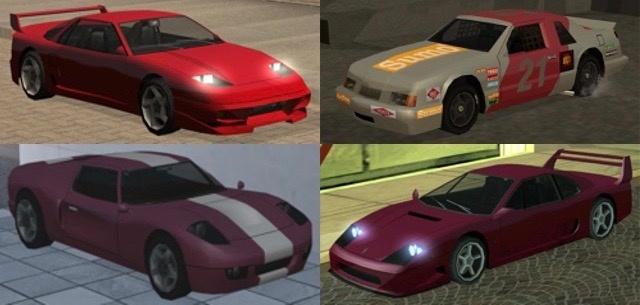 On this page, you find the list of the fastest cars in GTA San Andreas ranked by their Top Speed, along with the locations where to find them in both the original game and the GTA San Andreas: The Definitive Edition.
In GTA San Andreas, you can simply steal any car and vehicle you find around the map, and store them in one of CJ's safehouses. You can also buy cars after delivering them as part of the "Exports & Imports" Side Mission.
Whether you're peeling off after doing a drive-by in a Ballas hood, cruising down The Strip trying to impress your date, outrunning the feds on the highway, or going for that W in a street race, you're going to need a fast car in order reach your full potential in GTA San Andreas.
So, what are the fastest cars in GTA San Andreas? Check out this list of the Top 10 Fastest Cars in the game, ranked by the Top Speed they can achieve. You can click on each vehicle to see their detailed information and statistics.
10) Super GT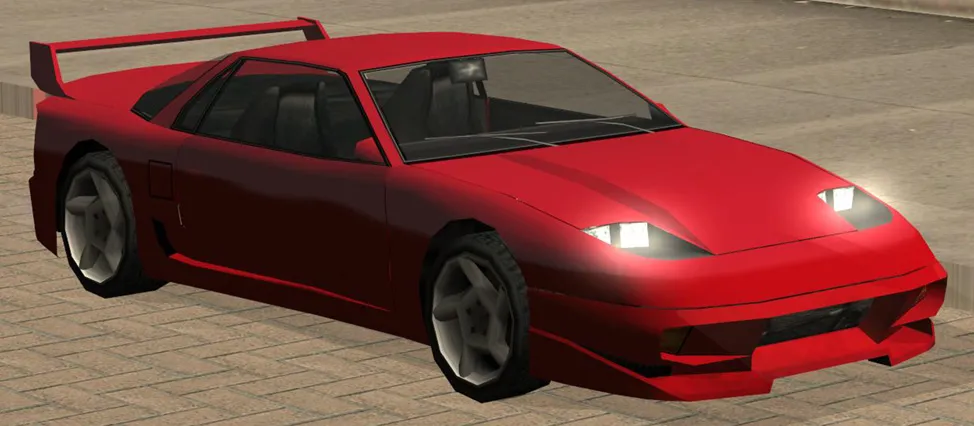 This beast has lighting-sensitive responsiveness, which is its greatest strength and weakness. A beginner driver may feel like they are driving on ice and find themselves constantly fishtailing or even spinning out while they try to handle the Super GT.
However, if you can master the hyperresponsive handling, then you'll be able to cut through traffic like butter, even at breakneck speeds. Slight, subtle taps to the thumbstick (or keyboard) are all you'll need to zigzag and strafe across the road. Just be careful not to lose control on sharp turns.
Based on the real-life Mitsubishi 3000GT, the Super GT is used during the final Driving School test in San Fierro, and if you get all bronze scores at the Driving School, then your very own Super GT will spawn in the parking lot!
9) ZR-350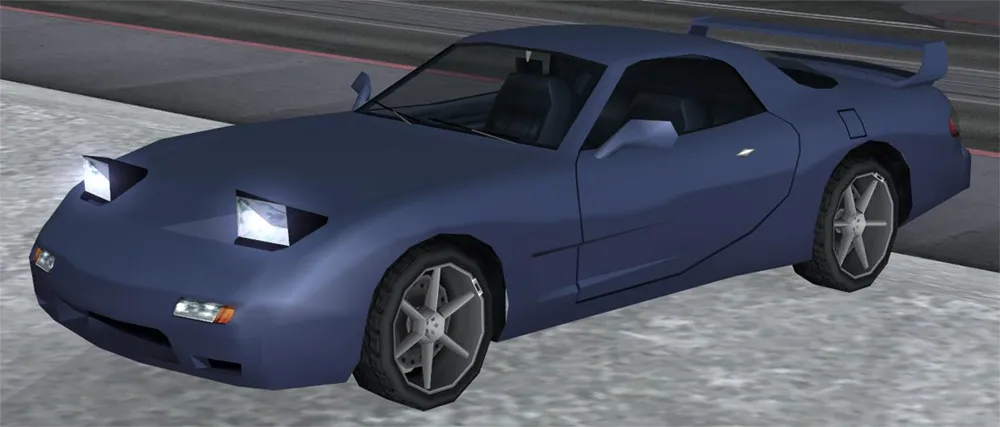 The ZR-350 is fast, for sure, but it's also much more than that. As well as having a one-of-kind look that stands out, the aesthetically cool thing about the ZR-350 is that it's the only vehicle that has dynamic headlights that automatically pop up like a frog's eyes when the sun goes down.
Also, the ZR-350's unique curved appearance actually allows it to withstand slightly more damage than other sports cars in GTA San Andreas.
Based on the real-life Mazda RX-7, the ZR-350 is one of the most common cars in relation to the other fastest cars in GTA San Andreas. It can often be spotted cruising around the ritzier areas of San Andreas, such as the downtown areas of the three cities.
8) Buffalo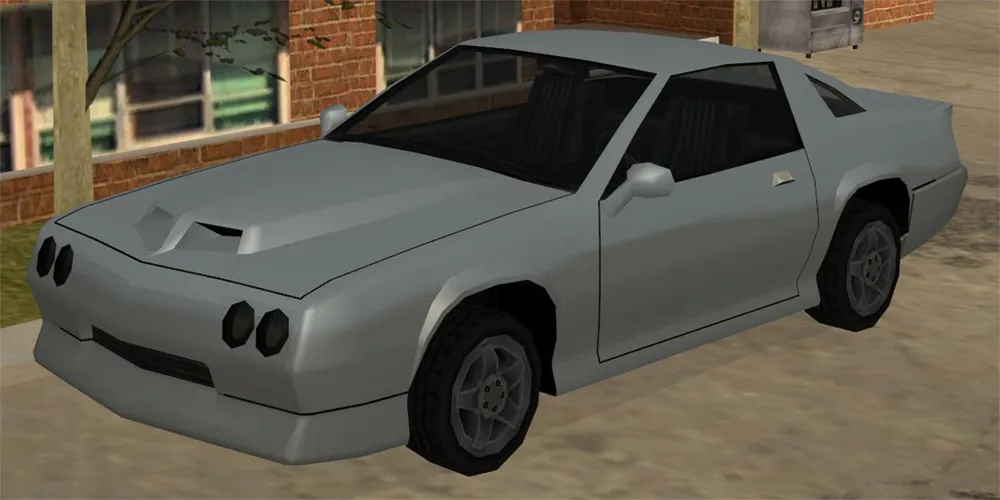 Although technically considered a sports car in the GTA world, the Buffalo is often regarded as the fastest muscle car in GTA San Andreas.
As a muscle car with rapid acceleration and raw V8 power, the Buffalo excels when driving in a mostly linear fashion without too many sharp turns. Also, the Buffalo handles better than most sports cars when driving on dirt roads, making it an excellent choice for cross-country races.
The Buffalo is Catalina's vehicle of choice, and one can be found outside of her place in Fern Ridge. It's based on the real-life Chevrolet Camaro.
7) Comet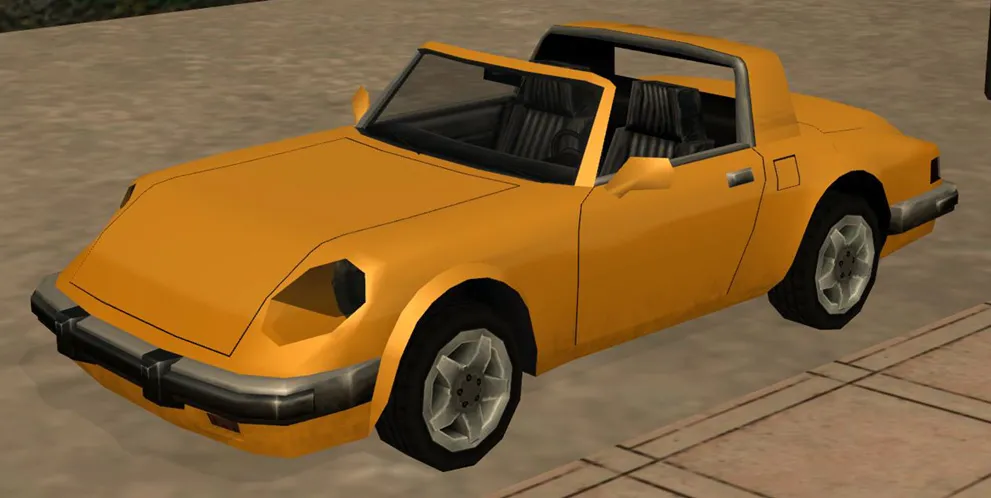 Although your homies might clown on you a bit for driving one around Grove Street (not actually), the Comet is definitely a force to be reckoned with when it comes to speed. The compact size and tight handling of this sports car allow it to easily zip in and out of traffic and make razor-close passes in races.
Similar to Vice City, a Comet can be found parked outside of the golf course. In GTA San Andreas, the Comet can be found parked outside of the Avispa Country Club in San Fierro. As well, the Comet is also fairly commonly found driving around affluent areas, particularly around casinos and western Los Santos.
The Comet is based on the real-life Porsche 911.
6) Cheetah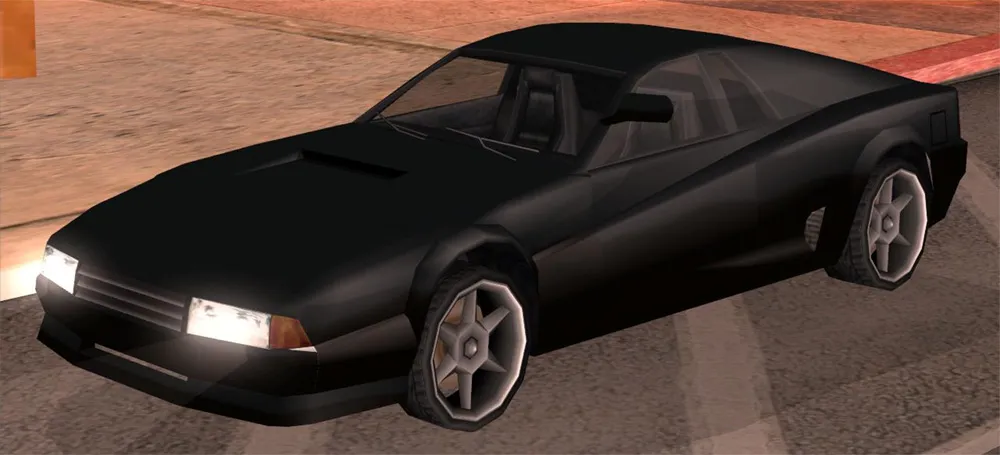 A GTA classic, it's no surprise that the Cheetah is one of the fastest cars in GTA San Andreas. Definitely one of the sexiest cars in the state, the Cheetah is also much easier to handle than some other types of sports cars.
That, combined with solid acceleration and speed, makes the Cheetah an all-around well-balanced vehicle and a great choice for a beginner driver who's ready to feel some speed. Furthermore, the Cheetah sits down quite low, allowing you to hug the road on tight corners.
Like other popular sports cars, the Cheetah can often be seen cruising around wealthier neighborhoods such as Rodeo and Market in Los Santos, Paradiso in San Fierro, and both strips in Las Venturas. It's based on the real-life Ferrari Testarossa.
5) Turismo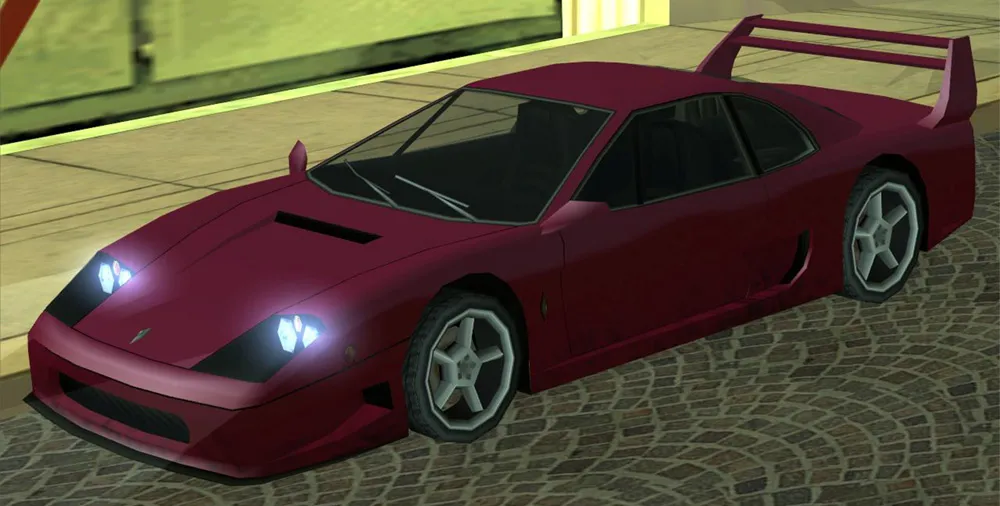 The Turismo is like the Cheetah's elusive cousin. As with the Cheetah, the Turismo is modeled after a Ferrari (F40) and is one of the most aesthetically head-turning cars in GTA San Andreas.
However, the Turismo is slightly faster than the Cheetah. Also, its rarity also kind of makes it more satisfying to own. The Turismo sits just a few short inches above the road, so it's excellent for ripping around turns on city streets and highways, but you probably wouldn't want to take it off-road.
Unfortunately, unless you complete the second export list in San Fierro, you may need to wait until you get to Las Venturas before you can get your hands on this bad boy. Once in Las Venturas, you may see a Turismo or two rolling around casinos at night. Remember, sports cars spawn more often when you are driving another sports car at the time.
4) Bullet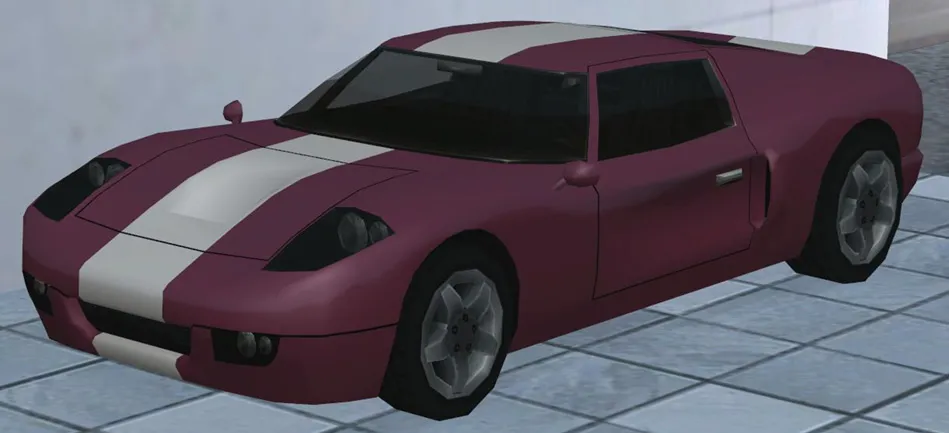 Although extremely rare, this absolute powerhouse of an automobile is an outstanding go-to choice for most races in GTA San Andreas. The flawless handling and swift speed of the Bullet make it a prime vehicle for lengthy races. It also performs well for cruises down long meandering routes such as highways and paved roads outside of cities. Just be careful, the Bullet is a bit more fragile than the other fastest cars in GTA San Andreas.
Although it's one of the most difficult things to do in all of GTA San Andreas, obtaining all silver medals at the San Fierro Driving School will give you access to this rare gem of a car, which is based on the real-life Ford GT.
Also, if you're lucky, you may see a Bullet cruising down The Strip in Las Venturas. If you really want one quickly, snoop around Solarin Industries (Shady Industries on PS2) in Doherty, San Fierro.
3) Banshee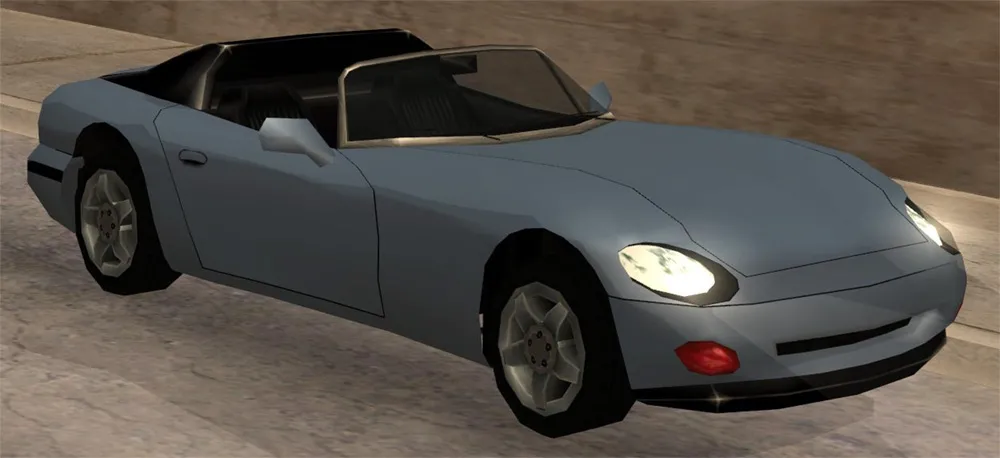 Banshees are as quick as they are plentiful. Jack one from a rich person in one of the nicer neighborhoods, and you'll be out of there in seconds, with the engine screaming like a banshee. Just be sure to go easy on the pedal, the acceleration of the Banshee is so powerful that slamming on the gas and/or sharp turns at high speed can cause you to lose traction.
Mastering a Banshee has a slight learning curve to it, but it will be totally worth it when you're tearing through entire neighborhoods in seconds and dominating street races.
The Banshee, based on the real-life Dodge Viper RT/10, is one of the fastest cars in GTA San Andreas, and it's actually one of the most common sports cars too. You'll spot them often in richer areas in all three cities in San Andreas.
2) Hotring Racer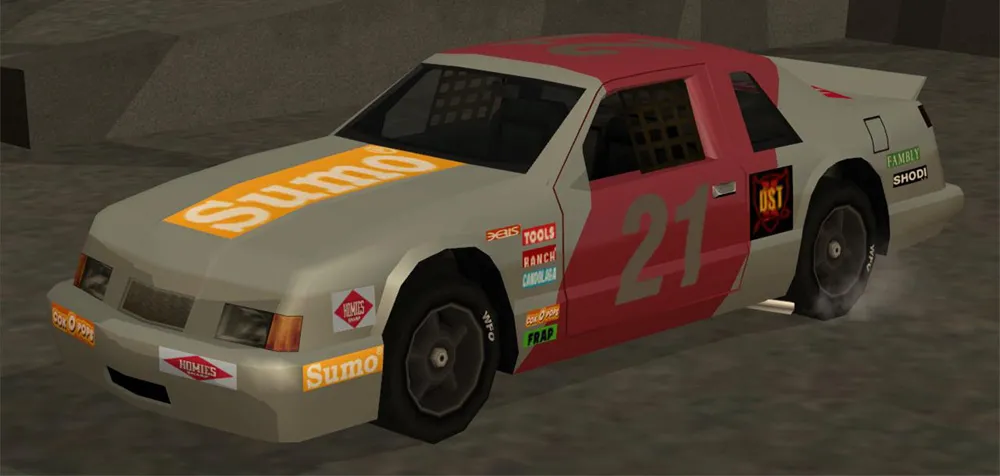 Covered in advertisements, netting, and roll bars, the Hotring Racer may not be as pretty as the other fastest cars in GTA San Andreas, but this car will get you where you need to go in the blink of an eye. The Hotring Racer is used by racecar drivers inside the Los Santos Forum to race around a track in a NASCAR fashion. As a rear-wheel-drive car, some pretty awesome high-speed drifting can be accomplished using the Hotring Racer.
After completing the fairly challenging 8-track race at the Los Santos Forum (stadium), a Hotring Racer will be parked outside. This will allow you to take the Hotring Racer to the streets of San Andreas, permitting you to blaze across the map within mere minutes.
There are actually three different variants of the Hotring Racer in GTA San Andreas. The variant that you can unlock to drive on the street is based on the real-life Ford Thunderbird. The other two variants that you can only drive in the stadium are based on the real-life Chevrolet Monte Carlo and Chevrolet Cavalier.
1) Infernus - The Fastest Car in GTA San Andreas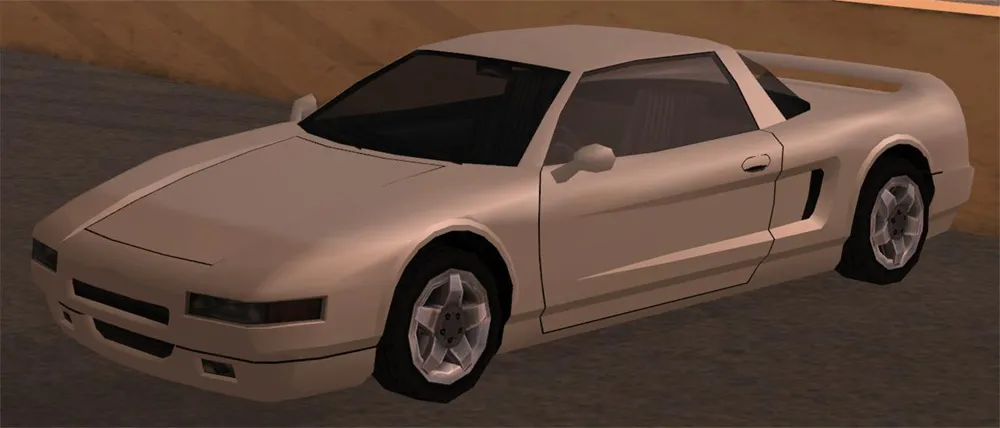 Just like in GTA III and GTA Vice City, the Infernus retains its spot as the number one fastest car in GTA San Andreas. This absolute monster of a machine can be pushed to a mind-blowing 138 mph (222 km/h) when it comes to the actual top speed tested in-game.
A GTA classic, the Infernus has always been a gorgeous and extremely peppy vehicle, and in GTA San Andreas is based on the first-generation Honda NSX.
This aerodynamic wonder boosts rapid acceleration, allowing the Infernus to hit its top speed within seconds. The low-lying chassis and all-wheel-drive system help the Infernus stay glued to the road, even on the tightest turns at the highest speeds; just be careful not to lose control while braking during turns. Although the Infernus is beautiful and quick, it breaks easily. Be careful not to crash it, as only a few high-speed crashes are enough to set the engine in flames.
The Infernus is actually much more common than some of the other fastest cars in GTA San Andreas. You will often see this car rolling around city centers and affluent areas throughout all three cities. Once you get one, mod it out to make it your own!
---
If you want to find out more about the fastest cars in GTA San Andreas and all the 189 vehicles in the game, check out our complete GTA San Andreas Vehicle List & Database!