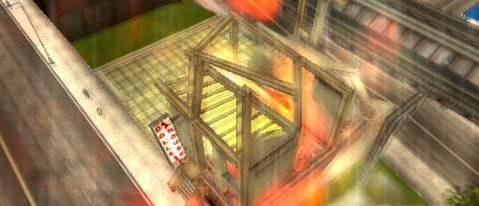 Blow Up 'Dolls' is a main story mission in GTA Liberty City Stories, given by Joseph Daniel O'Toole.
It's the 10° LCS mission in chronological order, and it takes place in Portland.
Toni loads a bomb in a Sindacco gang vehicle and uses it to destroy one of their fronts.
Blow Up 'Dolls': Mission Objectives
Get a suitable vehicle and fit it with a bomb.
You can't fit a bomb into that! (Message appears if the player attempts to use a bike, or a big vehicle).
Take the vehicle to the Bomb Shop and have it fitted with a bomb.
Take the vehicle and park it in the garage at 'The Doll's House'.
Drive carefully, if it gets too damaged it will explode!
Now, leave the vehicle and get out of there.
Detonate the bomb!
Blow Up 'Dolls': Mission Info
Mission Number

10

Mission Giver

Joseph Daniel O'Toole

Location

Paulie's Revue Bar, Red Light District, Portland

State / Area

Portland
Rewards

$1500; A stunt jump, a hidden package and a Molotov Cocktail can be found inside of the destroyed buildings.; Access to a hidden package and a Sniper Rifle in the construction yard across the street.

Featuring

Sindacco Argento

Notes

Following this mission, the Sindacco family will become hostile towards Toni..
Blow Up 'Dolls': Video Walkthrough