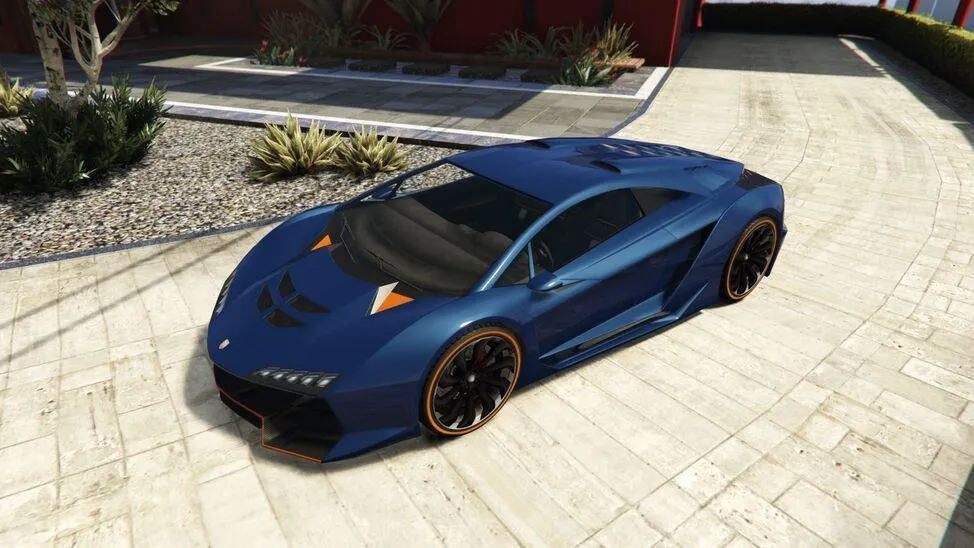 The Pegassi Zentorno is an hybrid-electric Super Car featured in Grand Theft Auto V and GTA Online, added to the game as part of the 1.13 High Life update on May 13, 2014.
How to get the Zentorno in GTA 5 Story Mode:
In GTA V Story Mode, the Zentorno can be found and stolen (see the spawn locations in the "Appearances" section below), or it can be purchased for a price of $725,000.
How to get the Zentorno in GTA Online:
The Zentorno can be purchased in GTA Online from Legendary Motorsport for a price of $725,000.
The Zentorno can be stored in any of your Properties/Garages as a Personal Vehicle. It can be customized at Los Santos Customs. You can also modify it in a Vehicle Workshop inside one of your owned properties.
Once acquired, you can request the delivery of the Zentorno from the Mechanic.
Pegassi Zentorno in Real Life:
The design of the Pegassi Zentorno is based on a real life Lamborghini Veneno/Lamborghini Sesto Elemento/Lamborghini Aventador.
Pegassi Zentorno Top Speed:
The actual top speed of the Zentorno in GTA V is 122.00 mph (196.34 km/h) when it's fully upgraded, as it's been accurately tested in-game by Broughy1322.
Can you sell the Zentorno in GTA Online?
Yes, you can sell the Zentorno at Los Santos Customs for a resale price of $435,000 (60% of the original purchase), plus 50% of the value of your upgrades.
Zentorno: GTA V Vehicle Info
Seats

2

Mass / Weight

1,500

KG

Drive Train

AWD

Gears

6
Zentorno: GTA V Performance
The below Top Speed & Lap Time have been accurately tested by
Broughy
.
Top Speed - Real

122.00 mph (196.34 km/h)

Lap Time

1:00.960

Bulletproof

Bulletproof from the rear (rear has no windows)

Explosive Resistance

Amount of explosives required to destroy the Zentorno, with 100% armor, and occupied by a player:

| Explosive Weapon | Amount |
| --- | --- |
| Homing Launcher / Oppressor Missiles / Jet Missiles | 1 |
| RPG / Grenades / Sticky Bomb / MOC Cannon | 1 |
| Explosive Rounds (Heavy Sniper Mk II) | 2 |
| Tank Cannon (Rhino / APC) | 1 |
| Anti-Aircraft Trailer Dual 20mm Flak | 1 |
Zentorno: GTA V Statistics
Speed

85.31

Acceleration

88.75

Braking

33.33

Handling

80.30

Overall

71.92
Note: The above statistics are coming from the Rockstar official website.
Zentorno Description:
Make sure the other 99% know you're in a vehicle they can't afford with this loud, brash, in-your-face supercar from Pegassi. Insanely fast with a high-tech interior, this is as close as you can get to a fighter jet on wheels. The only thing that goes up quicker than the 0-60 on this bad boy is your insurance premium.
Zentorno: GTA V Appearances
Zentorno Spawn Locations in Grand Theft Auto V

Where to find the Zentorno in

GTA Online and GTA V Story Mode

:

Story Mode:

Los Santos Customs (Burton, LSIA, La Mesa)
Model ID

zentorno

Default Radio Stations

FlyLo FM, Soulwax FM

Zentorno: Vehicle Customization

Total Cost to Fully Upgrade in GTA Online

$338,939

Modification
Story Price
GTA Online Price
Armor

No Armor

$500

$1,000

Armor Upgrade 20%

$2,500

$7,500

Armor Upgrade 40%

$6,250

$12,000

Armor Upgrade 60%

$10,000

$20,000

Armor Upgrade 80%

$17,500

$35,000

Armor Upgrade 100%

$25,000

$50,000

Brakes

Stock Brakes

$500

$1,000

Street Brakes

$10,000

$20,000

Sport Brakes

$13,500

$27,000

Race Brakes

$17,500

$35,000

Bumpers > Front Bumpers

Stock Front Bumper

$1,100

$2,200

Custom Splitter

$2,300

$4,600

Street Splitter

$3,700

$7,400

Race Splitter

$5,850

$11,700

Bumpers > Rear Bumpers

Stock Rear Bumper

$1,100

$2,200

Painted Rear Trim

$2,300

$4,600

Chassis

Stock Chassis

$350

$700

Sideblades Primary Color

$550

$1,100

Sideblades Secondary Color

$675

$1,350

Engine

EMS Upgrade, Level 1

$4,500

$9,000

EMS Upgrade, Level 2

$6,250

$12,500

EMS Upgrade, Level 3

$9,000

$18,000

EMS Upgrade, Level 4

$16,750

$33,500

Exhausts

Stock Exhaust

$130

$260

Twin Bore Exhaust

$375

$750

Hyper Exit Exhaust

$899

$1,800

Twin Ellipse Exhaust

$1,499

$3,000

Epic Ellipse Exhaust

$4,770

$9,550

Dual Quad Exits

$350

$9,750

Angular Triple Exits

$350

$10,500

White Quad Exit

$350

$12,000

Quad Exit

$350

$13,750

Grilles

Stock Grille

$100

$200

Painted Grille Trim

$375

$750

Explosives

Ignition Bomb

$5,000

Remote Bomb

$7,500

Hoods

Stock Hood

$800

$1,600

Slippy Hood

$1,500

$3,000

Street Stripe Hood

$2,500

$5,000

Race Hood

$4,000

$8,000

Pegassi Hood

$4,800

$9,600

Horns
Horns
Lights > Headlights

Stock Lights

$300

$600

Xenon Lights

$1,450

$7,500

Lights > Neon Kits
Neon Kits
Livery

None

$350

$11,400

White Stripes

$350

$18,240

Black Stripes

$350

$19,380

Italian Stripes

$350

$20,520

Kisama

$350

$21,660

Modern Living

$350

$22,800

Kabel Racing

$350

$23,370

Harlequin

$350

$29,939

Harlequin Alt

$350

$24,510

Meinmacht Racing

$350

$25,080

Abstract

$350

$25,650

Rampage Racing

$350

$26,220

Comic Book Racing

$350

$26,789

Plates

Blue on White 1

$50

$200

Blue on White 2

$50

$200

Blue on White 3

$50

$200

Yellow on Blue

$75

$300

Yellow on Black

$150

$600

Respray
Respray
Roll Cages

No Roll Cage

$150

$300

Primary Cage

$450

$900

Secondary Cage

$750

$1,500

Roofs

Stock Roof

$100

$200

Roof Scoop

$350

$700

Race Roof Scoop

$575

$1,150

Skirts

Stock Skirts

$1,250

$2,500

Street Skirt Primary Color

$2,750

$5,500

Street Skirt Secondary Color

$4,000

$8,000

Street Skirt Carbon

$5,250

$10,500

Carbon Race Skirt

$7,000

$14,000

Primary Race Skirt

$7,350

$14,500

Spoilers

None

$3,000

$6,000

Cruise Spoiler Primary Color

$3,750

$7,050

Cruise Spoiler Secondary Color

$5,000

$10,000

Cruise Spoiler Carbon

$6,500

$13,000

Street Spoiler Primary Color

$7,000

$14,000

Street Spoiler Secondary Color

$8,000

$16,000

Street Spoiler Carbon

$8,500

$16,500

Racing Spoiler

$9,000

$17,000

Pegassi Wing

$350

$17,500

Flat Wing

$350

$18,000

Carbon Flat Wing

$350

$18,500

Elongated Race Wing

$350

$19,000

Race Wing

$350

$19,500

Sunstrips

None

$150

$300

Painted Sunstrip

$450

$900

Black Sunstrip

$750

$1,500

Transmission

Stock Transmission

$500

$1,000

Street Transmission

$14,750

$29,500

Sports Transmission

$16,250

$32,500

Race Transmission

$20,000

$40,000

Turbo

None

$2,500

$5,000

Turbo Tuning

$12,500

$50,000

Wheels
LSC Wheels
Windows

None

$100

$500

Light Smoke

$200

$1,500

Dark Smoke

$450

$3,500

Limo

$700

$5,000
Zentorno: GTA V Screenshots
Zentorno: Custom Paint Jobs
Artworks & Promotional Posters
Zentorno Video