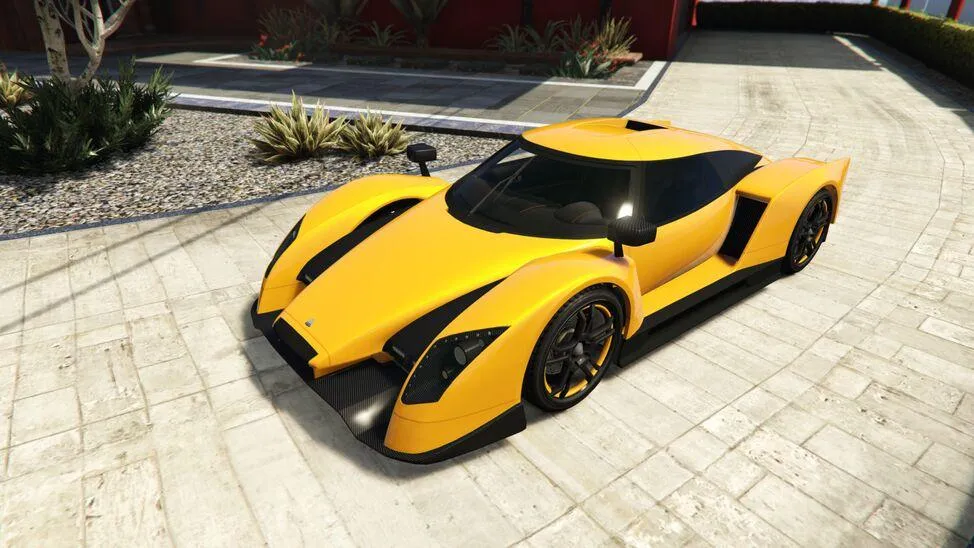 The Overflod Autarch is a Super Car featured in GTA Online on PS4, Xbox One, PC, PS5 and Xbox Series X|S, added to the game as part of the 1.42 The Doomsday Heist update on December 26, 2017.
How to get the Autarch in GTA Online:
The Autarch can be purchased in GTA Online from Legendary Motorsport for a price of $1,955,000.
The Autarch can be stored in any of your Properties/Garages as a Personal Vehicle. It can be customized at Los Santos Customs. You can also modify it in a Vehicle Workshop inside one of your owned properties.
Once acquired, you can request the delivery of the Autarch from the Mechanic.
The Autarch can also appear as one of the vehicles that must be stolen and delivered for the "Exotic Exports" side mission, triggered from the player's Auto Shop property.
Overflod Autarch in Real Life:
The design of the Overflod Autarch is based on a real life Scuderia Cameron Glickenhaus SCG 003, McLaren Senna, KTM X-Bow GT4, Koenigsegg One:1.
Overflod Autarch Top Speed:
The actual top speed of the Autarch in GTA V is 125.50 mph (201.97 km/h) when it's fully upgraded, as it's been accurately tested in-game by Broughy1322.
Can you sell the Autarch in GTA Online?
Yes, you can sell the Autarch at Los Santos Customs for a resale price of $1,173,000 (60% of the original purchase), plus 50% of the value of your upgrades.
Autarch: GTA V Vehicle Info
Seats

2

Mass / Weight

1,300

KG

Drive Train

RWD

Gears

6
Autarch: GTA V Performance
The below Top Speed & Lap Time have been accurately tested by
Broughy
.
Top Speed - Real

125.50 mph (201.97 km/h)

Lap Time

0:59.960

Bulletproof

Bulletproof from the rear (rear has no windows)

Explosive Resistance

Amount of explosives required to destroy the Autarch, with 100% armor, and occupied by a player:

| Explosive Weapon | Amount |
| --- | --- |
| Homing Launcher / Oppressor Missiles / Jet Missiles | 1 |
| RPG / Grenades / Sticky Bomb / MOC Cannon | 1 |
| Explosive Rounds (Heavy Sniper Mk II) | 2 |
| Tank Cannon (Rhino / APC) | 1 |
| Anti-Aircraft Trailer Dual 20mm Flak | 1 |
Autarch: GTA V Statistics
Speed

86.38

Acceleration

94.25

Braking

40.00

Handling

100.00

Overall

80.16
Note: The above statistics are coming from the Rockstar official website.
Autarch Description:
This is not a hypercar. It's not a sports prototype or a concept GT. It's something else. Something much, much better. And this isn't even an advert for whatever it is. The Autarch doesn't need an advert. It doesn't need anything it doesn't have already, least of all the approval of an irrelevance like you. No, you need it: more than you need money, dignity or life itself. Go on, we dare you not to buy it.
Autarch: GTA V Appearances
Model ID

autarch

Autarch: Vehicle Customization

Total Cost to Fully Upgrade in GTA Online

$349,450

Modification
GTA Online Price
Armor

No Armor

$1,000

Armor Upgrade 20%

$7,500

Armor Upgrade 40%

$12,000

Armor Upgrade 60%

$20,000

Armor Upgrade 80%

$35,000

Armor Upgrade 100%

$50,000

Brakes

Stock Brakes

$1,000

Street Brakes

$20,000

Sport Brakes

$27,000

Race Brakes

$35,000

Bumpers > Front Bumpers

Stock Front Bumper

$2,200

Stock w/ Canards

$4,600

Primary Stock

$7,400

Primary Stock w/ Canards

$11,700

Secondary Stock

$14,500

Secondary Stock w/ Canards

$14,700

GT Bumper

$14,900

GT Bumper w/ Canards

$15,100

Primary GT Bumper

$15,300

Primary GT w/ Canards

$15,500

Secondary GT Bumper

$15,700

Secondary GT w/ Canards

$15,900

Bumpers > Rear Diffusers

Stock Rear Diffuser

$2,200

Primary Carbon Diffuser

$4,600

Secondary Carbon Diffuser

$7,400

Engine

EMS Upgrade, Level 1

$9,000

EMS Upgrade, Level 2

$12,500

EMS Upgrade, Level 3

$18,000

EMS Upgrade, Level 4

$33,500

Exhaust

Stock Exhaust

$260

Dual Exhaust

$750

Titanium Exhaust

$1,800

Dual Titanium Exhaust

$3,000

Carbon Exhaust

$9,550

Dual Carbon Exhaust

$9,750

Aluminum Exhaust

$10,500

Dual Aluminum Exhaust

$12,000

Explosives

Ignition Bomb

$5,000

Remote Bomb

$7,500

Fenders

Stock Front Fenders

$300

Front Canards

$900

Stock Rear Fenders

$300

Secondary R. Fender

$900

Carbon R. Fender

$1,500

Vented R. Fender

$1,700

Secondary Vented R. Fender

$2,000

Carbon Vented R. Fender

$2,750

Hood

Stock Hood

$1,600

Secondary Stock Hood

$3,000

Carbon Stock Hood

$5,000

Crescent Hood

$8,000

Secondary Crescent Hood

$9,600

Carbon Crescent Hood

$11,000

Aggressor Hood

$11,600

Secondary Aggressor Hood

$12,000

Carbon Aggressor Hood

$12,400

Horns
See the full list of the available Horns options »
Lights > Headlights

Stock Lights

$600

Xenon Lights

$7,500

Lights > Neon Kits
See the full list of the available Neon Kits options »
Plates

Blue on White 1

$200

Blue on White 2

$200

Blue on White 3

$200

Yellow on Blue

$300

Yellow on Black

$600

Respray
See the full list of the available Respray options »
Skirts

Stock Skirts

$2,500

Primary Skirts

$5,500

Secondary Skirts

$8,000

Primary Carbon Skirts

$10,500

Secondary Carbon Skirts

$14,000

Spoilers

None

$6,000

Primary Stock Spoiler

$7,050

Secondary Stock Spoiler

$10,000

Carbon Stock Spoiler

$13,000

Primary Raised Spoiler

$14,000

Secondary Raised Spoiler

$16,000

Carbon Raised Spoiler

$16,500

Primary Sport Spoiler

$17,000

Secondary Sport Spoiler

$17,500

Primary Aggressor Spoiler

$18,000

Secondary Aggressor Spoiler

$18,500

Primary Race Spoiler

$19,000

Secondary Race Spoiler

$19,500

Primary GT Spoiler

$20,000

Secondary GT Spoiler

$20,500

Primary High Spoiler

$21,000

Secondary High Spoiler

$21,500

Suspension

Stock Suspension

$200

Lowered Suspension

$1,000

Street Suspension

$2,000

Sport Suspension

$3,400

Competition Suspension

$4,400

Transmission

Stock Transmission

$1,000

Street Transmission

$29,500

Sports Transmission

$32,500

Race Transmission

$40,000

Turbo

None

$5,000

Turbo Tuning

$50,000

Wheels > Wheel Type
See the full list of the available Wheel Types options »
Wheels > Wheel Color
See the full list of the available Wheel Colors options »
Wheels > Tire Design

Stock Tires

$200

Custom Tires

$5,000

Wheels > Tire Enhancements

Standard Tires

$200

Bulletproof Tires

$25,000 (Rank 20)

Low Grip Tires

$500 (at LS Car Meet)

Wheels > Tire Smoke
See the full list of the available Tire Smoke options »
Windows

None

$500

Light Smoke

$1,500

Dark Smoke

$3,500

Limo

$5,000
Autarch: GTA V Screenshots
Autarch: Custom Paint Jobs
Artworks & Promotional Posters
Autarch Video