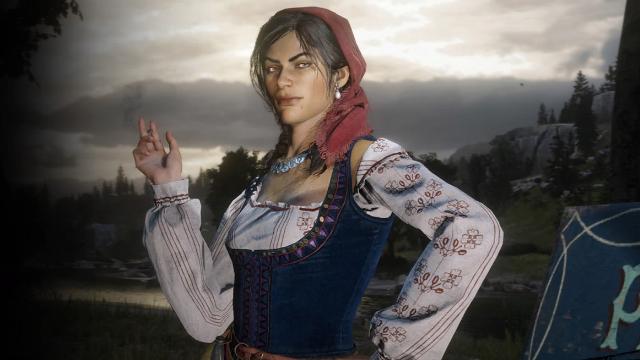 Madam Nazar is a major character in Red Dead Online, added to the game as part of the Red Dead Online Frontier Pursuits Update.
This mystic travelling saleswoman is a collector and seller of various rare and valuable items. She is the quest giver in the Collector Specialist Role, and the player can meet her to sell collectibles or buy various items and equipment.
Madam Nazar's location changes to a different region of the map every day.
The site madamnazar.io helps players to find, day by day, Madam Nazar's unknown position in the game, sharing it in an interactive map and constantly tweeting it on Twitter.
Character Information
Role

Online Character

Gender

Female

Associated Role

Occupation

Collector; Fortune Teller

Location

Transitory. See the real time locations on MadamNazar.io
Screenshots
Artworks
Coming soon.