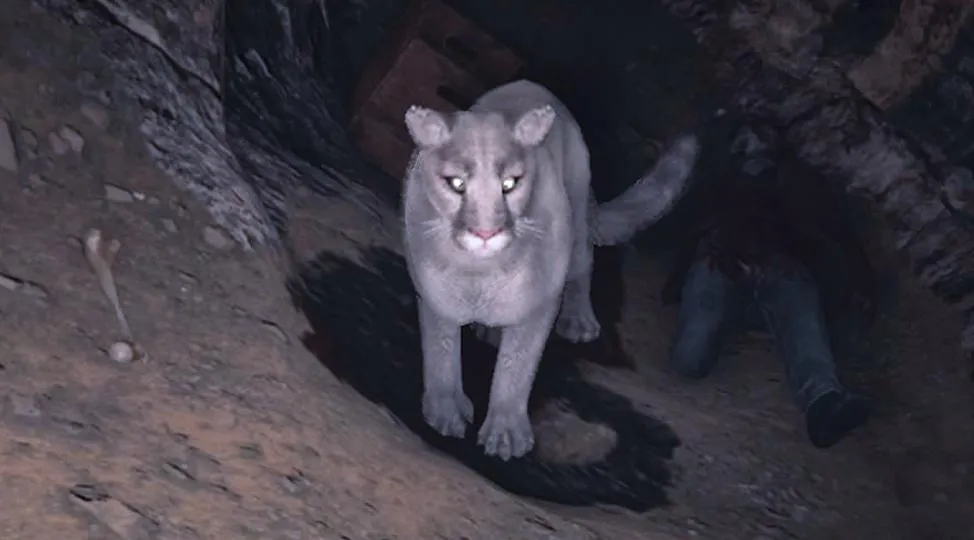 The White Cougar is a Large-sized animal of the Cougar / Mountain Lion species, featured in the Story Mode of Red Dead Redemption 2.
This animal can be hunted and skinned. It's not required for the "Zoologist" and "Skin Deep" Achievements.
White Cougar Details & Location:
The rare White Cougar in Red Dead Redemption 2 is an animal that is hunted exclusively as part of the Debt Collecting Mission "Money Lending And Other Sins - IV", along with debtor Winton Holmes. The white cougar is found in a cave near Mount Shawn.
After killing the White Cougar, skin it and take the pelt, and sell the pelt to the Strawberry butcher to recover Holmes' debt.
White Cougar Info
Notes

This animal species is not required for "Zoologist" and "Skin Deep" Achievements.

Scientific Name

Puma concolor
White Cougar Appearances
Game Edition

RDR 2 Story Mode
Appearances in Story Missions:
Screenshots
Videos