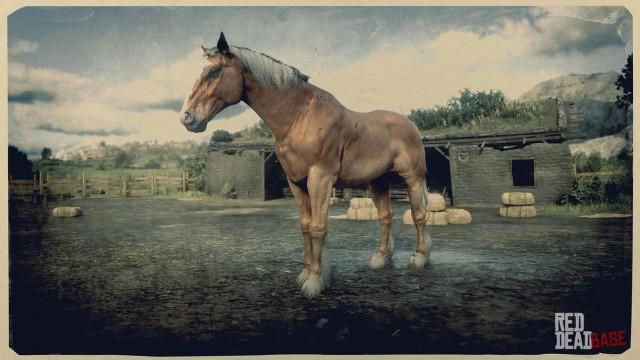 The Belgian Draft Horse is one of the Horse Breeds featured in Red Dead Redemption 2 and Red Dead Online.
Belgian Draft Horse Description:
Belgian Draft horses are known for their powerful and strong build, making them great for forest or farm work.
Belgian Draft Horses are a strong member of the draft horse breed. They can be identified by their muscular build and chestnut glossy coat. Their powerful build makes them perfect for pulling wagons and heavy carts, though their weight makes them harder to handle.
They are considered to be a healthy breed with better Stamina and Speed compared to other draft horses.
Belgian Draft Horse Coat Styles: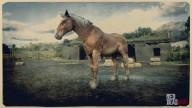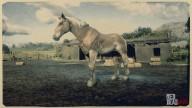 Belgian Draft Horse Statistics
Speed

20.00

Stamina

30.00

Health

30.00

Acceleration

20.00

Handling

20.00

Overall

25.00
Belgian Draft Horse Info
Horse Class

Draft Horse

Handling Type

Heavy

Animal Species

Horse

Animal Class

Mammal

Animal Family

Equidae

Size

Large

Peculiarity

Domestic Animal

Acquisition

Can be stolen / found

Hunting

Cannot be hunted

Required for Achievement

No
Notes

This is a Domestic Animal, killing it or harming it decreases Honor and attracts a Wanted Level.

Scientific Name

Equus Ferus Caballus
Belgian Draft Horse: Appearances
Game Edition

Red Dead OnlineRDR 2 Story Mode
Screenshots
Artworks
Coming soon.