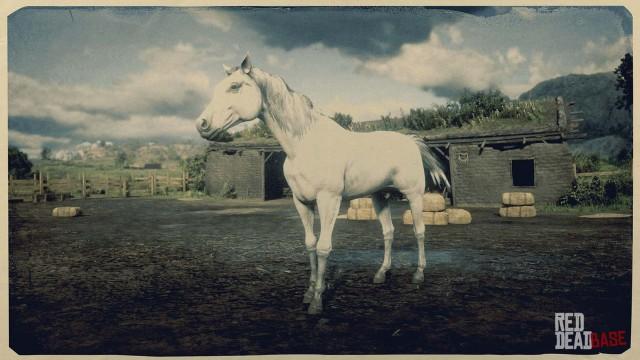 The Arabian Horse is one of the Horse Breeds featured in Red Dead Redemption 2 and Red Dead Online.
Arabian Horse Description:
Arabian breed of horses are renowned for their intelligence making them one of the easiest breeds to train.
Arabian horses are a superior class, often kept by wealthy owners. Identified by their dished head and high tail carriage, Black and Rose Gray Bay are purchasable, while a rare White Arabian, the Warped Brindle (PC) and Red Chestnut (PC & Red Dead Online) coat can be discovered.
A fiery temperament makes them hard to train but, once broken, they handle well and remain loyal. Their great Health and Stamina, with good Speed and Acceleration, make them the perfect endurance horses.
Arabian Horse Coat Styles:
Arabian Horse Statistics
Speed

80.00

Stamina

60.00

Health

60.00

Acceleration

80.00

Handling

80.00

Overall

70.00
Arabian Horse Info
Horse Class

Superior Horse

Handling Type

Elite

Animal Species

Horse

Animal Class

Mammal

Animal Family

Equidae

Size

Large

Peculiarity

Domestic Animal

Location

The White Arabian Horse can be found at Lake Isabella (Grizzlies West, Ambarino)

Acquisition

Can be stolen / found

Saint Denis Stable

Blackwater Stable

Hunting

Cannot be hunted

Required for Achievement

No
Notes

This is a Domestic Animal, killing it or harming it decreases Honor and attracts a Wanted Level.

Scientific Name

Equus Ferus Caballus
Arabian Horse: Appearances
Game Edition

Red Dead OnlineRDR 2 Story Mode
Screenshots
Artworks
Coming soon.