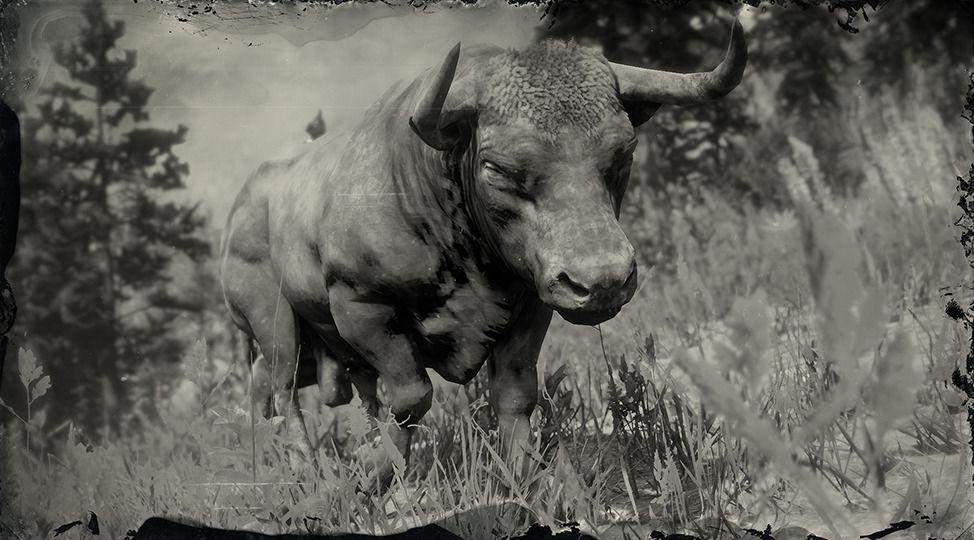 The Angus Ox is a Massive-sized animal of the Cattle / Oxen species, featured in Red Dead Redemption 2 and Red Dead Online.
This is a Domestic Animal, so killing it or harming it decreases Honor and attracts a Wanted Level.
This animal can be hunted and skinned. Studying the Angus Ox is required for the "Zoologist" Achievement.
Angus Ox Details & Location:
Angus Oxen can be found on ranches and farms across West Elizabeth, New Hanover and Lemoyne. As herbivores, their main diet consists of common roughage including grasses, hay, and silage. These large mammals can be taken down with either a Bow with Improved Arrows, or a long scope rifle. Oxen hide and horns can be used for crafting.
Angus Ox Hunting Tips:
The Angus Ox yields a hide, a horn and a prime beef joint. Used in crafting and cooking or can be sold. Use a long scope rifle for a clean kill.
Angus Ox Info
Scientific Name

Bos taurus
Angus Ox Appearances
Game Edition

Red Dead OnlineRDR 2 Story Mode
Screenshots
Artworks
Coming soon.