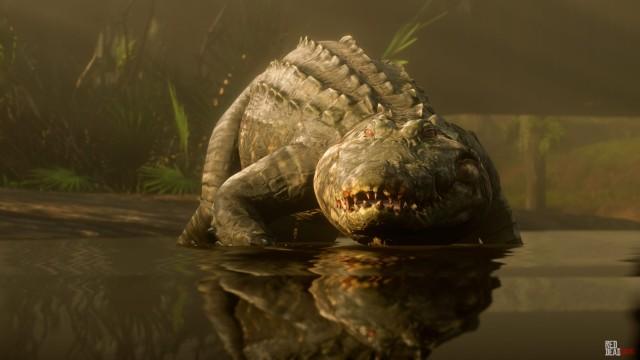 The American Alligator is a Massive-sized animal of the Alligator species, featured in Red Dead Redemption 2 and Red Dead Online.
This animal can be hunted and skinned. Studying and skinning the American Alligator is required for the "Zoologist" and "Skin Deep" Achievements.
American Alligator Details & Location:
Alligators live in the swamp and river delta regions of Lemoyne - in southern Bluewater Marsh and all around Bayou Nwa. They are carnivorous apex predators, feeding on fish, birds, amphibians and mammals. A rifle will pierce through an Alligator's tough, armored body plates. Alligator skins, meat, and teeth are all useful for food or crafting.
American Alligator Hunting Tips:
The American Alligator yields a skin, teeth and big game meat. Used in crafting and cooking. Use a Bow with Improved Arrows or long scope rifle for a clean kill.
American Alligator Info
Scientific Name

Alligator mississippiensis
American Alligator Appearances
Game Edition

Red Dead OnlineRDR 2 Story Mode
Screenshots
Artworks