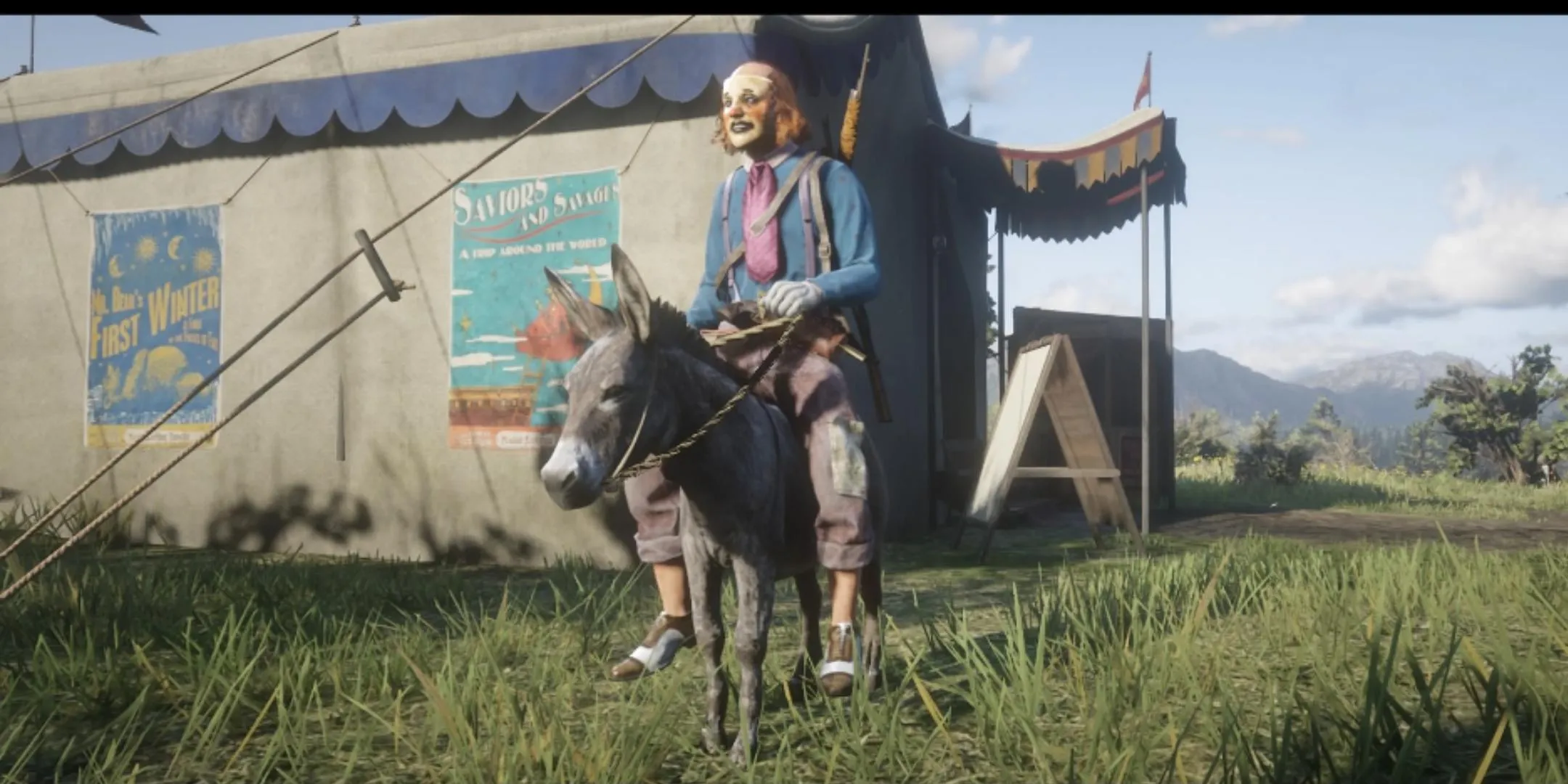 Why are players in Red Dead Online dressing as clowns?
Recently, Red Dead Online players have been dressing up as clowns in-game. Why, you ask? Well, here is the full story behind the origin of the Clown movement and a brief history of Red Dead Online which lead us to this point.
Red Dead Online: Frontier Pursuits & Moonshiners
Mid 2019, Rockstar Games teased the next update to Red Dead Online, Frontier Pursuits. It was a long wait as the Summer update released just a week before Autumn began, however, it was ultimately worth the wait and added a new, much welcome layer to Red Dead Online.
Rockstar then announced a few weeks later that another expansion would be coming soon, this time it was the Moonshiners update which was coming hot on the heels of the PC release of Red Dead Redemption 2. At this time, it seemed like there was a lot of positivity in the community towards RDO, as even with the rocky launch on PC, Rockstar quickly communicated about issues & released fixes, it felt like there was real momentum building and that Rockstar would keep on regularly updating & expanding upon the incredible online experience they created.
So where did it all go wrong and how did the clown thing start?
When Moonshiners released, players quickly began to experience issues in-game, from animals failing to spawn, more frequent crashes, infinite loading screens, camps not spawning properly & many more. Rockstar released patches in March, April, May and June that claimed to fix many of these problems, yet these issues persist and Rockstar (unlike during the PC release), has completely failed to communicate with their fans about the state of the game.
Fast forward to today, 8 months of no communication have passed. The same issues from December plague the game, there are no updates on the horizon that Rockstar have spoke about, yet as fans we still wake up every Tuesday hoping "this will be the week!" and that Rockstar will finally give us an update about the state of Red Dead Online or future content. That's how the clown thing began.
Clowning around on Twitter!
Early in June, members of the community on Twitter were joking about the recent bonuses, those bonuses being free beans & apples. On the account I own, @RedDeadRDC, I shared a few memes and began to include a clown emoji for those voting "Yes" on our weekly polls about "will we get an update this week?"
Yet week after week, there was still now news at all, so I changed the @RedDeadRDC profile picture to a clown and shared the following tweet:
June 23, 2020
A ton of community members followed suit, from players to content creators & more. At the peak, there was possible up to a hundred in my followers list with the clown profile pic too!
One of those getting involved was Bloodlust180, who raised the stakes a week later saying "If there is no news on Tuesday about a possible update for Red Dead Online I will post a photo of me in clown makeup". At this point, a lot of community members felt like there would be some news, but again, silence.
Yet Bloodlust, followed up on their promise:
I was a clown like many others today that expected something. Even if it was small details on what's to come...Here we are empty and angry, I have decided to live my life as what I have now become...a clown pic.twitter.com/Ohgxehcp3O

— 𝕭𝖑𝖔𝖔𝖉𝖑𝖚𝖘𝖙 (@BloodLust180) June 30, 2020
Another community member & YouTuber, Dirty Tyler also got involved and for his weekly Red Dead Online news video, added a ton of clown emojis & clown music
This was just the start of the clown "protests"
June 30th was when Bloodlust, Tyler & others got involved on twitter, however, this also coincided with the end of the reddit & discord Red Dead Online Saint-Denis themed fashion contest for June. A member of the Red Dead Online Discord community had suggested to me earlier in the month that for July, we should go with a circus themed contest as players can dress as a strongman, strongwoman, knife thrower and clowns!
I then announced our theme for July's fashion contest, "The Travelling Circus" with the tag line, "Since we're all clowns for believing we'll get an update, it's fitting that we dress up as them in-game too!" and from there, the whole clown thing exploded, with hundreds of players joining in and creating their clown outfits across discord, reddit, twitter & other community sites.
Red Dead Online Clowns make the news!
Around a week ago, YouTuber OnlyPVPCat decided to join in on the action, creating a guide on how to look like a clown in-game and followed this by hosting an in-game event with their community members, inviting them to dress up as clowns and explore the frontier in a new way.
Live footage of #RedDeadOnline players preparing for an update to the game. 🤡

Credit: @OnlyPVPCat
Full video: https://t.co/KMBQ3uLdF9 pic.twitter.com/RevLaMnH4s

— Red Dead Online Community (@RedDeadRDC) July 13, 2020
PCGamesN were the first to report on our clown fashion contest & OnlyPVPCats in-game event, yet they certainly were not the last, with Kotaku, IGN, PCGamer and many others sharing articles about the clown movement too. Around this time, a journalist from Polygon, Patricia Hernandez reached out to me for some context and to learn what was going on and why we were all dressing up, I explained:
"Rather than let it turn negative or nasty, which in game communities things often can, I thought I'd turn [our protests] into something a bit more fun or even wholesome in a way"
After so much media attention, the clown movement grew even further, with participants encouraged to share their clown outfits on twitter using #RedDeadClowns, which many have, including streamers, youtubers and others in the community.
Hazardous, a friend of mine as well as a popular YouTuber & Twitch Streamer explained in a thread on Twitter why he got involved and why he encouraged his fans to get involved too:
The #RedDeadClowns said

RDO is in beta, it will get better.

RDO is out of beta, but they are busy developing the PC version is will get better

Rockstar is on Christmas holiday right now, they can't patch the 350 moonshiner DLC glitches. Be patient.

— Hazard (@HazardousHDTV) July 14, 2020
What will the clown movement achieve?
Ultimately, we don't know, as I explained to Polygon, I wanted to turn our frustrations with the state of the game & lack of communication from Rockstar into something fun for the community as well as get Rockstars attention. We have done that.
Will Rockstar respond?
Probably not, but they're known to dislike any bad publicity for their titles, so who knows? I believe the community understands the difficulties many game developers are coping with in the face of the COVID pandemic, however, I also believe Rockstar has a duty to at least communicate with their fans and explain that perhaps things are behind schedule, or being worked on. Ignoring the community when the game has had so many issues since December isn't acceptable for a AAA developer in 2020.
Would it not be better to stop playing Red Dead Online?
Many have stopped playing, yet many of us still enjoy the game, the communities we're part of and want to see the game flourish & succeed. We don't want to stop playing, we just want Rockstar to communicate with us.
What's next for the clowns?
On Monday, we'll be organising some community challenges & events and we welcome anybody to get involved, we'll share details on the @RedDeadRDC twitter this weekend. Outside of that, I'm sure many content creators and communities will continue to have fun playing the game, dressing up and having a good time. All whilst hoping Rockstar will finally communicate with us.
So that's where we are today, why the clown movement started and how you can get involved. Have fun clowns! If you do dress up, share on twitter with the tag #RedDeadClowns!
Hopefully there'll be news of an update soon, in the meantime, check out our list of 5 Properties that could improve Red Dead Online.