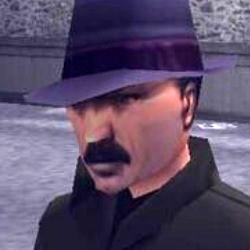 Marty Chonks appears as a Minor Character in Grand Theft Auto III.
Marty Chonks is the owner of Bitch'n' Dog Food and the husband of Mrs. Chonks.
He calls Claude on a payphone and employs him to do a couple of jobs for him, as his business is starting to fail and he is running out of money.
Marty's Pay Phone does not have a blip on the map. It's located outside of his factory in Trenton, near Joey's Garage, and it only rings between 9:00 to 19:00.
Marty Chonks: Character Info
Role

Minor Character

Gender

Male

Nationality

United States

Location

Portland, Liberty City

Occupation

Owner of Bitch'n'Dog Food

Also Known As

Mr. Chonks

Performer / Actor

Chris Phillips

Family
Marty Chonks: Appearances
Marty Chonks Missions in Grand Theft Auto III:

Appearances in Story Missions: