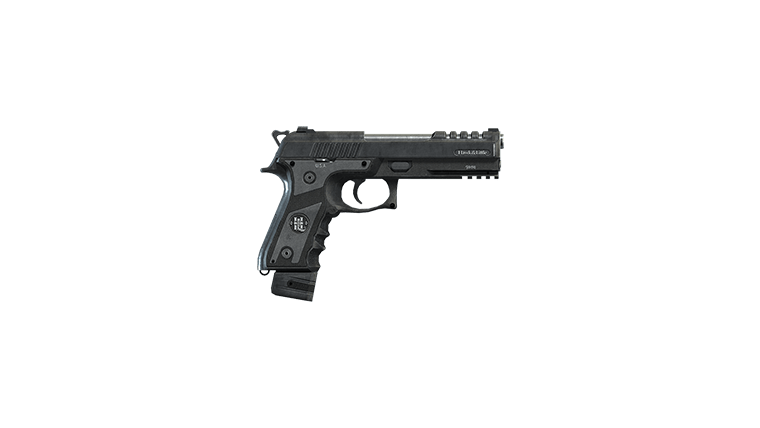 The Pistol Mk II is a weapon in the Handguns class featured in GTA Online, added to the game as part of the 1.40 Gunrunning Pack update on June 13, 2017.
The Pistol Mk II is a variant of the standard Pistol base weapon.
The design of the Pistol Mk II is based on a real life Beretta 92. The in-game version of the weapon is manufactured by Hawk & Little.
This weapon can be customized with various attachments and tints, which you can see below.
How to get the Pistol Mk II in GTA Online:
The Pistol Mk II can be obtained by first buying the standard Pistol for $2,500, and then converting it to the MK II variant at the Weapon Workshop (inside the MOC or Avenger), for an extra cost of $73,750.
A huge range of tactical customizations are made possible by MK II upgrades, including new magazines with tracer, incendiary, armor piercing, hollow point and other types of rounds.
Pistol Mk II Description:
Balance, simplicity, precision: nothing keeps the peace like an extended barrel in the other guy's mouth.
Pistol Mk II: GTA V Statistics
Damage

38.00

Fire Rate

40.00

Accuracy

40.00

Range

25.00

Clip Size

10.00

Overall

30.60
Ammo Capacity

12

Extended Ammo

24
Pistol Mk II: GTA V Info
Manufacturer

Hawk & Little

Weapon Class

Handguns

Acquisition

Weapon Workshop

How To Unlock

Obtained by upgrading the regular version of the weapon to the MK II variant at the Weapon Workshop (inside the Mobile Operations Center or the Avenger)

Base Model

GTA Online Price

$73,750

Modifications

Can be modified

Based on (Real Life)

Beretta 92
Pistol Mk II: GTA V Weapon Customization
Rounds
GTA V
GTA Online (Unlock)

Cartridges (16)

$8
$24 (Rank 17)
Attachments

Flashlight (provides ilumination when aiming)

$472
$1,750 (Rank 18)

Suppressor (silences but slightly reduces damage and range)

$2,437
$12,350 (Rank 19)
Special

Yusuf Amir Luxury Finish

$42,250
$42,250

Bone Finish

N/A
$53,090 (Complete 10 Security Contracts)
Tints

Black

Default
Default

Army

$100
$5,000 (Kill 100 players)

Green (Collector's and Enhanced Edition)

$200
$5,250 (Kill 200 players)

Orange (Collector's and Enhanced Edition)

$400
$5,500 (Kill 400 players)

LSPD

$600
$5,750 (Kill 600 players)

Pink (Collector's and Enhanced Edition)

$800
$7,500 (Rank 50)

Gold (Collector's and Enhanced Edition)

$1,000
$10,000 (Rank 75)

Platinum (Collector's and Enhanced Edition)

$1,500
$12,500 (Rank 100)
Pistol Mk II: GTA V Appearances
Release Date

June 13, 2017

DLC / Title Update

1.40 Gunrunning Pack

Game Edition

GTA Online

Platforms

PC

PlayStation 4

Xbox One
Pistol Mk II: GTA V Screenshots