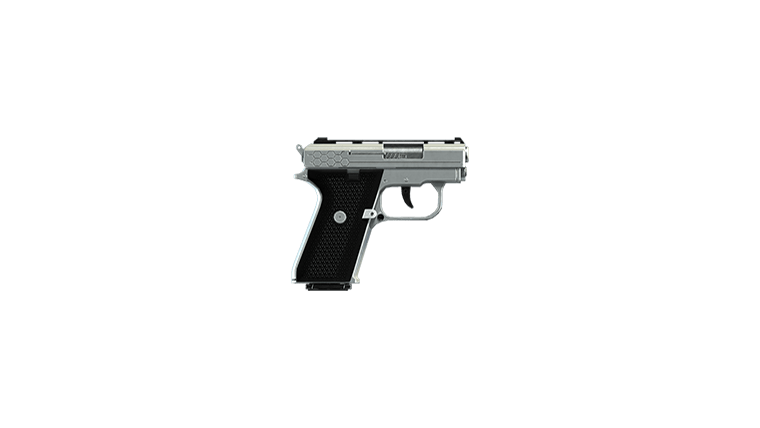 The SNS Pistol Mk II is a weapon in the Handguns class featured in GTA Online, added to the game as part of the 1.42 The Doomsday Heist update on December 12, 2017.
The design of the SNS Pistol Mk II is based on a real life AMT Backup. The in-game version of the weapon is manufactured by Shrewsbury.
This weapon can be customized.
How to get the SNS Pistol Mk II in GTA Online:
The SNS Pistol Mk II can be obtained by upgrading the regular version of the SNS Pistol to the MK II variant at the Weapon Workshop (inside the Mobile Operations Center or the Avenger), for a price of $79,575.
A huge range of tactical customizations are made possible by MK II upgrades, including new magazines with tracer, incendiary, armor piercing, hollow point and other types of rounds.
SNS Pistol Mk II Description:
The ultimate purse-filler: if you want to make Saturday Night really special, this is your ticket.
SNS Pistol Mk II: GTA V Statistics
Damage

30.00

Fire Rate

40.00

Accuracy

40.00

Range

20.00

Clip Size

3.00

Overall

26.6
Ammo Capacity

6

Extended Ammo

12
SNS Pistol Mk II: GTA V Info
Manufacturer

Shrewsbury

Weapon Class

Handguns

How To Unlock

Obtained by upgrading the regular version of the weapon to the MK II variant at the Weapon Workshop (inside the Mobile Operations Center or the Avenger)

Available from

Weapon Workshop

Converted From (Base)

SNS Pistol (

$2,750

)

GTA Online Price

$79,575

Modifications

Can be modified

Based on (Real Life)

AMT Backup
SNS Pistol Mk II: GTA V Appearances
Release Date

December 12, 2017

Title Update

1.42 The Doomsday Heist

Game Edition

GTA Online

Platforms

PC

PlayStation 4

Xbox One
SNS Pistol Mk II: GTA V Screenshots