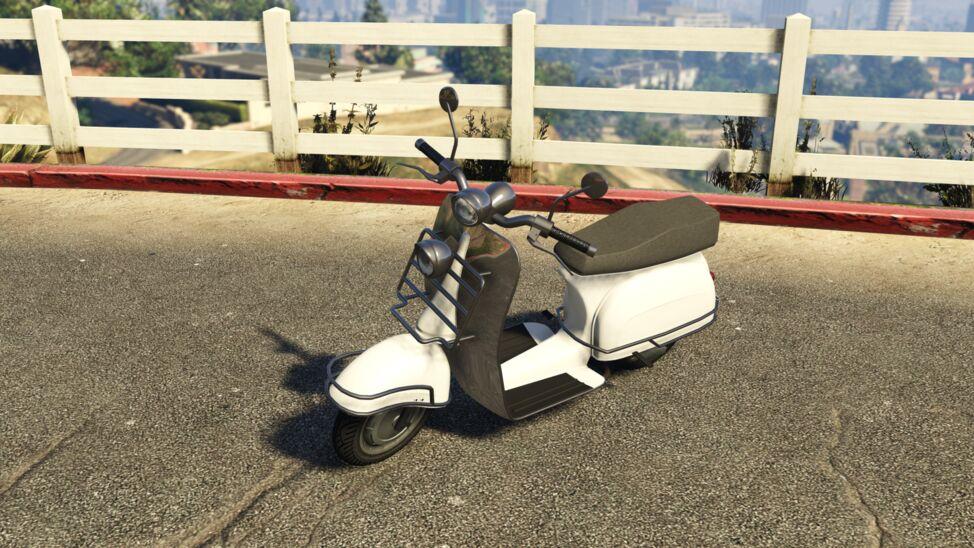 The Pegassi Faggio Mod is a Motorcycle featured in GTA Online, added to the game as part of the 1.36 Bikers update on October 4, 2016.
The Faggio Mod is a variant of the standard Faggio base model.
How to get the Faggio Mod in GTA Online:
The Faggio Mod can be purchased in GTA Online from Southern S.A. Super Autos for a price of $55,000.
The Faggio Mod can be stored in any of your Properties/Garages as a Personal Vehicle. It can be customized at Los Santos Customs. You can also modify it in a Vehicle Workshop inside one of your owned properties.
Once acquired, you can request the delivery of the Faggio Mod from the Mechanic.
Pegassi

Faggio Mod in Real Life:

The design of the Pegassi Faggio Mod is based on a real life Classic Piaggio Vespa.
Pegassi

Faggio Mod Top Speed:

The actual top speed of the Faggio Mod in GTA V is 74.25 mph (119.49 km/h) when it's fully upgraded, as it's been accurately tested in-game by Broughy1322.
Can you sell the Faggio Mod in GTA Online?
Yes, you can sell the Faggio Mod at Los Santos Customs for a resale price of $33,000 (60% of the original purchase), plus 50% of the value of your upgrades.
Faggio Mod: GTA V Vehicle Info
Vehicle Class

Motorcycles

Manufacturer

Pegassi

Vehicle Features

Has Liveries

Acquisition

Southern S.A. Super Autos

Base Model

GTA Online Price

$55,000

Storage Location

Garage (Personal Vehicle)MC Clubhouse

Delivery Method

Mechanic

Modifications

Los Santos Customs

Sell Price (Resale)

$33,000 ($210,770 when fully upgraded)

Race Availability

Can be used in Races

Top Speed - Game Files

55.92 mph (90.00 km/h)

Based on (Real Life)

Classic Piaggio Vespa
Seats

2

Mass / Weight

100

KG

Drive Train

RWD

Gears

3
Faggio Mod: GTA V Performance
The below Top Speed & Lap Time have been accurately tested by
Broughy
.
Top Speed - Real

74.25 mph (119.49 km/h)

Lap Time

1:27.154

Bulletproof

No

Explosive Resistance

Amount of explosives required to destroy the Faggio Mod, with 100% armor, and occupied by a player:

| Explosive Weapon | Amount |
| --- | --- |
| Homing Launcher / Oppressor Missiles / Jet Missiles | 1 |
| RPG / Grenades / Sticky Bomb / MOC Cannon | 1 |
| Explosive Rounds (Heavy Sniper Mk II) | 2 |
| Tank Cannon (Rhino / APC) | 1 |
| Anti-Aircraft Trailer Dual 20mm Flak | 1 |
Faggio Mod: GTA V Statistics
Speed

48.29

Acceleration

28.75

Braking

13.33

Handling

51.52

Overall

35.47
Note: The above statistics are coming from the Rockstar official website.
Faggio Mod Description:
A certain kind of man looks at a scooter and thinks "it's fine, but it doesn't reflect how unique I am - it needs some interesting mod options". If that's you (it is) then don't fret, your minute-long search has finally come to an end.
Faggio Mod: GTA V Appearances
Release Date

October 4, 2016

DLC / Title Update

1.36 Bikers

Game Edition

GTA Online

Platforms

PC

PlayStation 4

Xbox One
Similar Vehicles
Model ID

faggio3

Faggio Mod: Vehicle Customization

Total Cost to Fully Upgrade in GTA Online

$355,539

Modification
GTA Online Price
Armor

No Armor

$1,000

Armor Upgrade 20%

$7,500

Armor Upgrade 40%

$12,000

Armor Upgrade 60%

$20,000

Armor Upgrade 80%

$35,000

Armor Upgrade 100%

$50,000

Brakes

Stock Brakes

$1,000

Street Brakes

$20,000

Sport Brakes

$27,000

Race Brakes

$35,000

Body Work > Sissy Bars

Stock Sissy Bar

$300

Plain Sissy Bar

$900

Simple Sissy Bar

$1,500

Vintage Sissy Bar

$1,700

Ribbed High Back

$2,000

Vintage Ribbed High Back

$2,750

Carry Rack And Grab Rails

$3,300

Tire Rack And Grab Rails

$3,900

Body Work > Front Mudguards

Stock Mudguard

$2,200

Secondary Color Mudguard

$4,600

Chrome Ridge Mudguard

$7,400

Full Chrome Mudguard

$11,700

Body Work > Headlights

Stock Headlights

$200

Small Twin Lights

$750

Large Twin Lights

$1,340

Yellow Twin Lights

$1,650

Simple Quad Lights

$3,000

Fancy Quad Lights

$3,200

Entry Level Mod Lights

$3,650

Big Boy Lights

$4,100

Extreme Mod Lights

$4,550

Uber Mod Lights

$5,000

Body Work > Seats

Stock Seat

$1,600

Vintage Leather Seat

$3,000

Ribbed Leather Seat

$5,000

Vintage Ribbed Seat

$8,000

Leopard Fur Seat

$9,600

Tiger Fur Seat

$11,000

Zebra Fur Seat

$11,600

Body Work > Mirrors

Stock Mirrors

$700

Basic Carrier Rack

$1,100

Basic Crash Bars

$1,350

Carrier Rack with Crash Bars

$1,500

Rack With Narrow Mirrors

$2,750

Rack With Wide Mirrors

$3,600

Crash Bars With Mirrors

$4,900

Mirrors Galore

$5,800

Even More Mirrors

$7,000

Uber Mod Wall of Mirrors

$8,000

Body Work > Racks

Stock Rack

$300

Basic Carry Rack

$900

Dirty Stopout Rack

$1,500

Spare Tire Rack

$1,700

Body Work > Rear Antennas

Stock Rear Antenna

$200

Offside Rear Antenna

$700

Nearside Rear Antenna

$1,150

Dual Rear Antenna

$1,600

Offside Mid Antenna

$1,950

Nearside Mid Antenna

$2,400

Dual Mid Antenna

$2,500

Body Work > Arch Covers

Stock Arch Covers

$2,500

Secondary Color Covers

$5,500

Chrome Wheel Covers

$8,000

Body Work > Front Antennas

Stock Front Antenna

$6,000

Mudguard Lights

$7,050

Nearside Front Antenna

$10,000

Offside Front Antenna

$13,000

Dual Front Antennas

$14,000

Body Work > Windshields

Stock Windshield

$300

Green Short Windshield

$900

Red Short Windshield

$1,500

Yellow Short Windshield

$1,700

Blue Short Windshield

$2,000

Clear Short Windshield

$2,750

Green Half Windshield

$3,300

Red Half Windshield

$3,900

Yellow Half Windshield

$4,350

Blue Half Windshield

$5,000

Clear Half Windshield

$5,150

Green Tall Windshield

$5,300

Red Tall Windshield

$5,450

Yellow Tall Windshield

$5,600

Blue Tall Windshield

$5,750

Clear Tall Windshield

$5,900

Green Full Windshield

$6,050

Red Full Windshield

$6,600

Yellow Full Windshield

$7,150

Blue Full Windshield

$7,700

Clear Full Windshield

$8,250

Engine

EMS Upgrade, Level 1

$9,000

EMS Upgrade, Level 2

$12,500

EMS Upgrade, Level 3

$18,000

EMS Upgrade, Level 4

$33,500

Explosives

Ignition Bomb

$5,000

Remote Bomb

$7,500

Horns
See the full list of the available Horns options »
Lights

Stock Lights

$600

Xenon Lights

$7,500

Livery

None

$11,400

Union Jack

$18,240

Rule Britannia

$19,380

Mod Roundel

$20,520

Italian Stallion

$21,660

La Dolce Vita

$22,800

Bad Trip

$23,370

Splattered Flag

$23,939

The Classic

$24,510

Faded Empire

$25,080

Rusty Union Jack

$25,650

Rusty Roundel

$26,220

Forgotten Dreams

$26,789

Plates

Blue on White 1

$200

Blue on White 2

$200

Blue on White 3

$200

Yellow on Blue

$300

Yellow on Black

$600

Respray
See the full list of the available Respray options »
Transmission

Stock Transmission

$1,000

Street Transmission

$29,500

Sports Transmission

$32,500

Race Transmission

$40,000

Turbo

None

$5,000

Turbo Tuning

$50,000

Wheels > Wheel Type
See the full list of the available Wheel Types options »
Wheels > Wheel Color
See the full list of the available Wheel Colors options »
Wheels > Tire Design

Stock Tires

$200

Custom Tires

$5,000

Wheels > Tire Enhancements

Standard Tires

$200

Bulletproof Tires

$25,000 (Rank 20)

Low Grip Tires

$500 (at LS Car Meet)

Wheels > Tire Smoke
See the full list of the available Tire Smoke options »
Faggio Mod: GTA V Screenshots
Faggio Mod: Custom Paint Jobs
Faggio Mod Video