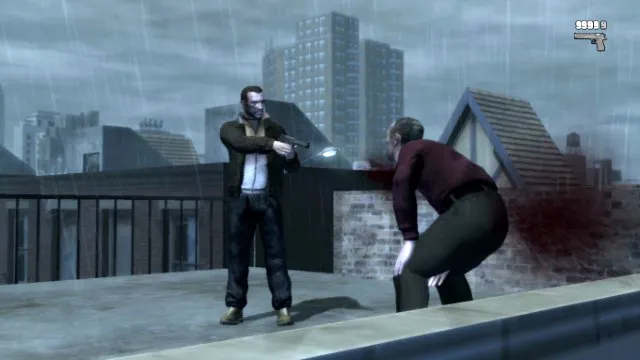 The Master and the Molotov is a main story mission in Grand Theft Auto IV, given by Dimitri Rascalov.
It's the 23° GTA IV mission in chronological order, and it takes place in Broker / Dukes.
Mikhail Faustin meets his demise.
Dimitri Rascalov tasks Niko with killing Mikhail Faustin because of his actions. He is extremely reckless and proves to be a danger to his family and his friends. Niko heads over to Perestroika, Faustin's club, where he confronts him. Niko fights through his men and meets him at the roof of the club, where Faustin warns Niko that he will be betrayed by Rascalov. Niko ignores him and executes him, who falls off the roof to his death.
This mission introduces Body Armor.
This mission is Faustin's only appearance outside of cutscenes.
The Master and the Molotov: Mission Objectives
Go to

Faustin's club

.

Faustin

is inside Perestroika.

Faustin

is getting away. Chase him.
The Master and the Molotov: Mission Info
Game Edition

Grand Theft Auto IV
Mission Number

23

Mission Giver

Dimitri Rascalov

Location

Firefly Island, Hove Beach

State / Area

Broker / Dukes

Available After Mission (Story Mode)
Rewards

Body Armor

Unlocked Items

Molotov CocktailRussian Revolution

Featuring

Mikhail FaustinFaustin-Rascalov Mafiya
The Master and the Molotov: Video Walkthrough