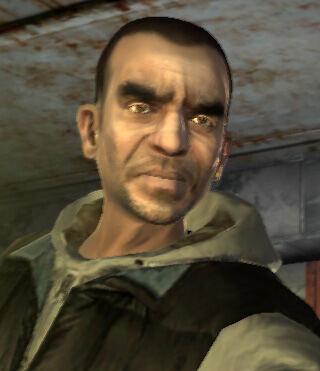 Hossan Ramzy is a character that appears as a Random Encounter in Grand Theft Auto IV.
Hossan is an Egyptian who worked alongside Niko aboard the Platypus. Niko and Hossan reunite in Suffolk, where Hossan is seen selling counterfeit bags.
Random Encounter
Unlocked after "The Puerto Rican Connection".
Available 24 hours a day.
Found on the west end of the Garnet Street in Suffolk.
Niko reunites with Hozzan, who is now working as a street vendor. He and Niko pursue a man who refuses to pay Hozzan for his work due to him being an illegal immigrant, and recover his money.
Hossan Ramzy: Character Info
Game Edition

Grand Theft Auto IV
Role

Random Encounter

Gender

Male

Born In Year

1968 (40 years old in 2008)

Nationality

Egypt

Occupation

Illegal Vendor

Location

Algonquin, Liberty City

Affiliation

Niko Bellic
Performer / Actor

Sean Krishnan

Notes

Hossan appears in the game's first mission, "The Cousins Bellic", talking to Niko about "making a go for it" and entering the United States to live the American Dream
Hossan Ramzy: Appearances
Map Locations (Spawn Areas)

Here is where to find the Hossan Ramzy in Grand Theft Auto IV:

In his random encounter, he can be found on the west end of the Garnet Street in Suffolk.