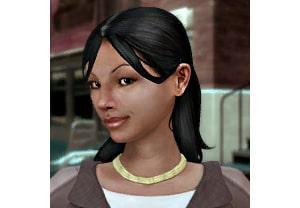 Carmen Ortiz appears as a Girlfriend and Minor Character in Grand Theft Auto IV, as well as a Minor Character in GTA IV: The Lost and Damned.
Carmen Ortiz is a nurse living in Bohan.
She wants to become a television presenter and has an extremeley positive opinion about her looks. As a girlfriend, she likes expensive cars, original and expensive clothing, driving fast and enjoys when Niko escapes the cops.
Once Niko and Carmen's relationship reaches a high enough level, Niko will be able to call Carmen to heal any non-gunshot damage taken.
Carmen Ortiz: Character Info
Game Edition

Grand Theft Auto IV GTA IV: The Lost and Damned
Role in TLAD

Minor Character

Gender

Female

Born In Year

1985 (23 years old in 2008)

Nationality

United States

Location

Valdez Avenue, Fortside, Bohan

Occupation

Nurse

Also Known As

SoBoHoe

Performer / Actor

Elan Luz Rivera
Carmen Ortiz: Appearances