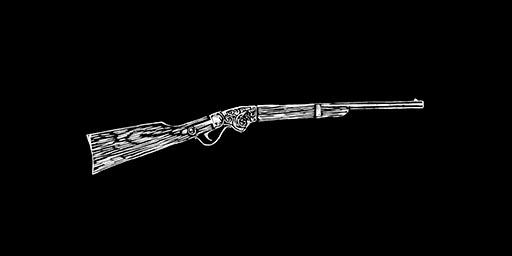 The Carbine Repeater is a Repeaters weapon featured in Red Dead Redemption 2 and Red Dead Online.
The design of the Carbine Repeater is based on a real life Spencer Model 1865 Carbine. The in-game version of the weapon is manufactured by Buck.
This weapon can be customized at any of the Gunsmiths.
How to get the Carbine Repeater in Red Dead Online:
The Carbine Repeater can be purchased in Red Dead Online at any Gunsmith or from the Handheld Catalogue, for a price of $90.00 or 4 Gold Bars .
How to get the Carbine Repeater in RDR2 Story Mode:
The Carbine Repeater can be purchased in RDR2 Story Mode at the Gunsmith for a price of $90.00.
It becomes available after completing Old Friends in Story Mode.
Carbine Repeater Description:
A reliable and popular repeating rifle, the Buck Carbine provides medium damage and a decent firing rate, with quick reload speeds thanks to the tube-loaded magazine in the weapon's stock. A good, balanced choice for hunting and medium-range combat, this gun has an ammo capacity of seven rounds, and can use Regular, High Velocity, Split Point, Express and Explosive repeater ammo.
Carbine Repeater Statistics
Damage

60.00

Fire Rate

53.00

Accuracy

73.00

Range

65.00

Reload

73.00

Overall

64.8
Unlock Rank

1

Ammo Capacity

7
Carbine Repeater: Information
Notes

Given during "Old Friends" (Chapter 1)
Wheeler, Rawson & Co. Catalogue Description (in-game):

IF YOU ARE IN THE MARKET FOR A REPEATING RIFLE then you can do no wrong in exchanging your hard earned money for the Carbine Repeater from Buck. There is little in the world more dependable, save a trusty steed or good dog. However those are like to die, unlike a finely made gun.
Carbine Repeater: Appearances
Release Date

October 26, 2018

Game Edition

Red Dead Online RDR 2 Story Mode
Screenshots
Artworks
Coming soon.