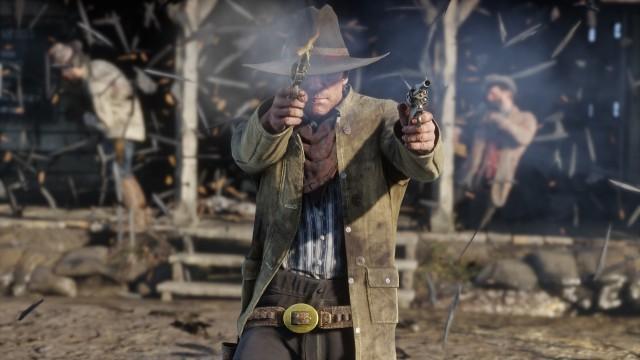 Here is a full guide to the Combat System in Red Dead Redemption 2, including details on all the different types of Weapons, ammunition, accessories, weapon maintenance, how to use the Dead Eye System, stealth and cover, and much more.
Weapon Wheel and Weapon Classes
You can equip weapons, switch ammunition or view stats using the Weapon Wheel. Hold L1 to open the Weapon Wheel, use ® to select the weapon you want to use, then release L1 to equip.
Compact and modern. Pistols are not as powerful as revolvers, but can hold more ammunition and can be reloaded quickly during a fight.
These six-chambered sidearms offer greater damage and accuracy compared to pistols, with the downside of slower reload times and fire rates.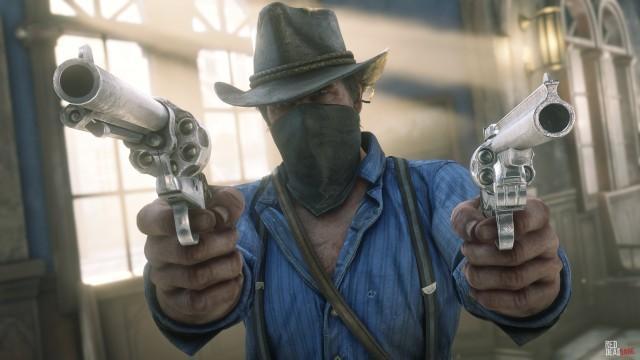 These ranged longarms are designed for precise shooting at distance. Great accuracy, but can be slow and cumbersome. With some long scoped rifles, a single shot can deal serious damage.
Repeaters offer a superior rate of fire and ammunition capacity when compared to rifles, at the cost of lower accuracy and damage.
These are hefty firearms that shoot a batch of buckshot, effective at close range and against multiple targets. For a greater impact, switch to Slug ammunition.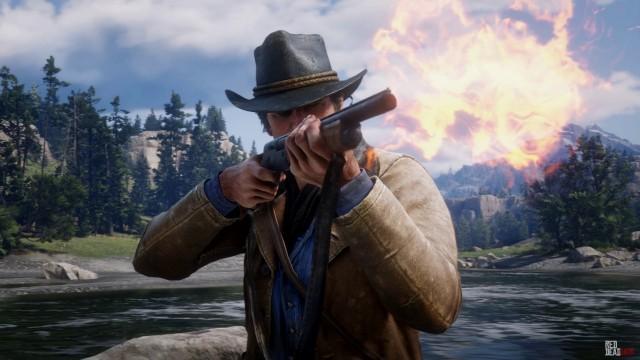 Weapons like throwing knives and tomahawks can be used to take out enemies quickly and quietly. If stealth isn't a priority, throw a Fire Bottle or some Dynamite in their general direction.
In situations where it's not polite or possible to carry a gun, you can always use your fists. Find various knives and hatchets in the world which can give you the edge in a brawl.
A silent and accurate weapon, a Bow allows for a stealthy approach to hunting or combat situations. Various kinds of arrows can be crafted and used.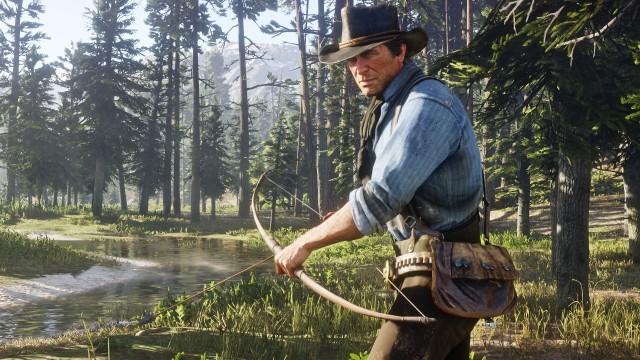 You can use the lasso to rope animals, and to immobilize enemies - it's particularly useful for bounty hunts where the target is wanted alive. To lasso a target, equip your lasso like any other weapon, aim at the target with L2 and ®, and press R2 to hurl your lasso.
Once you've lassoed a target, you can quickly approach them and press O to hogtie and keep them still. The hogtied enemy can then be picked up and carried and even placed on your horse. Lassoed targets will break free after a short time if they're not hogtied.
Weapon Maintenance & Upgrades
Ammunition
Ammunition for your weapons can be bought from Gunsmiths or General Stores, crafted, looted from dead enemies, or found in the world. Certain types of ammunition have special properties that can give you an advantage in combat.
For gun weapons, High Velocity cartridges increase range and penetration through enemies. Split Point cartridges improve accuracy and reduce Dead Eye drain. For extra damage, purchase Express cartridges or craft special Explosive ammunition.
When hunting, craft Small Game arrows to end up with better quality pelts, or use Poison arrows to take down big animals quickly. When faced with enemies, craft Fire or Dynamite arrows for increased power.
Accessories
Equipment upgrades can be bought from any Gunsmith store, allowing you to carry more ammunition and slow the degradation of your weapon.
Reinforced versions of weapon accessories that provide further upgrades can be purchased from the Trapper store. The shopkeeper will require both money and the correct crafting materials gathered from hunting.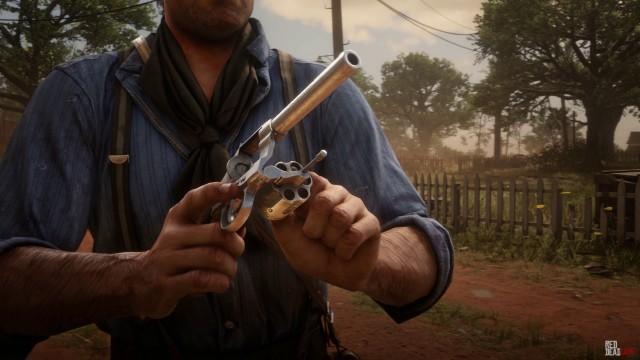 Weapon Condition / Cleaning Weapons
A weapon's condition will deteriorate due to usage and environmental factors, and requires regular maintenance to stay in perfect condition. Letting your weapons get dirty or rusty will lead to lower damage, slower cocking, and longer reloads.
To maintain your weapon, select it from the Weapon Wheel and press R3 to inspect and clean your weapon. This requires Gun Oil, which can be purchased from any Gunsmith store.
Weapon Familiarity
When you use the same model of gun over a long period of time, your skill with it increases, which can improve weapon handling, reduce recoil, and speed up actions like reloading.
To view your current Familiarity level with a weapon, visit the Weapons section of the Compendium.
Dead Eye System
Dead Eye is a special ability in Red Dead Redemption 2 that you can use by pressing R3 while aiming a gun or bow. In Dead Eye mode, time passes more slowly and you take less damage, making you more effective in combat.
While using Dead Eye, you can target multiple enemies. Move the aiming reticle and press R1 to mark your targets, then press R2 to fire at all targets in the order in which they were placed. Press R3 again to deactivate Dead Eye.
You can see your Dead Eye Core, along with Health and Stamina, displayed near the radar at the bottom left of your screen. Dead Eye capacity drains while in use, and regenerates over time. Your Dead Eye bar will refill slightly each time you kill an enemy.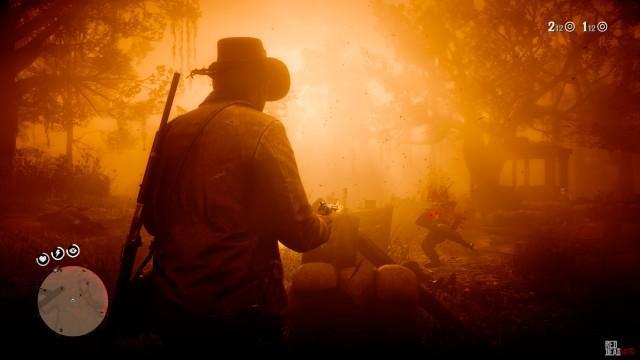 Using Chewing Tobacco will make Dead Eye drain slower than usual. You can permanently increase the capacity of the Dead Eye bar by gaining experience from completing actions such as hunting, crafting, and finding collectables.
Exposure to extreme heat or cold will negatively affect your ability to regenerate Dead Eye, as well as other attributes.
Fighting with Companions
When taking on enemy gangs or the law, it can be invaluable to have your fellow gang members by your side.
You can use weapons while on horseback, but bear in mind that some horses will become agitated if they feel threatened or you make loud noises. Use silent weapons, like the bow, to avoid spooking your horse. Its courage will increase as you unlock horse bonding levels.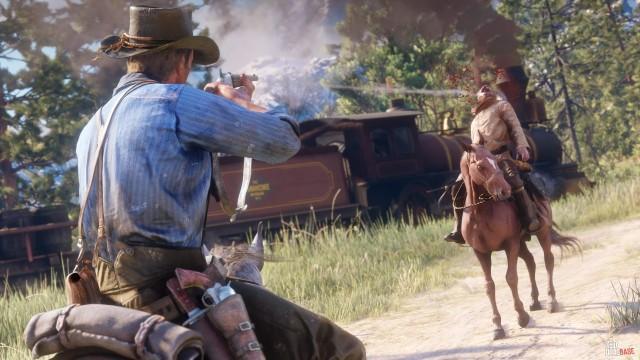 Gunsmiths
Gunsmith stores can be found in all major towns, and each has a unique selection of items available. Browse the store's catalogue to buy weapons, ammunition and accessories, or take a look at the store's shelves to see what's for sale.
You can also customize weapons at a Gunsmith store. Improve stats by upgrading components, make the weapon stylish with new materials, engravings and carvings, or repair your weapon to perfect condition.
Stealth & Cover
You can press L3 to crouch, avoiding enemies' lines of sight, and move more quietly and stealthily. Sneak up on enemies from behind and press O to knock them out while unarmed, or to stealth kill if you have a knife equipped.
Use R1 to use a nearby wall, building or other structure as cover, and use ® to look around while in cover and use the left analog stick to break out. To move around corners or to the next available cover, use Square.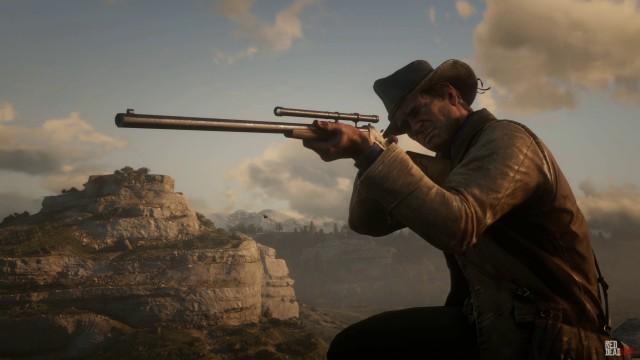 Progress
Weapons Expert Challenge
Using certain weapons will increase your rank in the Weapons Expert Challenge, allowing you to unlock special reinforced combat accessories that can then be purchased. Challenge completion information can be found in the Progress - Challenges section of the Pause menu.
Compendium
The Weapons section of the Compendium keeps track of all weapons you have encountered so far, as well as key statistics like kills and headshots.
Be on the lookout for some unique versions of weapons. These could be hidden in the world, dropped by certain enemies, or given as a reward for completing activities.
---
For more Red Dead Redemption 2 Guides check out the complete Guides Section, including Wildlife Database, Weapons Database, and more!