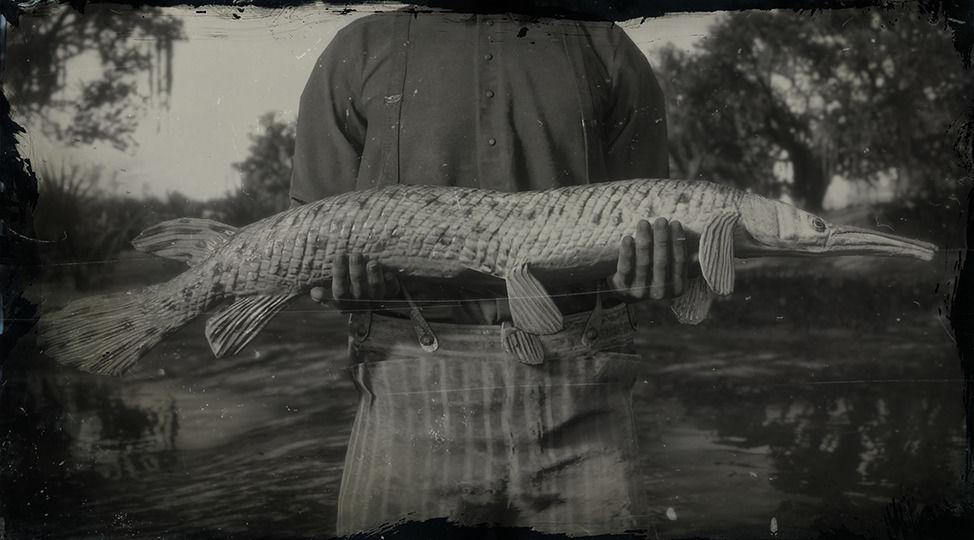 The Longnose Gar is a Medium-sized fish featured in Red Dead Redemption 2 and Red Dead Online.
It's not required for the "Zoologist" and "Skin Deep" Achievements.
Longnose Gar Details & Location:
Longnose Gar are large, long, thin swamp dwellers. The Longnose Gar's habitat is restricted to a few spots in Lemoyne. It eschews natural baits in favor of Swamp Lures. Longnose Gar are noted to be more active in overcast weather. Bluewater Marsh locals tell of a Legendary Longnose Gar lurking somewhere in the shady bayou.
Longnose Gar Fishing Tips:
You are most likely to catch this type of fish using a Swamp Lure and when it rains.
Longnose Gar Info
Animal Species

Longnose Gar

Animal Class

Fish

Animal Family

Lepisosteidae

Size

Medium

Location

Found in the Swamps in the Swamp Region (Lemoyne), preferably with Overcast Weather

Hunting

Can be fished

Required for Achievement

No
Scientific Name

Lepisosteus osseus
Longnose Gar Appearances
Game Edition

Red Dead OnlineRDR 2 Story Mode
Screenshots
Artworks
Coming soon.