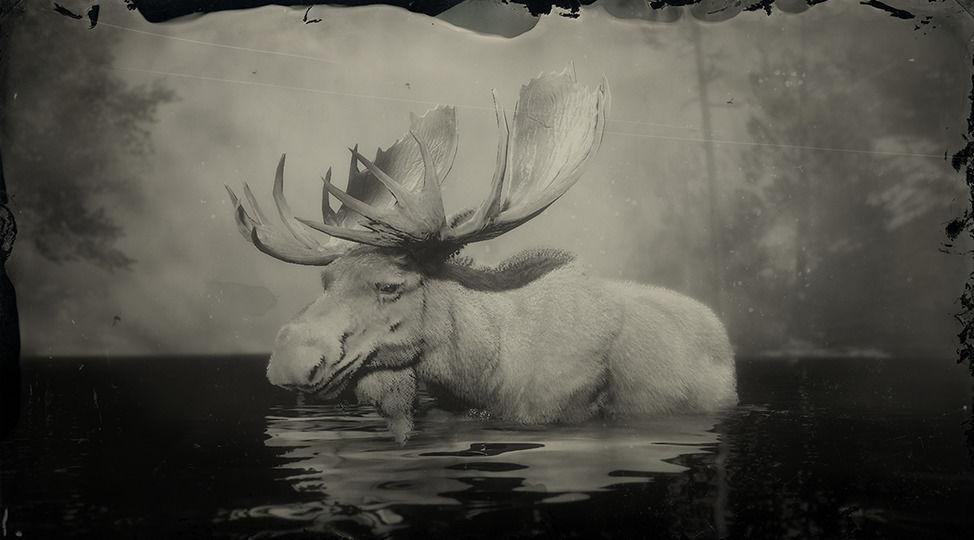 The Legendary Moose is a Massive-sized animal of the Moose species, featured in Red Dead Redemption 2 and Red Dead Online.
As a Legendary Animal, the Legendary Moose is one of a kind: once you kill it, it will not appear again.
This animal can be hunted and skinned. It's not required for the "Zoologist" and "Skin Deep" Achievements.
Legendary Moose Details & Location:
The Legendary Moose is endemic to Roanoke Ridge, New Hanover. This moose can be recognized by its larger size and short light gray hair. Its omnivore diet includes shoots from willow and birch trees, aquatic plants and forbs. The best weapon to hunt this animal is considered to be either a Bow with Improved Arrows or a long scope rifle. Killing this animal will give you the opportunity to craft a rare trinket.
Legendary Moose Hunting Tips:
The Legendary Moose yields an antler that can be used in crafting. Use a Bow with an Improved Arrow for a clean kill.
Legendary Moose Info
Notes

This animal species is not required for "Zoologist" and "Skin Deep" Achievements

Scientific Name

Alces alces
Legendary Moose Appearances
Game Edition

Red Dead OnlineRDR 2 Story Mode
Screenshots
Artworks
Coming soon.