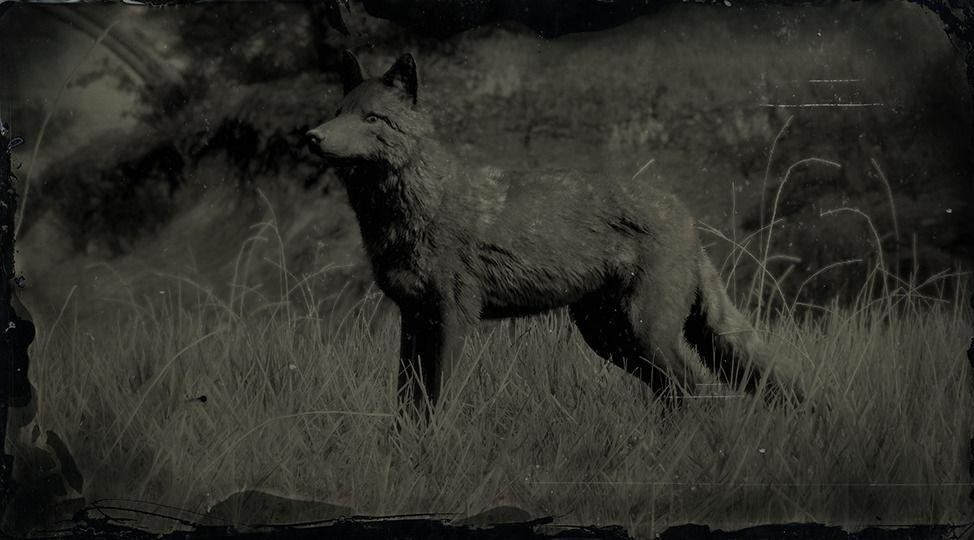 The Legendary Coyote is an animal of the Coyote species, featured in Red Dead Redemption 2 and Red Dead Online.
As a Legendary Animal, the Legendary Coyote is one of a kind: once you kill it, it will not appear again.
This animal can be hunted and skinned. It's not required for the "Zoologist" and "Skin Deep" Achievements.
Legendary Coyote Details & Location:
The Legendary Coyote is native to The Heartlands, New Hanover. This dark gray coyote can be recognized by its larger than average size. Its diet is primarily carnivorous, consuming meat of rodents as its main food source. The most effective weapons to hunt this animal are considered to be a repeater or a Bow with arrows. Killing this animal will give you the opportunity to craft a rare trinket.
Legendary Coyote Hunting Tips:
The Legendary Coyote yields a fang that can be used in crafting. Use a repeater for a clean kill.
Legendary Coyote Info
Notes

This animal species is not required for "Zoologist" and "Skin Deep" Achievements

Scientific Name

Canis latrans
Legendary Coyote Appearances
Game Edition

Red Dead OnlineRDR 2 Story Mode
Screenshots
Artworks
Coming soon.