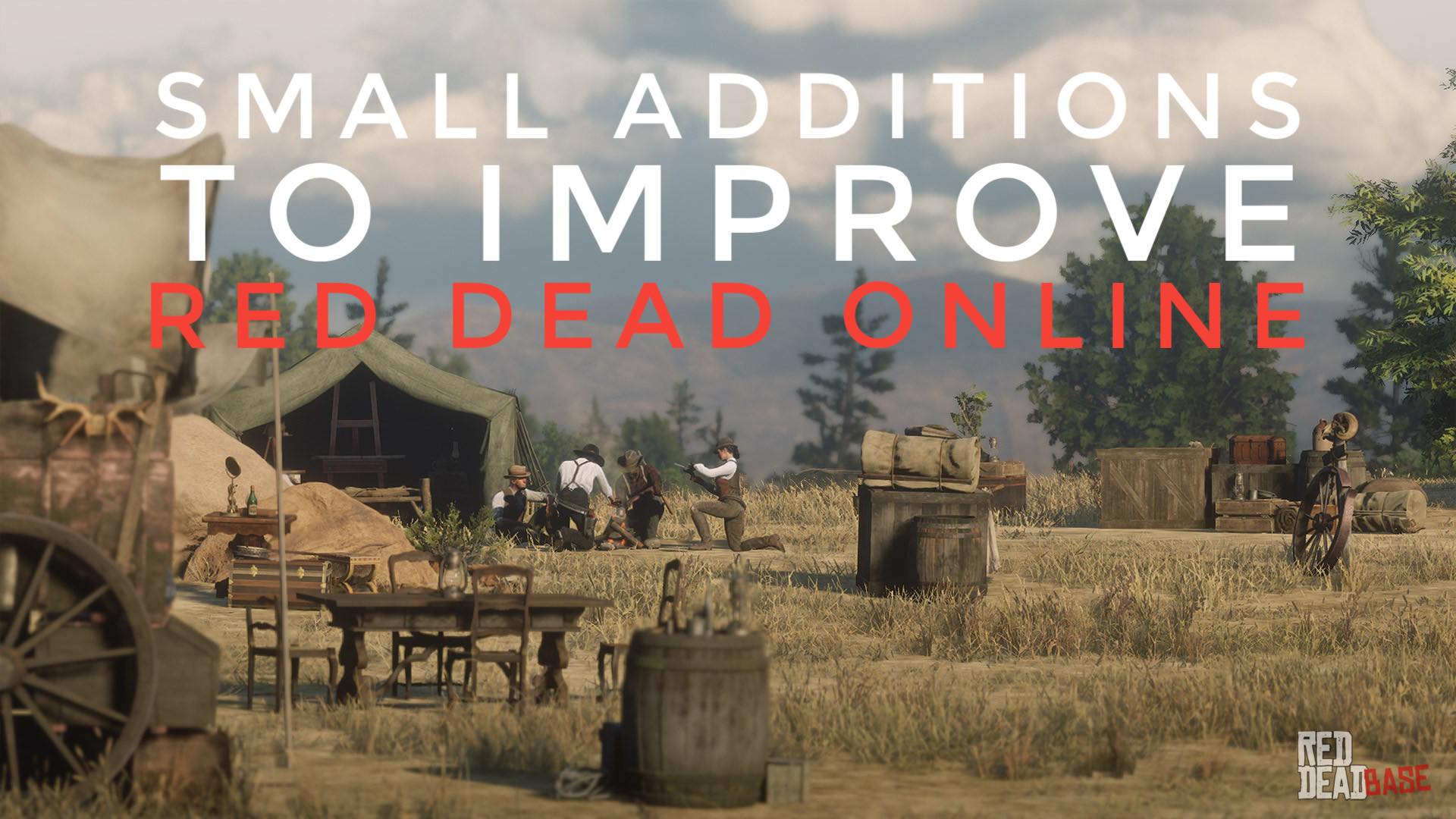 Red Dead Online holds a lot of potential for greatness, there's no doubt about that. After the improvements made to character movement and the addition of roles, the game has began to find it's footing. But the game needs some minor features and additions to really make it a fantastic experience, and Rockstar has listened to us in the past with these - with more saddle bag designs, the stew pot, weapon lockers and the aforementioned improvements made to the aiming and movement.
Because of this, I've compiled a set of lists consisting of tiny features that I managed to come up with, that would really help round off the game as a whole.
NOTE - SINCE RELEASING THIS, WE COMPILED EVERY ONE OF OUR CONCEPTS INTO ONE LARGE ARTICLE DETAILING A FIVE YEAR / 11 UPDATE PLAN FOR RED DEAD ONLINE. THIS CAN BE VIEWED BY CLICKING ON THIS TEXT!
Enjoy the Little Things - General Content
Acoustic guitar - Playable when riding on wagons, at the campfire or on foot. Can be customised in depth with engravings, embellishments, wood types, etc.

We could have other instruments too, like a Harmonica, which could be customised with metal types
Instruments could harmonise together to make fantastic music, like in the moonshine shack or Sea of Thieves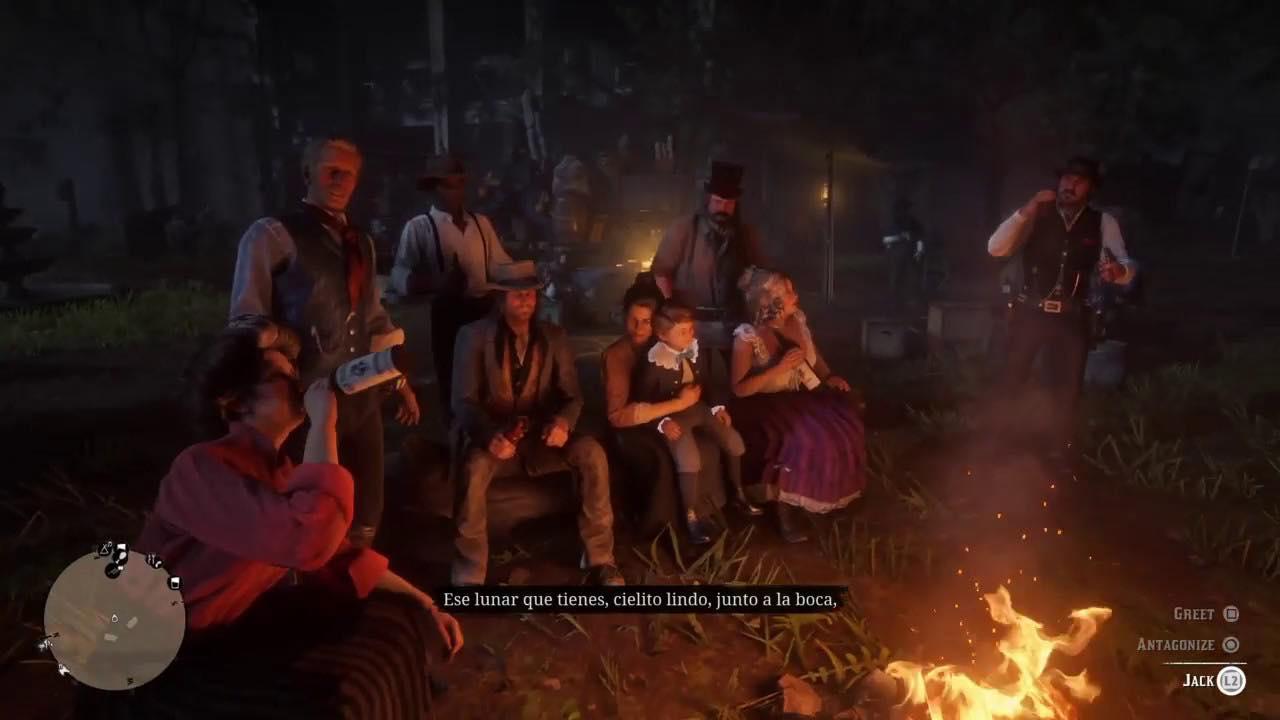 Theatre, cinema and hotels from single player

Hotels could fortify cores when resting and give access to a wardrobe

Multiple rooms available, maybe some in the Valentine Saloon?
One player at a time for 10 minutes. Bath good for cleaning

Imagine visiting the theatre with your mates in Online, being called up as a volunteer and firing a bullet at a magician to catch in his teeth. Obviously, other player could try to grief this but if tickets had to be purchased before the show started, it would be easier to manage


Horse breaking

Broken horses can be saddled and saved but will not respawn if they die

Unless a more expensive horse insurance package is purchased
Perhaps if the horses could be sold for 20% of their purchase price, it would bring more reason to do so. It could even be worked into a role like GTA's Import/Export DLC

Horse spawning could either be decreased slightly to balance this, or it could work like Los Santos Customs or Simeon's requested vehicles

Restore the original payouts for animal pelts and fish sold to the butcher
Two-player actions/emotes

Destiny has them, and we kind of have them in the moonshine shack with the interactions, so it's not impossible

Posse emblems

This can be done through something like the crew logo creator for GTAO, or it could be a separate in-game feature like the ones in Halo or Call of Duty.

Blackjack, Dominos, Five Finger Filet and Liar's Dice

Even just a gambling table available at our camp for friendly games with our fellow posse members

Rockstar's anti-gambling cheat methods are strangely strong, considering we can't purchase $ in RDO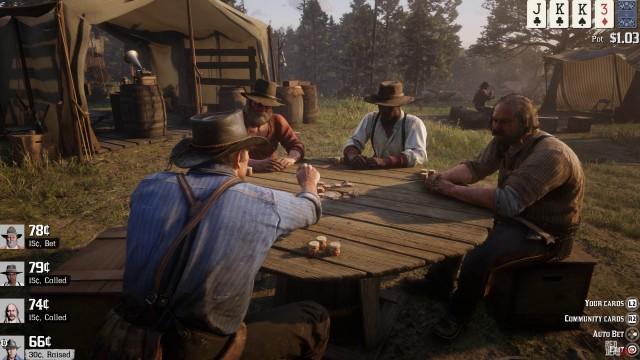 Trapper + trapper clothing
Wagon and horse fences
Citizens in the houses we can enter

I need more risk when robbing homes

Dog tricks/jobs (Fetch ammo, ingredients, etc)

Think dogmeat from Fallout or Boomer from Far Cry, but the wild west

Dogs linked to tents, not camps. We want multiple dogs at our camp

I want them to chase eachother around and play

No puppy making though, please. That one scene from GTA V was quite enough

A ferry that takes you across Flat Iron Lake

It's like a train, but wet
Ticket prices would perhaps be around $2.50, so it's cheaper than fast travel, but takes longer

Passenger trains

We need to be able to purchase train tickets, rob passengers and steal these just like we can in single player. There's no reason the online ones should just be limited to the cargo trains we have at the minute.

Ferrari horse

But call it a Lampadati for the memes

Purchasable coach wagons that can be customised

Wheels, paint x2, livery, seating materials

Perhaps a "Paint quality" feature where our paint could look fresh or more worn would make this even better
Painting and applying liveries to our bounty, hunting and delivery wagons would also be nice
We could perhaps store valuable items in the wagon lockbox, in which we could sell to a fence.

Carrying more than 5 gold teeth would be great

Chose the horse(s) to pull your wagons, including the bounty, hunting and delivery wagons

Who is this shire and where did he come from?

Bar food/meals from single player

A hireable bartender in our moonshine shack would also be useful

They could also serve this food.
Summonable row boat / steam boat / canoe

Also make these paintable

The ranch at McFarlane's ranch should already be built

Bonnie said it was built when she was a child

Unless she's still a child at heart

Some way to get to Guarma, even if it's just a mission

Please, Rockstar. We've went seven months with nothing. Treat us

Separate bounty rankings per state

Another feature available in single player, perhaps to balance this we could build bounties faster
This would be really cool and bring a new level of thought to the game, choosing to avoid locations to avoid being hunted down

Allow us to sleep at camp beds/sleeping bags

This should make our cores regenerate faster than typical resting, maybe fortify them by one level
Guns, and Other Deadly Tools - Weapon Additions and Improvements
Weapon naming
Metal plating armour which increases health but decreases stamina and movement speed

It already exists in showdown modes and the mission where we defeat Teddy Brown, so it's a little less work
Perhaps we would be restricted from eating if we wore the helmet, but we'd be a little more protected from headshots
A Game of Style - Character Customisation
Assless chaps


Okay, I'm joking with this one

Don't even try and convince me you wouldn't want to see Arthur's juicy cheeks

Kilts, sand masks, satchels, robes, turbans, gowns, dresses

Rockstar is a traditionally Scottish company, we need kilts! John Marston's Dad was even Scottish!
The satchels would also be a nice addition, and could perhaps increase inventory space
Sand masks would be good for hot weather
Turbans are great for character creation and diversity
Dresses and gowns are good for those who spend most of their time in Saint Denis or Blackwater

Dresses have been added to the game

More Native-American tribal clothing would also be appreciated

Stick-poke tattoos

All these vintage or tribal tattoo designs would make our characters look way more interesting

War paint for players and horses

This would be cool for rougher characters, or Native American characters

There really is a huge Native American scene in Red Dead Online. More clothes for them would be good too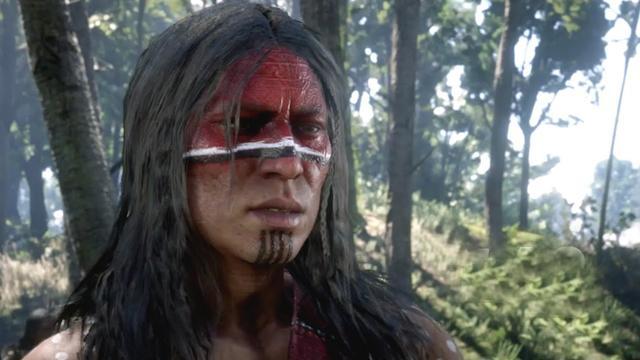 Better fitting bandoliers
Bow customisation

Woods, grips, paints, strings.
Maybe even arrow paints?
Was added in The Naturalist

Winchester repeater

Perfect for killing the undead

Bayonet gun

Being able to charge with this would be cool

Pitchfork

Big weapon for impaling people

Flaming torch

Previously available in Guarma and RDR1
Alternative light source to the lantern
Another weapon that is perfect for killing the undead

Body hair options
Beard customisation and hair growth
Makeup for men

Ru Paul's expansion into the wild west was a hit success
Stories to Tell - Random Encounters
Bounty hunter random encounters

It's strange that we only find bounty targets when we're looking
Was added in the Bounty Hunter Update

More honour-based random encounters

The blind fortune teller would be a great way to tease future updates and events

Even just missions the player hasn't completed yet
He could even convince players to purchase roles, and maybe offer 1 or 2 gold off them

High-end stagecoach random encounters

They could be carrying rich citizens, special valuable items or even collectibles

Duels, with both NPCs and the ability to challenge other players
More frequent random encounters

With server improvements, this seems to be a thing

More camp random events, like an animal attack

That old guy said he'd remember me, let him come back and give me something nice

Animal pelts for Cripps, please?

Travelling circus, wandering fence or trapper which we can purchase things from, anything like that
What small features would you like to see in Red Dead Online? If we get enough ideas, we'll credit you in a follow up article!