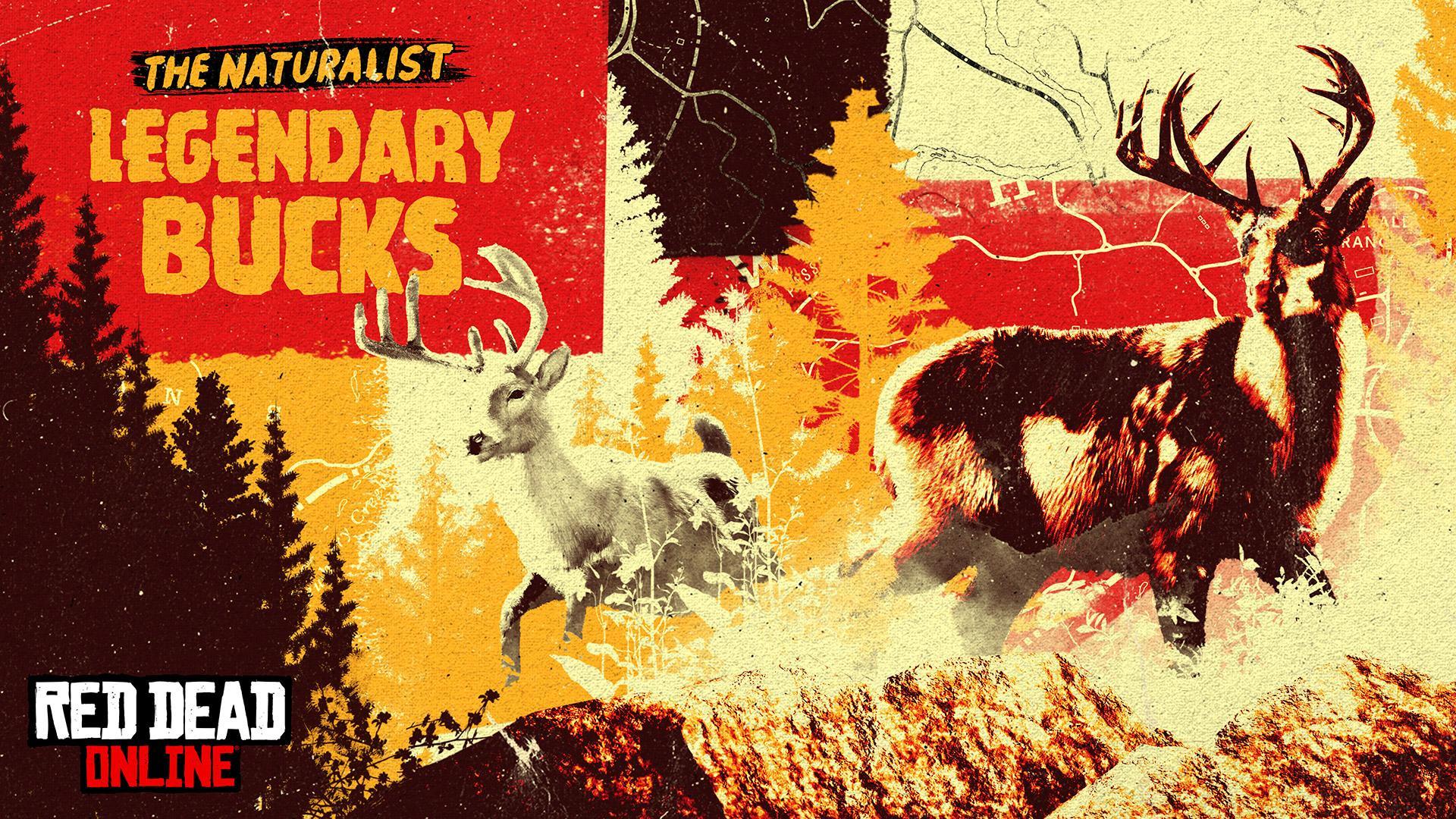 Naturalists meandering in the Heartlands of New Hanover or the woods of West Elizabeth should sharpen their tracking skills and stay alert for a pair of Legendary Bucks.

The fabled Legendary Mud Runner Buck - with its aggressive nature and piebald coat that sets it apart from the more common bucks living nearby - has been spotted in the south of The Heartlands by Flat Iron Lake. The vigilant and fleetfooted Legendary Snow Buck can often be found grazing near the Aurora Basin.

Photograph, track, sedate and sample them in all their natural splendor and Harriet will be pleased to reward your efforts. Alternatively, hunt and skin the beasts before bringing their pelts back to Gus to adorn your trophies.

These Legendary Bucks are said to be most active at daylight, during dry weather.
You'll receive 50% more XP (as well as Role XP) and RDO$ payouts for returning Legendary Buck samples to Harriet. And while Gus will not be able to craft coats from intact Legendary Buck carcasses, he will gladly purchase these carcasses and pelts from you for 50% more RDO$.
Gus' Store
In addition to offering 50% bonus payouts on intact Legendary Buck carcasses and pelts, Gus will be positively thrilled to aid you in crafting either the Mud Runner Coat or the Snow Coat.
Wildlife Photographer Free Roam Event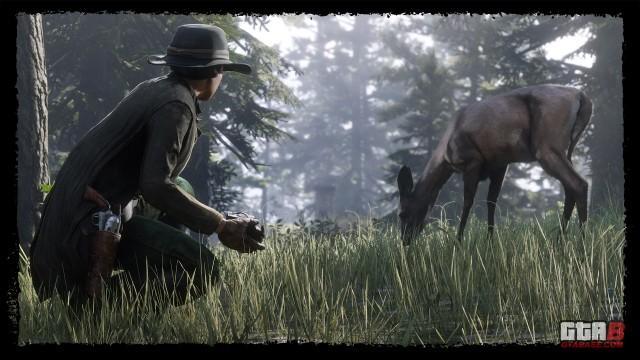 A brand new Free Roam Event invites all players to photograph animals in their natural habitats, competing against other photographers to rack up the highest number of points. Outscore your foes by photographing as many different animals as possible as closely as you can, paying mind to the quality of your composition. Prove your skills behind a camera to emerge as the victor for generous RDO$ & XP payouts. The best individual photograph taken during each event will also earn a reward.
Introducing the Hardcore Series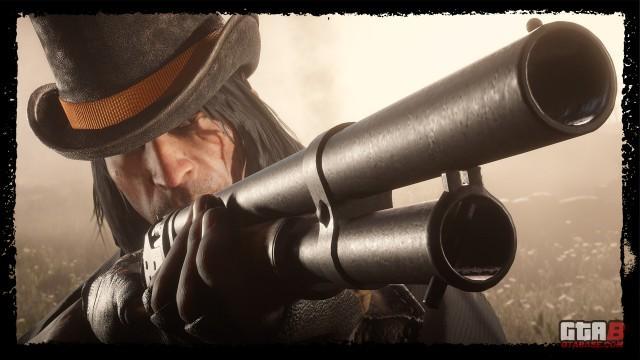 No Ability Cards. No consumables. Just you, your opponent and your trigger. If you think you're an expert gunslinger, the Hardcore Series is where you'll meet your match.
Keep an eye on the Featured Series tile for the occasional Hardcore Series in the weeks ahead. This week, jump into the Hardcore variations of Overrun, Spoils of War, Hostile Territory and Most Wanted.
New Emotes, Bonuses, Offers & Rewards
There is a selection of new Emotes available in the Wheeler, Rawson & Co. Catalogue this week, including: Hypnotize, Sniff, Check the Time, Prayer, Cougar Snarl, Coin Bite, and Shrug.
Completing any Free Roam Event will pay out RDO$100 and a Reward for 5000 Character XP, including the newly added Wildlife Photographer Free Roam Event. Plus, take a photo using the Advanced Camera to receive a Reward for RDO$100.
Speaking of discounts, Naturalists might be wise to take advantage of 40% off all tonics in Harriett's Shop. While those on the hunt for fashion can take 30% off all craftable Coats in Gus' Store, plus 30% off all Trinkets.
If you haven't jumped into Red Dead Online yet, play before September 21st to receive the following one-time gifts, and be sure to check the Benefits section frequently for new Offers and Rewards:
Offer for 30% off any Novice or Promising Item in the Naturalist Role
Reward for Free Sedative Varmint Cartridges
Offer for 30% off a Revolver
Reward for 2,000 Naturalist XP
Reward for a Free Legendary Animal Pheromone
Reward for a Free Ability Card
Becoming a Naturalist and studying wild fauna in their home environment is a reward unto itself, but there are plenty of other perks, including the following one-time gifts:
Become a Naturalist and get a Reward for a free Role Accessory, Outfit or Emote
Sedate and sample any animal and get the Gila Monster Camp Flag
Complete an Animal Sighting Mission and get a Reward for a unique colorway of the Farnholme Double Bandolier
Purchase a Wilderness Camp and get a Reward for a Treasure Map
Prime Gaming
Red Dead Online players who connect their Rockstar Games Social Club account to Prime Gaming will receive Rewards for:
5 Free Legendary Animal Pheromones
6,000 Naturalist XP
A free Wilderness Camp
A free Katata Coat crafted from the Legendary Elk hide
In addition, players connected to Prime Gaming will receive Offers for 50% off a Camp Dog, 50% off a Tent, and 50% off a Vest below Rank 15 - as well as 10x each of Special Health Cures, Special Snake Oil, Special Miracle Tonic and Special Bitters at their Camp Lockbox or any Post Office.