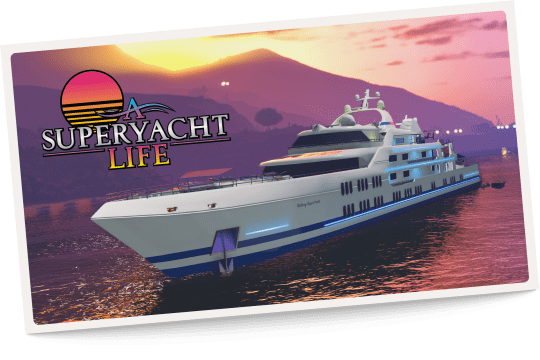 Los Santos gets an extra dose of summer fun in the latest update to GTA Online, bringing with it a host of new activities for everyone!
A Super Yacht Life: 6 New Co-Op Missions
Galaxy Super Yacht owners can host six new co-op missions ready to launch from the bridge of their vessel, or by simply calling the captain from their iFruit Phone. Play solo or invite an Organization for backup as you embark on nautical vengeance.
As an added bonus, get Double Rewards on these new maritime adventures through August 19th. Host and complete all six missions to instantly unlock a unique sea-faring outfit.
New Vehicles & Benny's Upgrades
A seasonal shipment brings 15 new vehicles to GTA Online, including two new Open Wheel cars, the futuristic Lampadati Tigon supercar, newly available upgrades at Benny's Original Motor Works, and more.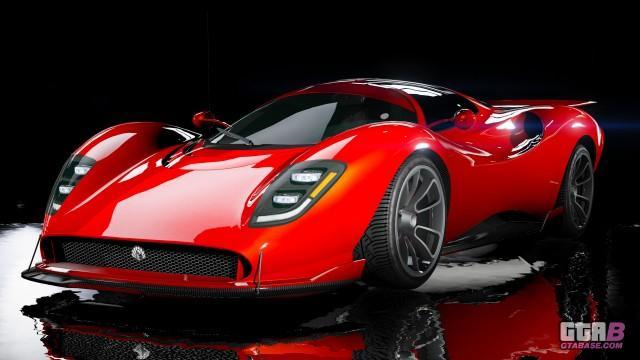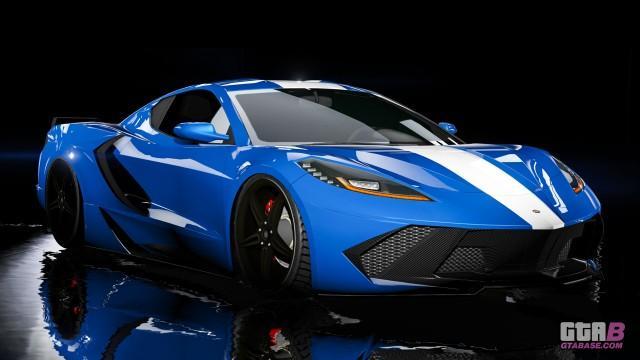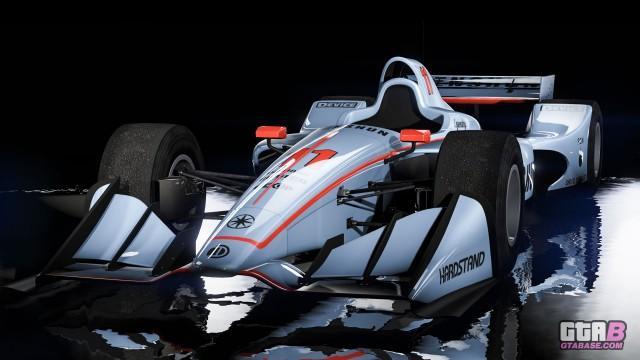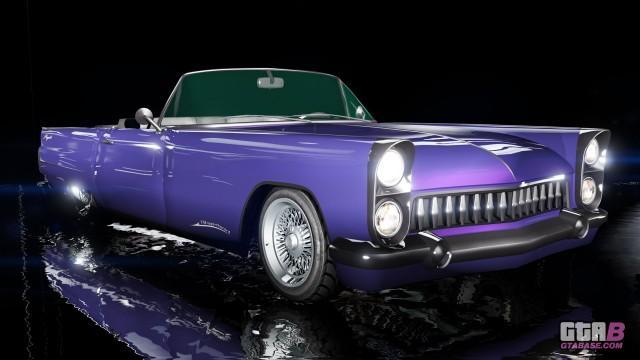 Additional New Vehicles:
In addition to the new vehicles, mod shops around town will be adding 15 new types of Off-Road Wheels, 30 new sets of Street Wheels, and new tire designs to their selections.
9 New Open Wheel Race Tracks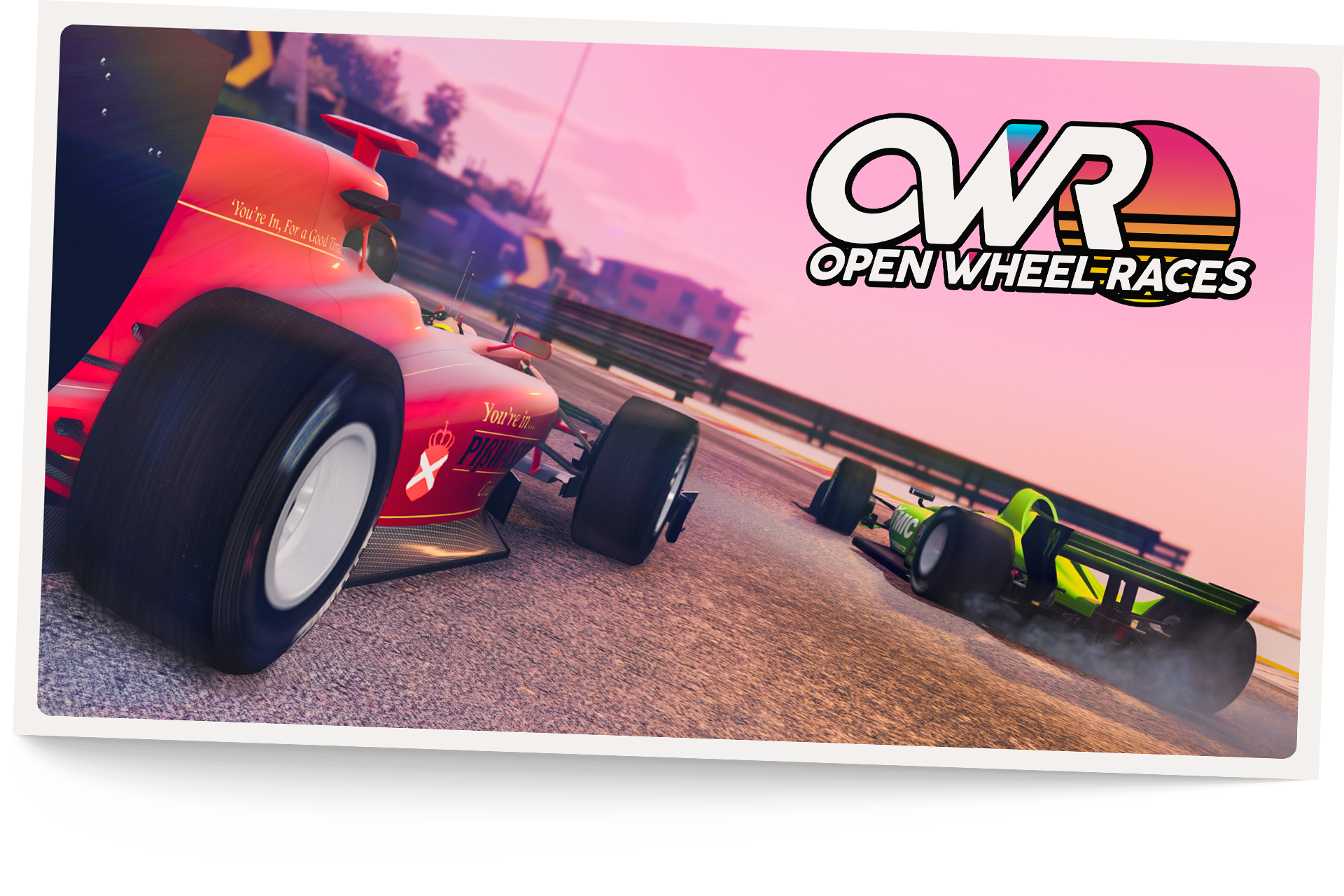 Today's update debuts two new Open Wheel racecars and a new Open Wheel Race Series with nine fresh tracks to leave your skid marks on, from racing across Land Act Dam to dodging turbines in RON Alternates Windfarm.
There are also a few improvements to Open Wheel racing gameplay – including the ability to change tire type when pitting and new visible tire wear and body damage indicators. In addition, players who find themselves driving the wrong way around a course – or sitting stationary on the track for too long – will be ghosted to other drivers.
Plus, get Double Rewards on all Rockstar created Open Wheel Races this week.
Open Wheel Race Creator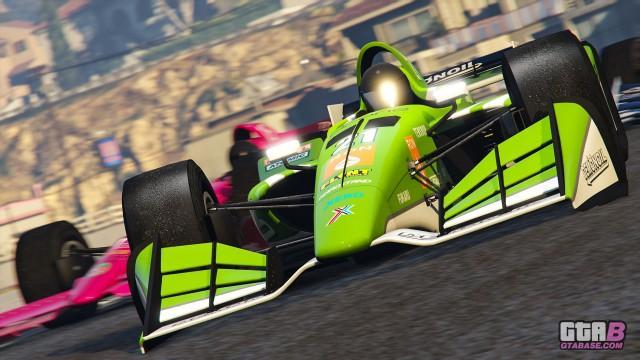 Equipped with a bevy of tools at their disposal in the new Open Wheel Race Creator, adrenaline junkies will now be able to design and craft their own hi-octane experiences with custom tracks.
The Open Wheel Race Creator delivers over 60 new props, including racetrack archways, pit-stops, paddocks, and more. Just keep an eye out for bits of twisted chassis and flying loose wheels – some hairpins might be a little too tight.
All New Business Battles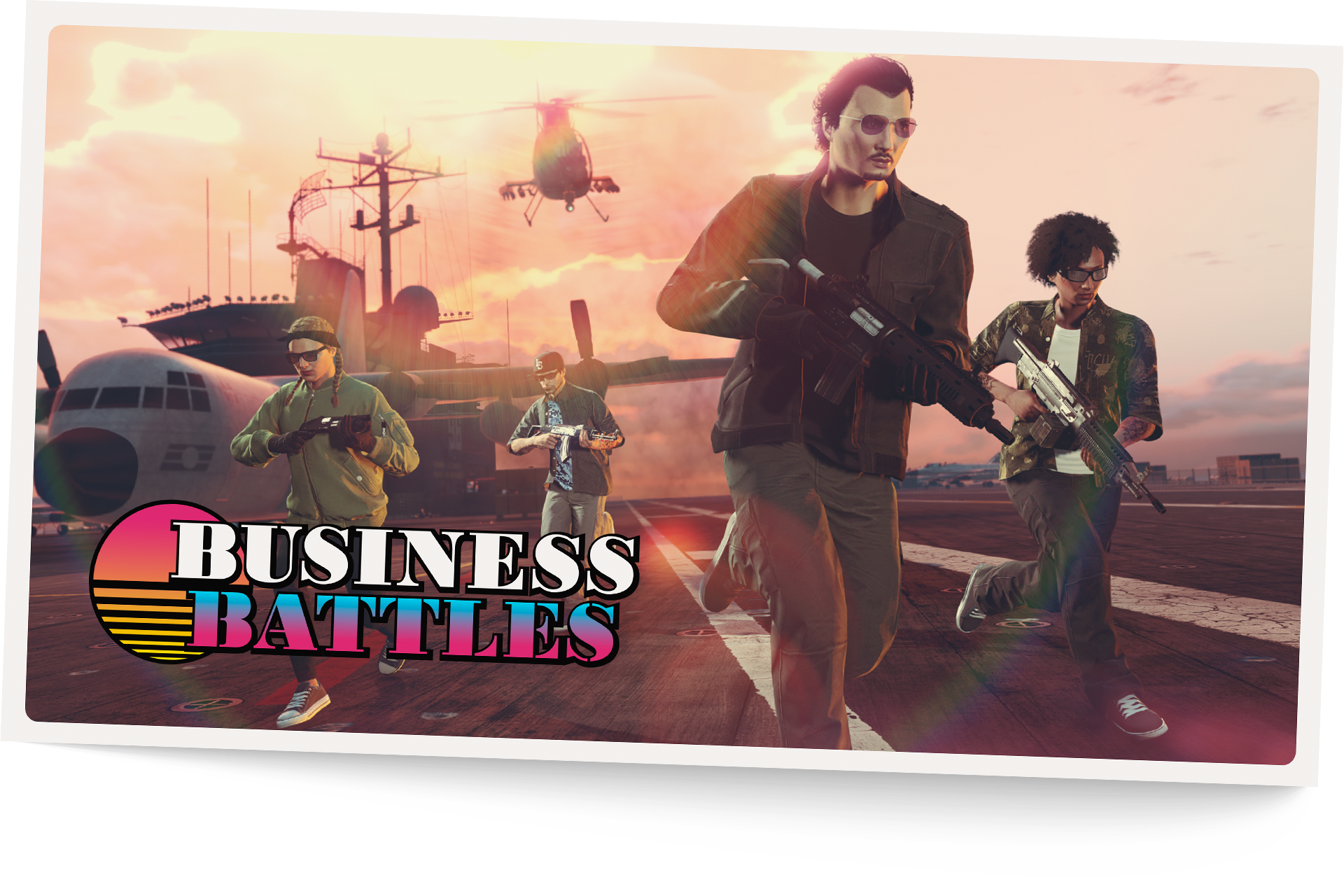 When the notification for new Business Battles arrives while you're sipping a chilled Blêuter'd from the roof of the Diamond Casino and Resort, drop everything and kick into action. These revamped competitions are taking place at new locations across the map and carrying massively increased rewards.
Trek out to sea and stage a cooperative assault on an idling aircraft carrier before duking it out for the goods, or fight and hack your way through one of several factories to reach the nucleus and earn a hefty pay-day. Bring your squad to maximize your return on investment.
And now through August 19th, winning a Business Battle will earn you the Pink Dot Tech Mask, on top of all the other rewards.
Diamond Adversary Series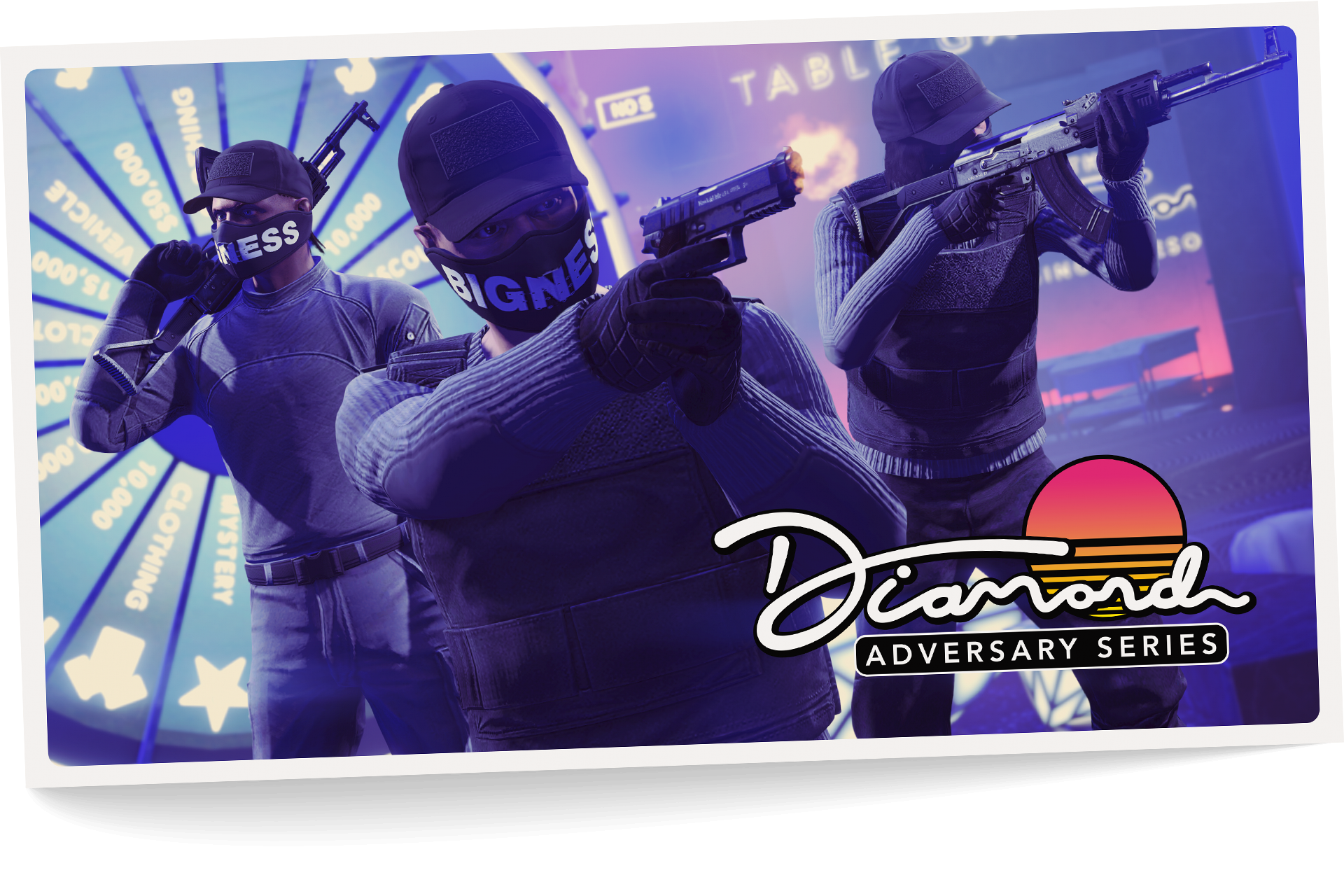 Casing and robbing the joint is fun, but sometimes you need to scratch that competitive itch. The Diamond Adversary Series brings eight high-stakes modes to the glitzy, glamorous confines of The Diamond Casino & Resort including tense favorites like Every Bullet Counts and Slasher and outright competitive mayhem in Hardest Target and Resurrection.
The Diamond Adversary Series is dealing Double Rewards this week, and it can be launched via the Quick Job Menu or by entering the updated Bunker Series Icon near The Diamond Casino & Resort.
2 New Arcade Cabinets
If you find yourself yearning for a simpler time, perhaps back in the day when 16 bits was plenty, there's good news for you – all the way from Liberty City, the classic arcade game QUB3D is making its way to Arcades across Los Santos.
Axe of Fury also becomes available – a strength test designed to help you prove to your friends/ex-partner/despondent parents just how big and strong and cool you really are.
And if you have more quarters to rub together than friends, you'll be chuffed to learn that Street Crimes: Gang Wars can now be played as a single-player game against AI opponents.
All games – both classic and contemporary – can be purchased from Pixel Emporium on your Arcade Laptop.
New Collectibles, Ambient, Events & more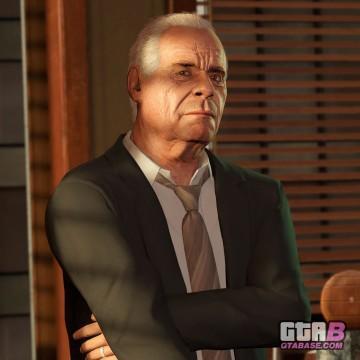 Famous film executive Solomon Richards was robbed recently and he's looking for someone to help return his collection of famous movie props. Visit Solomon's office, then track down all 10 props for a special reward from the man himself.
There are also numerous reports of low-level drug deals taking place on the streets – keep an eye out for any vehicles and activities that seem more suspicious than usual.
The summer season brings hundreds of new clothing items to stores across Southern San Andreas & Blaine County – including leather jackets, tracksuits, shirts, masks, tees and much more.
Fixes and Improvements
A number of quality-of-life improvements have been added to GTA Online:
Players can now return Personal Vehicles to storage via an option within the Interaction Menu.
Players can now own up to eight different Properties
Mashing the accelerator prior to starting a race is no longer a viable strategy to gain a speed boost. Instead, players can only receive a starting boost by timing their pedal press once "Go" is shown (or in the case of Open Wheel Races, when the countdown lights are removed).
Requesting a Pegasus Vehicle is more convenient than ever, with many additional spawn locations being added to reduce your travel time to the closest available location.
When entering the Diamond Casino & Resort, punters will now be told how long they will need to wait before spinning the Lucky Wheel again. That's the last time you'll see a clock inside of The Diamond, though, that's for sure.
Dozens of other changes have been implemented – read the full details in the patch notes here.
All of this summer's gameplay and content updates are available in-game today with bonuses, awards and discounts featuring the new content to come across the summer and beyond - until the next major GTA Online update hits later this year: the next chapter in the GTA Online story and an all-new take on Heists.
Discounts:
Take advantage of a barrage of new 2X GTA$ and RP opportunities this week, and hit up Docktease for the luxury cabin cruiser of your dreams at a special discount.
30% Off Yachts and Yacht Upgrades and Modifications

30% Off Master Control Terminal

30% Off Drone Station

30% Off All Arcades and Arcade Upgrades and Modifications

30% Off Benny's Vehicle Upgrades

40% Off Large Garages
Twitch Prime Gaming
GTA Online players who have connected their Prime Gaming accounts to Social Club can earn the latest weekly GTA$200,000 bonus this week (please allow up to 72 hours for all GTA$ bonuses to arrive in your Maze Bank account). Prime Gaming subscribers also get the Vespucci Canals Nightclub location for free, along with access to special discount: 70% off the Grotti X80 Proto and 80% off the Bravado Gauntlet Hellfire. To ensure access to future benefits, make sure to visit Prime Gaming and sign up.