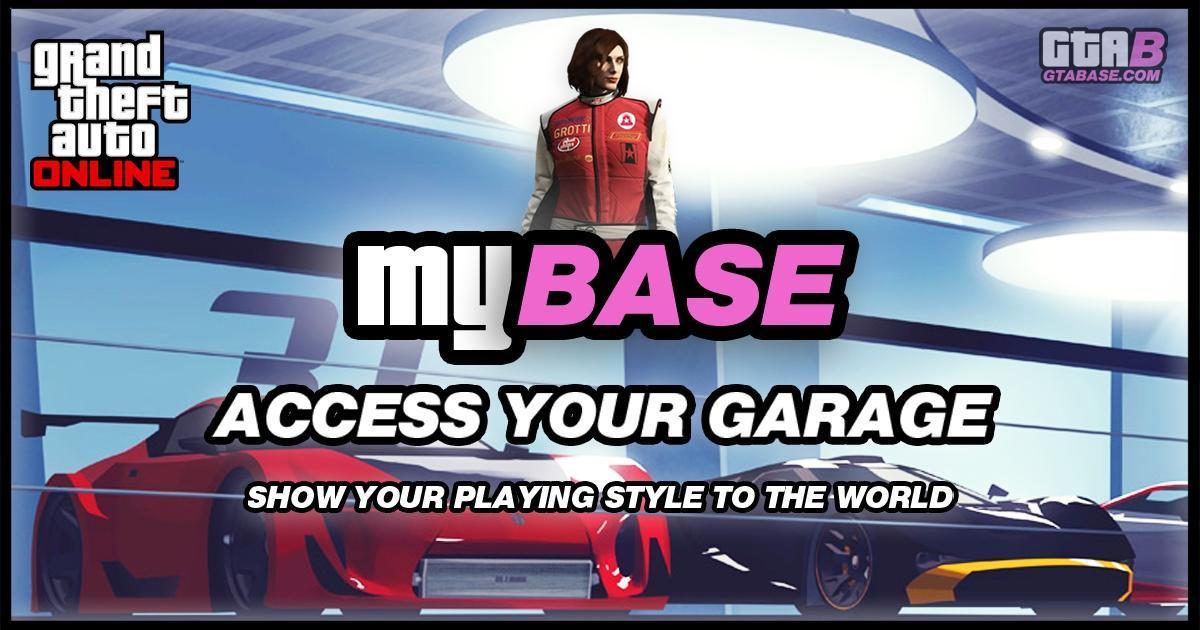 When we launched MyBase (the system that lets you track all your GTA Online Properties, Vehicles and Net Worth) last November, we never expected it to become as popular as it did. As of today, over 12,000 users signed up for MyBase, and we received a huge amount of requests for additions throughout these months.
If you've been enjoying MyBase but find yourself wanting even more, the wait is over! We made tons of improvements, plus we're launching a new MyBase VIP Membership that offers a host of advanced features for the most dedicated players.
A very requested addition for MyBase has been the ability to add Vehicle Upgrades and Property Customizations to your buildings and garages, to showcase your collection fully and to display a more accurate Net Worth Value that also accounts for your upgrades.
We've been working hard on these features for the past several months, and we're happy to announce that they are finally ready and available!
We've also implemented several other updates based on your feedback, including a brand new look and feel to the whole system (which we're sure you've already noticed), and much more. Here below is everything that's new with MyBase 2.0!
Vehicle Upgrades
Your showcase of the Garages and Vehicles you own in GTA Online just got better.
Now, in addition of tracking your possessions, with the VIP Membership you can mark your vehicles as "Fully Upgraded". The cost of the upgrades of the respective vehicle will be automagically added to the Net Worth Value of your Garage and your Total!
That's right, we've made the math for all types of vehicles in GTA Online, making calculations of the exact value of the maximum upgrades for each vehicle. These are the upgrades we account for with the "Fully Upgraded" checkmark:
Armor (Upgrade 100%)
Brakes (Race Brakes)
Engine (EMS Upgrade, Level 4)
Lights (Xenon Lights)
Suspension (Competitive Suspension)
Tires (Bulletproof)
Transmission (Max Transmission)
Turbo Tuning
Windows
Boost Upgrade / Jump Upgrade (for Arena War Vehicles)
Weapons (for Weaponized Vehicles)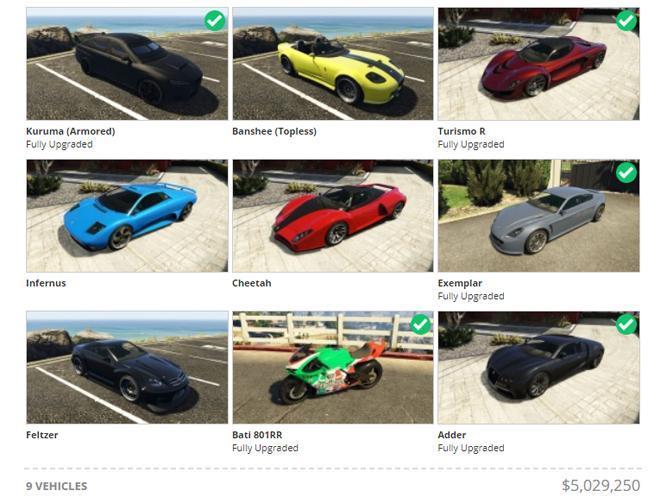 Property Customization
Also with the VIP Membership, you can now specify and set every add-on, decor, upgrade and customization for all of your Properties and Garages, all counting towards your Net Worth Value.
This includes ALL upgrades options for all customizable Properties in the game:
Executive Office
Office Garages
Vehicle Warehouse
MC Clubhouse
Hangar
Bunker
Facility
Nightclub
Arena Workshop
Casino Penthouse
Retro Arcade Business
Galaxy Super Yacht
Along with the Vehicle Upgrades, this allows you to showcase your collection fully and to display an accurate Net Worth Value of your GTA Online empire.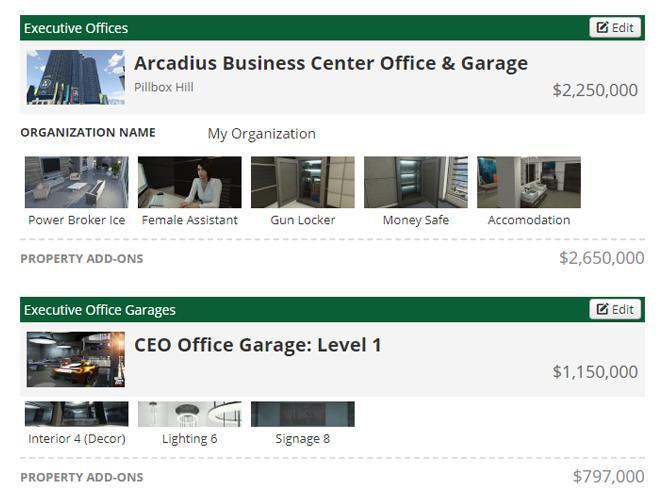 In addition, you also have the ability to show interior upgrades and equipment options for your Command Centers:
Mobile Operations Center
Avenger
Terrorbyte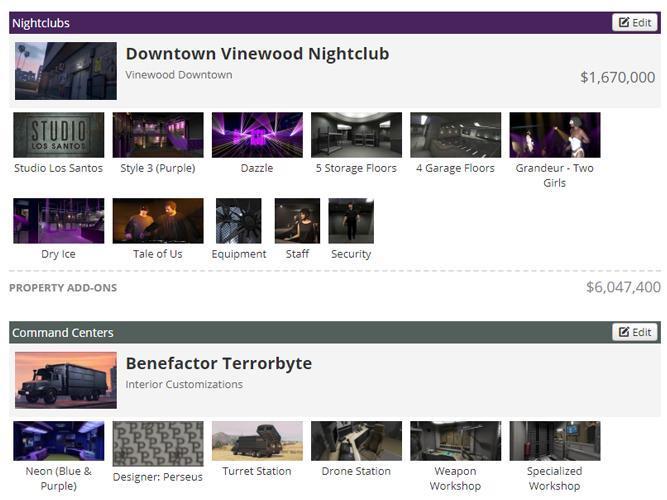 New Look and Feel & Improved Loading Times
We are sure you've already noticed it. In the past week, we completely revamped the look and feel of the whole MyBase system. These updates were heavily inspired by your feedback and suggestions.
First of all, instead of having to edit everything in one long (and slow) page, we've now separated the editing interface in multiple pages, with sections grouped by property in a handy manner.
With this, we created a new GTA V "Hub" that allows you to access the various edit pages.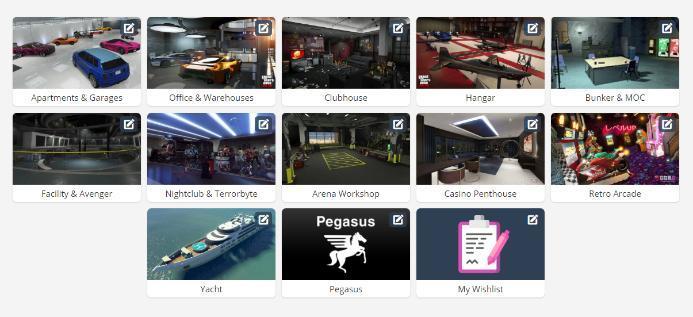 This means that jumping into a specific garage is a lot faster to load, and you don't have to scroll through all of your properties to get there.
We've also added handy "Edit" buttons next to each of your properties and garages directly on your Profile Page, so you can quickly edit a property from there too.
The editing interface itself got a whole lot better too. Instead of everything being cramped, each vehicle now has more breathing room, both from desktop and mobile.
And speaking of mobile, we've made tons of improvements for the mobile interface too. Among other things, there is now an App-like menu at the bottom of the screen, giving you quick access to your Profile, and to edit your GTA V assets and account information.
Last, but definitely not least, we have just finished implementing new systems to improve the speed and performance of MyBase. In addition to the faster profile editor, we now implemented new caching mechanics that will make the loading times a lot faster across MyBase Profiles and the whole GTA Base website as well.
All of this was a lot of work but it was definitely worth it. It will allow for a lot more flexibility, such as the addition of more features and more games to MyBase, from Red Dead Redemption 2 to even GTA 6 in the future, all with their own dedicated pages.
And More Improvements
And there's even more! We also made these additional updates to MyBase during the recent weeks, these are Free improvements available for all users:
Office Garages floors are now their own unique properties. This means that owning each garage level adds value to your Net Worth.
Added the ability to enter individual Notes/Variant for each Office Garage.
Added the ability to specify how many Garages Floors you own for the Nightclub and Arena Workshop, so that their purchase value adds to your Net Worth.
Improved visual display of Arcade Games with images, plus owning games and cabinets now also adds to your Net Worth value as well.
Added the ability to upload custom images for the ancillary Yacht vehicles as well.
Improved the "My Wishlist" page, now featuring a checkbox list.
Why a paid VIP Membership?
We love what we do, and we are truly happy that you love it too. You gave us an overwhelming amount of positive feedback and we couldn't be more proud of having created something that you enjoy so much.
You also asked us for more features, and we're doing our best to deliver them.
But developing these advanced features and content takes a lot of work, time and resources, and the hosting costs are pretty expensive as well (we recently moved to a Dedicated Server to sustain the over 12,000+ users that signed up for MyBase).
You also asked us for a way to remove all ads from the site.
So for all of these reasons, while keeping Free everything you love about MyBase and GTA Base, we decided to launch an "advanced" Membership tier for the most dedicated players that want to fully refine their account, for a small price.
With the VIP Membership you get the most out of the website with a host of advanced features and benefits:
Add Vehicles Upgrades to Net Worth Value
Add Property Customization for all Properties
Command Centers Customization
All Ads Are Removed: Navigate the whole website without ads
Early Access to future new features
Other advanced features to be added in the future
And by becoming a VIP member you also support our work, help covering for the server costs, and allow us to create even more amazing features and content for you.
You can either subscribe for one Single Month at $4.99, or get a Full Year for just $2.99 per month, saving 40% over the monthly membership.
To see a preview of what you're getting with the VIP Membership, you can see the full details and screenshots examples of the new features at this page. We hope you find the worth in the added value that we offer.
And don't worry: there will still be more Free features coming in the future, of course. The VIP Membership is for the diehard players that want to fine-tune and maximize their experience.
We truly hope you enjoy the new updates, and thank you a lot if you decide to become a VIP Member, we really appreciate your support!
Upgrade to the VIP Membership!