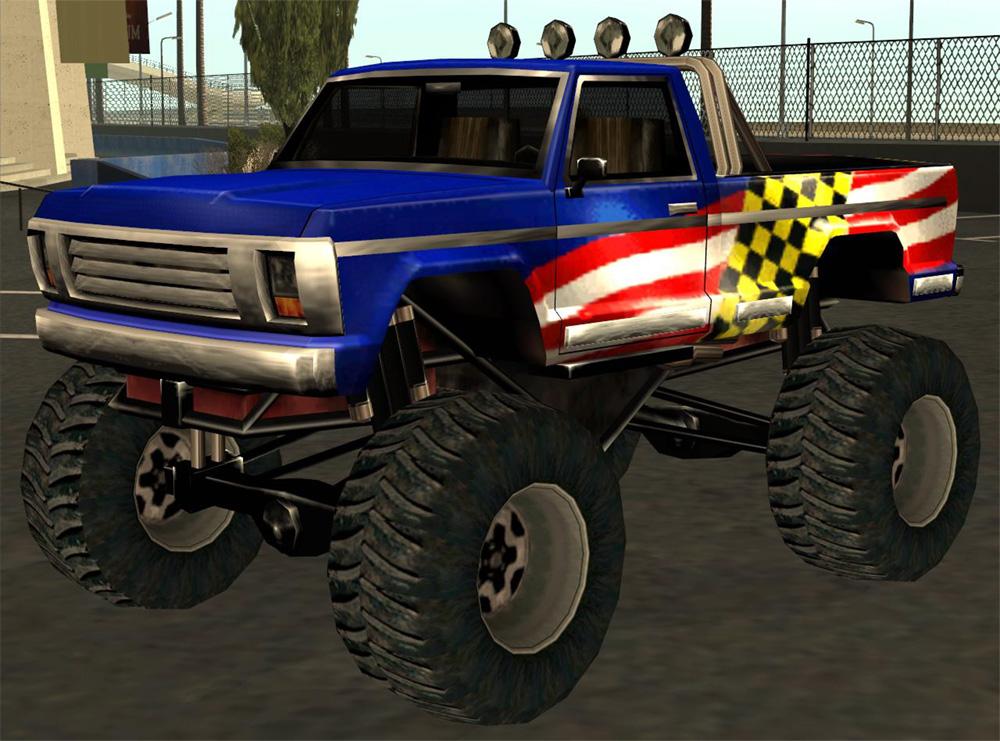 The Monster Truck is one of the Off-Road Cars vehicles featured in GTA San Andreas.
The top speed of the Monster Truck is 68.35 mph (110.00 km/h).
This vehicle cannot be customized.
This vehicle also appears in Grand Theft Auto V.
The Monster Truck in GTA San Andreas comes in three different variants.
Monster Truck: GTA SA Vehicle Stats
Modifications

Cannot be modified

Monetary Value

$40,000

Top Speed - Game Files

68.35 mph (110.00 km/h)

Engine Type

Petrol
Mass / Weight

5,000

KG

Drive Train

AWD

Gears

5
Monster Truck: GTA SA Appearances
Monster Truck Spawn Locations in GTA San Andreas

Where to find the Monster Truck in GTA San Andreas:

No Livery Variant

Can be found parked in a trailer park in Flint County, near the Flint Intersection.
Available for purchase for $32,000 on Thursdays, after completing the first five deliveries during Exports and Imports.

Livery A Variant

Found in the Los Santos Forum parking lot after completing 8-Track.

Livery B Variant

Found in front of Michelle's Auto Repair if dating Michelle Cannes. The car is unlocked after achieving over 50% relationship level.

Spawn Monster Truck Cheat Code

You can use this Cheat Code to spawn the Monster Truck in GTA San Andreas:

PlayStation

RIGHT

UP

R1

R1

R1

DOWN

TRIANGLE

TRIANGLE

CROSS

CIRCLE

L1

L1

Xbox

RIGHT

UP

RB

RB

RB

DOWN

Y

Y

A

B

LB

LB

PC

MONSTERMASH

Notable Owners:

Michelle Cannes Mike Toreno

Appearances in Story Missions: