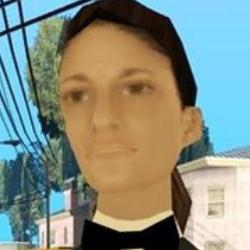 Millie Perkins appears as a Girlfriend and Minor Character in GTA San Andreas.
Millie Perkins is a croupier at Caligula's Palace. Carl dates her to gain her trust so she will give him the keycard to the casino.
Carl can continue to date her after obtaining the keycard.
Millie is available from 12:00 to 22:00, and dating her unlocks the gimp suit.
Millie Perkins: Character Info
Gender

Female

Nationality

United States

Location

Prickle Pine, Las Venturas

Performer / Actor

Orfeh

Occupation

Croupier

Affiliation

Benny Carl Johnson
Millie Perkins: Appearances
Appearances in Story Missions: