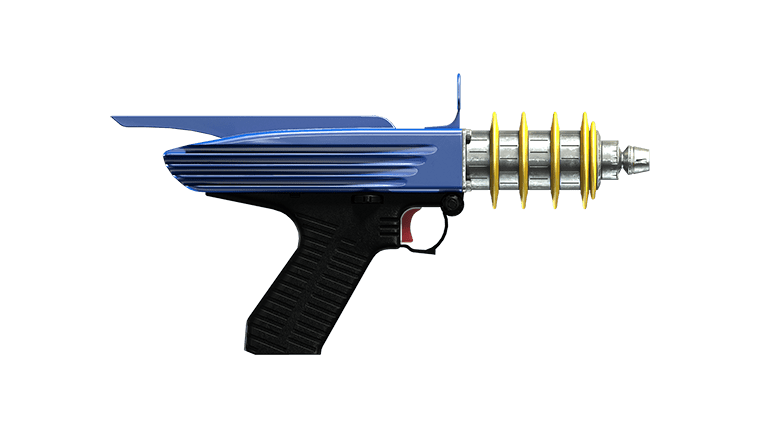 The Up-n-Atomizer is a weapon in the Handguns class featured in GTA Online, added to the game as part of the 1.46 Arena War update on January 1, 2019.
This weapon can be tinted in a different color, but does not have any attachment customizations.
How to get the Up-n-Atomizer in GTA Online:
The Up-n-Atomizer can be purchased in GTA Online from Ammu-Nation for a price of $399,000.
Up-n-Atomizer Description:
A futuristic alien pistol, also known as Raygun. Republican Space Ranger Special, fresh from the galactic war on socialism: no ammo, no mag, just one brutal energy pulse after another.
The damage of the Up-n-Atomizer is not as strong compared to other explosive weapons. When a person or a vehicle are hit directly with a shot, it will send them flying into the air, but with minimum damage.
Up-n-Atomizer: GTA V Statistics
Damage

80.00

Fire Rate

10.00

Accuracy

10.00

Range

50.00

Clip Size

10.00

Overall

32.00
Up-n-Atomizer: GTA V Info
Weapon Class

Handguns

Acquisition

Ammu-Nation

GTA Online Price

$399,000

Modifications

Paint Job Only
Notes

A special version of the Up-n-Atomizer with a Holiday Livery was given as a gift to all players who logged in on December 25, 2018, or could be obtained by playing Business Battles until December 31, 2018
Up-n-Atomizer: GTA Online Customizations
| Tints | Price |
| --- | --- |
| Blue | Default |
| Festive | FREE (via Event Cargos) |
| Purple | $5,250 |
| Green | $5,250 |
| Orange | $5,500 |
| Pink | $7,500 |
| Gold | $10,000 |
| Platinum | $12,500 |
Up-n-Atomizer: GTA V Appearances
Release Date

January 1, 2019

DLC / Title Update

1.46 Arena War

Game Edition

GTA Online

Platforms

PC

PlayStation 4

Xbox One
Up-n-Atomizer: GTA V Screenshots
Up-n-Atomizer Video