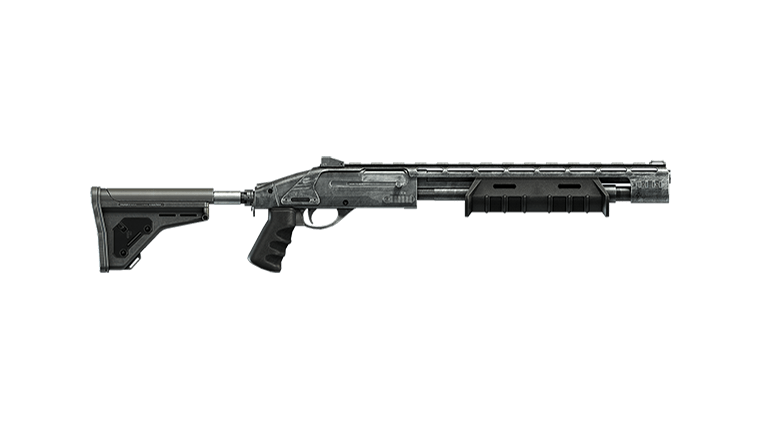 The Pump Shotgun Mk II is a weapon in the Shotguns class featured in GTA Online, added to the game as part of the 1.42 The Doomsday Heist update on December 12, 2017.
The design of the Pump Shotgun Mk II is based on a real life Mossberg 590. The in-game version of the weapon is manufactured by Vom Feuer.
This weapon can be customized.
How to get the Pump Shotgun Mk II in GTA Online:
The Pump Shotgun Mk II can be obtained by upgrading the regular version of the Pump Shotgun to the MK II variant at the Weapon Workshop (inside the Mobile Operations Center or the Avenger), for a price of $82,500.
A huge range of tactical customizations are made possible by MK II upgrades, including new magazines with tracer, incendiary, armor piercing, hollow point and other types of rounds.
Pump Shotgun Mk II Description:
Only one thing pumps more action than a pump action: watch out, the recoil is almost as deadly as the shot.
Pump Shotgun Mk II: GTA V Statistics
Damage

67.00

Fire Rate

20.00

Accuracy

30.00

Range

20.00

Clip Size

10.00

Overall

29.40
Pump Shotgun Mk II: GTA V Info
Manufacturer

Vom Feuer

Weapon Class

Shotguns

Available from

Weapon Workshop

How To Unlock

Obtained by upgrading the regular version of the weapon to the MK II variant at the Weapon Workshop (inside the Mobile Operations Center or the Avenger)

Converted From (Base)

Pump Shotgun (

$3,500

)

GTA Online Price

$82,500

Modifications

Can be modified

Based on (Real Life)

Mossberg 590
Pump Shotgun Mk II: GTA Online Customizations
Rounds & Ammo types
GTA Online (Unlock)

Cartridges (16)

$24

Dragon's Breath (8)

$36

Flechette (8)

$48

Steel Buckshot (8)

$60

Explosive Slug (8)

$600

Default Shells

Default

Dragon's Breath Shells (Has a chance to set targets on fire when shot.)

$65,200 (Research required)

Flechette Shells (Increased damage to targets without Body Armor.)

$75,140 (Research required)

Steel Buckshot Shells (Increased penetration of Body Armor.)

$96,645 (Research required)

Explosive Slugs (Projectile which explodes on impact.)

$145,850 (Research required)
Flashlight

No Flashlight

Default

Flashlight (Aids low light target acquisition.)

$10,500
Scopes

No Scope

Default

Holographic Sight (Accurate sight for close quarters combat.)

$29,260

Small Scope (Standard-range zoom functionality.)

$39,920

Medium Scope (Medium-range zoom functionality.)

$50,785
Muzzles

No Muzzle Attachment

Default

Suppressor (Reduces noise and muzzle flash.)

$45,860

Muzzle Brake (Reduces recoil when firing.)

$37,650
Livery

No Livery

Default

Digital Camo

$40,000

Brushstroke Camo

$43,500 (Research required)

Woodland Camo

$45,000

Skull

$49,750 (Research required)

Sessanta Nove

$75,000 (Research required)

Perseus

$57,500 (Research required)

Leopard

$51,500 (Research required)

Zebra

$53,750 (Research required)

Geometric

$55,000 (Research required)

Boom

$60,000 (Research required)

Patriotic

$100,000 (Released as part of the Independence Day Special event)
Livery Color

Any Color

$5,000
Tints

Classic Black

$20,000

Classic Gray

$20,000

Classic Two-Tone

$30,000

Classic White

$30,000

Classic Beige

$30,000

Classic Green

$30,000

Classic Blue

$30,000

Classic Earth

$35,000

Classic Brown & Black

$35,000

Red Contrast

$40,000

Blue Contrast

$40,000

Yellow Contrast

$40,000

Orange Contrast

$40,000

Bold Pink

$75,000

Bold Purple & Yellow

$60,000

Bold Orange

$60,000

Bold Green & Purple

$60,000

Bold Red Features

$50,000

Bold Green Features

$50,000

Bold Cyan Features

$50,000

Bold Yellow Features

$50,000

Bold Red & White

$45,000

Bold Blue & White

$45,000

Metallic Gold

$100,000 (Complete all weapon challenges in Tier 1)

Metallic Platinum

$100,000 (Complete all weapon challenges in Tier 1)

Metallic Gray & Lilac

$80,000

Metallic Purple & Lime

$80,000

Metallic Red

$75,000

Metallic Green

$75,000

Metallic Blue

$75,000

Metallic White & Aqua

$90,000

Metallic Red & Yellow

$90,000
Revert

Revert (Revert back to the Pump Shotgun)

FREE
Pump Shotgun Mk II: GTA V Appearances
Release Date

December 12, 2017

Title Update

1.42 The Doomsday Heist

Game Edition

GTA Online

Platforms

PC

PlayStation 4

Xbox One
Pump Shotgun Mk II: GTA V Screenshots