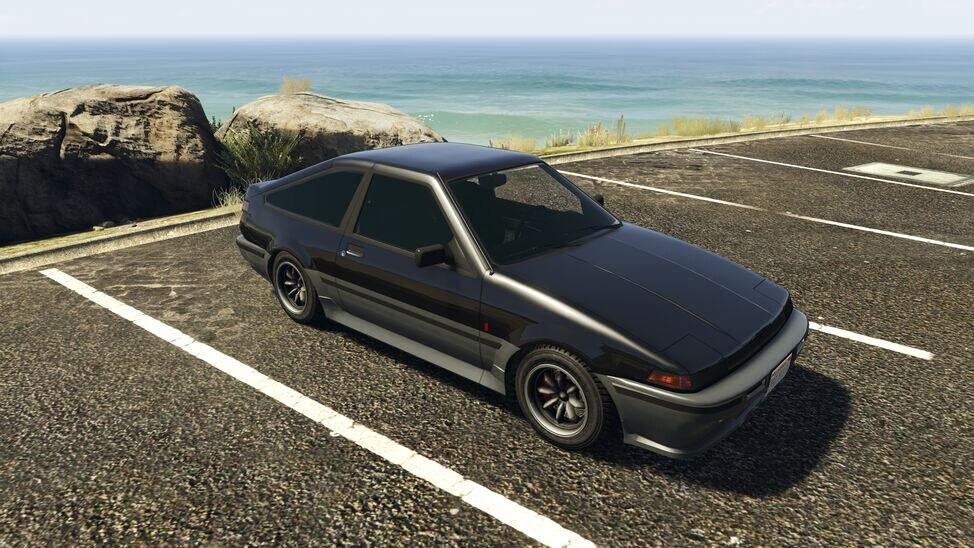 The Karin Futo GTX is a Sports and Tuners Car featured in GTA Online, added to the game as part of the 1.57 Los Santos Tuners update on July 20, 2021.
The Futo GTX is a variant of the standard Futo base model.
As a Tuners vehicle, the Futo GTX can be set to a Lowered Vehicle Stance and have Low Grip Tires applied at the LS Car Meet, which make the car slide more when drifting.
How to get the Futo GTX in GTA Online:
The Futo GTX can be purchased in GTA Online from Southern S.A. Super Autos for a price of $1,590,000.
The Futo GTX can be stored in any of your Properties/Garages as a Personal Vehicle. It can be customized at Los Santos Customs and LS Car Meet Mod Shop. You can also modify it in a Vehicle Workshop inside one of your owned properties.
Once acquired, you can request the delivery of the Futo GTX from the Mechanic.
How to unlock the Futo GTX Trade Price?
A trade price of $1,192,500 (Discounted)* can be unlocked for the Futo GTX.
*The discounted Trade Price for the Los Santos Tuners vehicles are unlocked randomly, a new vehicle's Trade Price being unlocked every 5 Reputation Levels.
Karin Futo GTX in Real Life:
The design of the Karin Futo GTX is based on a real life Toyota Sprinter Trueno AE86.
Karin Futo GTX Top Speed:
The actual top speed of the Futo GTX in GTA V is 119.75 mph (192.72 km/h) when it's fully upgraded, as it's been accurately tested in-game by Broughy1322.
Can you sell the Futo GTX in GTA Online?
Yes, you can sell the Futo GTX at Los Santos Customs for a resale price of $954,000 (60% of the original purchase), plus 50% of the value of your upgrades.
Futo GTX: GTA V Vehicle Info
Seats

2

Mass / Weight

950

KG

Drive Train

RWD

Gears

5
Futo GTX: GTA V Performance
The below Top Speed & Lap Time have been accurately tested by
Broughy
.
Top Speed - Real

119.75 mph (192.72 km/h)

Lap Time

1:11.671

Bulletproof

No

Explosive Resistance

Amount of explosives required to destroy the Futo GTX, with 100% armor, and occupied by a player:

| Explosive Weapon | Amount |
| --- | --- |
| Homing Launcher / Oppressor Missiles / Jet Missiles | 1 |
| RPG / Grenades / Sticky Bomb / MOC Cannon | 1 |
| Explosive Rounds (Heavy Sniper Mk II) | 2 |
| Tank Cannon (Rhino / APC) | 1 |
| Anti-Aircraft Trailer Dual 20mm Flak | 1 |
Futo GTX: GTA V Statistics
Speed

73.51

Acceleration

74.13

Braking

17.50

Handling

63.48

Overall

57.15
Note: The above statistics are coming from the Rockstar official website.
Futo GTX Description:
In the way that some forty-year-old frat boys only respond to paddles and hardcore splooshing, the Futo GTX needs a firm hand to reach its optimal performance. In fact, it needs less of a driver and more of a disciplinarian. Enter at your at your own risk, and remember: this thing doesn't have a safe word.
Futo GTX: GTA V Appearances
Model ID

futo2

Notes

*The discounted Trade Price for the Los Santos Tuners vehicles are unlocked randomly, a new vehicle's Trade Price being unlocked every 5 Reputation Levels.

Futo GTX: Vehicle Customization

Total Cost to Fully Upgrade in GTA Online

$641,868

Modification
GTA Online Price
Armor

No Armor

$1,000

Armor Upgrade 20%

$7,500

Armor Upgrade 40%

$12,000

Armor Upgrade 60%

$20,000

Armor Upgrade 80%

$35,000

Armor Upgrade 100%

$50,000

Brakes

Stock Brakes

$1,000

Street Brakes

$20,000

Sport Brakes

$27,000

Race Brakes

$35,000

Chassis > Intercoolers

None

$4,200

Intercooler w/ Twin Fans

$6,720

Intercooler w/ Water Sprayer

$7,140

Monster Intercooler

$7,560

Chassis > Doors

Stock Doors

$7,200

Primary Wind Deflectors

$11,520

Secondary Wind Deflectors

$12,240

Carbon Wind Deflectors

$12,960

Chassis > Fog Lights

No Fog Lights

$200

Bumper Fogs

$750

Yellow Fogs

$1,340

Rally Lights

$1,650

MK.2 Rally Lights

$3,000

Bumper Fogs w/ Rally Lights

$3,200

Bumper Fogs w/ MK.2 Rally Lights

$3,650

Chassis > Roll Cage

No Roll Cage

$700

Street Half Cage

$1,100

Dash Dodger Cage

$1,350

Padded Dash Dodger Cage

$1,500

Full Roll Cage

$2,750

Padded Full Roll Cage

$3,600

Engine > Engine Block

Stock Engine Block

$28,200

Primary Color Valve Covers

$45,120

Secondary Color Valve Covers

$47,940

Polished Valve Covers

$50,760

Carbon Valve Covers

$53,580

Engine > Cam Cover

Stock Cam Cover

$20,400

Primary Color Cambelt Cover

$32,640

Secondary Color Cambelt Cover

$34,680

Polished Cambelt Cover

$36,720

Carbon Cambelt Cover

$38,760

Black Exposed Vernier Pulleys

$40,800

Blue Exposed Vernier Pulleys

$41,820

Red Exposed Vernier Pulleys

$42,840

Purple Exposed Vernier Pulleys

$43,860

Engine > Strut Braces

None

$12,000

Polished Strut Brace

$19,200

Carbon Strut Brace

$20,400

Medium Polished Strut Brace

$21,600

Medium Titanium Strut Brace

$22,800

Titanium Strut Brace

$24,000

Triangulated Strut Brace

$24,600

Wide Titanium Strut Brace

$25,199

Large Polished Strut Brace

$25,800

Stickerbomb Strut Brace

$26,400

Polished Twin Bar Strut Brace

$27,000

Extreme Billet Strut Brace

$27,600

Lightened Racing Strut Brace

$28,199

Engine > Air Filters

Stock Air Filter

$7,200

Mesh Covered ITBs

$11,520

Secondary Color ITBs

$12,240

Large Foam Filter

$12,960

Large Mesh Filter

$13,680

Individual Cone Filters

$14,400

Carbon Plenum

$14,760

Individual POD Filters

$15,119

Engine > Engine Tunes

EMS Upgrade, Level 1

$9,000

EMS Upgrade, Level 2

$12,500

EMS Upgrade, Level 3

$18,000

EMS Upgrade, Level 4

$33,500

Exhaust

Stock Exhaust

$260

Chrome Tip Exhaust

$750

Titanium Tuner Exhaust

$1,800

Big Bore Exhaust

$3,000

Titanium Exhaust

$9,550

Big Heart Exhaust Tip

$9,750

V Blast Pipes

$10,500

Angled Blast Pipes

$12,000

Slashed Blast Pipes

$13,750

V Shakotan Exhaust

$14,625

Ultra Shakotan Exhaust

$15,500

Zig Zag Shakotan Exhaust

$16,475

Shakotan Superstar Exhaust

$17,250

Shakotan Love Exhaust

$18,125

Explosives

Ignition Bomb

$5,000

Remote Bomb

$7,500

Fenders

Stock Fenders

$300

Retro Widebody

$900

Secondary Retro Widebody

$1,500

Carbon Retro Widebody

$1,700

Headlights

Stock Headlights

$5,400

Left Sleepy Eye

$8,640

Right Sleepy Eye

$9,180

Sleepy Eyes

$9,720

Left Drowsy Eye

$10,260

Right Drowsy Eye

$10,800

Drowsy Eyes

$11,070

Hood

Stock Hood

$1,600

Secondary Hood

$3,000

Carbon Hood

$5,000

Lifted Hood

$8,000

Lifted Secondary Hood

$9,600

Lifted Carbon Hood

$11,000

Vented Hood

$11,600

Carbon Vented Hood

$12,000

Street Hood

$12,400

Carbon Street Hood

$12,400

Performance Hood

$12,500

Carbon Performance Hood

$12,900

Race Hood

$13,250

Carbon Race Hood

$13,600

Transparent Hood

$13,900

Secondary Transparent Hood

$14,150

Horns
See the full list of the available Horns options »
Interior > Dash

Stock Dash

$10,200

Street Interior

$16,320

Semi Stripped Interior

$17,340

Race Dash & Stripped Interior

$18,360

Flocked Dash & Stripped

$19,380

Carbon Dash & Stripped Interior

$20,400

Interior > Seats

Stock Seats

$3,900

Sports Seats

$6,240

Painted Sports Seats

$6,630

Carbon Sports Seats

$7,020

Ballistic Fiber Sports Seats

$7,410

Painted Tuner Seats

$7,800

Carbon Tuner Seats

$7,995

Ballistic Fiber Tuner Seats

$8,189

Painted Bucket Seats

$8,385

Carbon Bucket Seats

$8,580

Ballistic Fiber Bucket Seats

$8,775

Painted Track Seats

$8,970

Carbon Track Seats

$9,165

Ballistic Fiber Track Seats

$9,360

Carbon Race Seats

$9,555

Interior > Steering Wheels

Stock Wheel

$8,400

Apex Basic

$13,440

Apex Clubman

$14,280

Apex Professional

$15,120

Formula Basic

$15,960

Formula Cutout

$16,800

Formula Clubman

$17,220

Formula Professional

$17,640

Sprint Basic

$18,060

Sprint Clubman

$18,480

Sprint MKII

$18,900

Sprint Lightweight

$19,320

Sprint Featherweight

$19,740

Sprint Professional

$20,160

Rally Basic

$20,580

Rally Clubman

$21,000

Rally Professional

$21,420

Lights > Headlights

Stock Lights

$600

Xenon Lights

$7,500

Lights > Neon Kits
See the full list of the available Neon Kits options »
Livery

None

$11,400

Classic Decals

$18,240

Delivery Boy

$19,380

Boro Futo

$20,520

Drift Missile

$21,660

Legendary Racer

$22,800

Karin Rally Team

$23,370

Scandinavian Flick

$23,939

Team Auto Exotic

$24,510

Rolling Dude No.8

$25,080

Garage Drift

$25,650

Chokusen Dorifuto (17)

$26,220

Drift King (87)

$26,789

Tandem Battle (122)

$27,360

Itasha Drift (147)

$27,930

Stance Andreas (172)

$28,500

Plates > Plate Holder

None

$3,300

Left Mounted Front Plate

$5,280

Right Mounted Front Plate

$5,610

Crossed Out L Offset Plate

$5,940

Crossed Out R Offset Plate

$6,270

Plates > License

Blue on White 1

$200

Blue on White 2

$200

Blue on White 3

$200

Yellow on Blue

$300

Yellow on Black

$600

Respray
See the full list of the available Respray options »
Roof

Stock Roof

$200

Roof Scoop

$700

Carbon Roof Scoop

$1,150

Carbon Aero Roof Box

$1,600

Off to the Track

$1,950

Packing Rubber

$2,400

Side Panel

Stock Side Panel

$300

Secondary Bump Strips

$900

Primary Bump Strips

$1,500

Skirts

Stock Skirts

$2,500

Primary Skirt Extension

$5,500

Secondary Skirt Extension

$8,000

Carbon Skirt Extension

$10,500

Spoilers

None

$6,000

Low Lip Spoiler

$7,050

High Lip Spoiler

$10,000

Street Wing

$13,000

Circuit Wing

$14,000

Tuner Wing

$16,000

Track Wing

$16,500

Drift Wing

$17,000

Street SPL Wing

$17,500

Race Wing

$18,000

Endurance Wing

$18,500

Extreme Performance Wing

$19,000

Autobahn Racer Wing

$19,500

GT Wing

$20,000

Time Attack Wing

$20,500

Loop Battle Wing

$21,000

Circuit Master Wing

$21,500

Sunstrips

None

$300

Primary Sunstrip

$900

Secondary Sunstrip

$1,500

Suspension

Stock Suspension

$200

Lowered Suspension

$1,000

Street Suspension

$2,000

Sport Suspension

$3,400

Competition Suspension

$4,400

Transmission

Stock Transmission

$1,000

Street Transmission

$29,500

Sports Transmission

$32,500

Race Transmission

$40,000

Turbo

None

$5,000

Turbo Tuning

$50,000

Wheels > Wheel Type
See the full list of the available Wheel Types options »
Wheels > Wheel Color
See the full list of the available Wheel Colors options »
Wheels > Tire Design

Stock Tires

$200

Custom Tires

$5,000

Wheels > Tire Enhancements

Standard Tires

$200

Bulletproof Tires

$25,000 (Rank 20)

Low Grip Tires

$500 (at LS Car Meet)

Wheels > Tire Smoke
See the full list of the available Tire Smoke options »
Windows

None

$500

Light Smoke

$1,500

Dark Smoke

$3,500

Limo

$5,000

Window Spoilers

None

$3,900

Primary Roof Wing

$6,240

Secondary Roof Wing

$6,630

Carbon Roof Wing

$7,020

Bumpers > Front Bumpers

Stock Front Bumper

$2,200

Drift Bumper

$4,600

Attack Bumper

$7,400

Race Bumper

$11,700

Widebody Drift Bumper

$14,500

Widebody Street Bumper

$14,700

Widebody Race Bumper

$14,900

Widebody Attack Bumper

$15,100

Bumpers > Rear Bumpers

Stock Rear Bumper

$2,200

Street Bumper

$4,600

Drift Bumper

$7,400

Bumpers > Bumper Accessories

None

$6,900

Subway Tsurikawa

$11,040

Heart Tsurikawa

$11,730
Futo GTX: GTA V Screenshots
Futo GTX: Custom Paint Jobs
Futo GTX Video