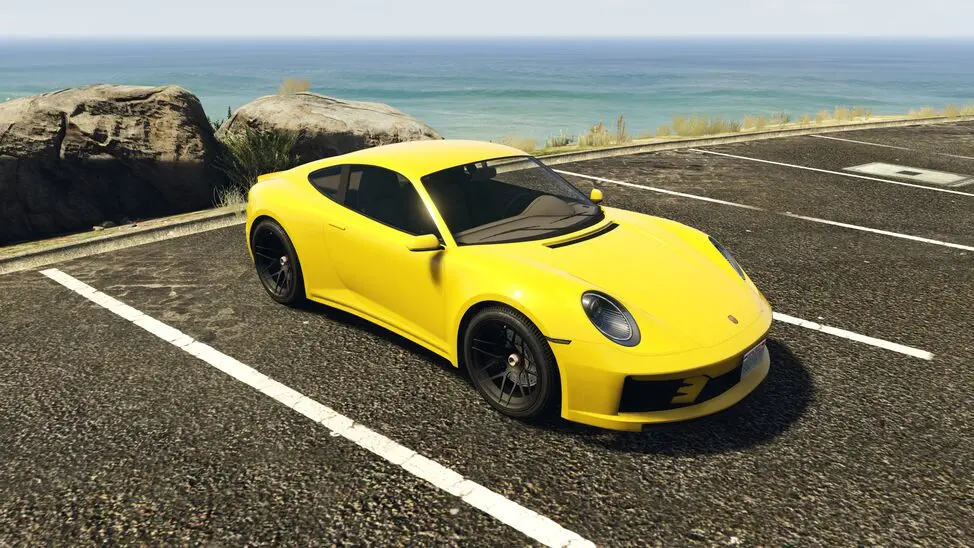 The Pfister Comet S2 is a Sports and Tuners Car featured in GTA Online, added to the game as part of the 1.57 Los Santos Tuners update on July 29, 2021.
The Comet S2 is a variant of the standard Comet base model.
As a Tuners vehicle, the Comet S2 can be set to a Lowered Vehicle Stance and have Low Grip Tires applied at the LS Car Meet, which make the car slide more when drifting.
How to get the Comet S2 in GTA Online:
The Comet S2 can be purchased in GTA Online from Legendary Motorsport for a price of $1,878,000.
The Comet S2 can be stored in any of your Properties/Garages as a Personal Vehicle. It can be customized at Los Santos Customs and LS Car Meet Mod Shop. You can also modify it in a Vehicle Workshop inside one of your owned properties.
Once acquired, you can request the delivery of the Comet S2 from the Mechanic.
How to unlock the Comet S2 Trade Price?
A trade price of $1,408,500 (Discounted)* can be unlocked for the Comet S2.
*The discounted Trade Price for the Los Santos Tuners vehicles are unlocked randomly, a new vehicle's Trade Price being unlocked every 5 Reputation Levels.
The Comet S2 was already available to try on the Test Track of the LS Car Meet since July 20, 2021, before its official release date.
Pfister

Comet S2 in Real Life:

The design of the Pfister Comet S2 is based on a real life Porsche 992.
Pfister

Comet S2 Top Speed:

The actual top speed of the Comet S2 in GTA V is 123.00 mph (197.95 km/h) when it's fully upgraded, as it's been accurately tested in-game by Broughy1322.
Can you sell the Comet S2 in GTA Online?
Yes, you can sell the Comet S2 at Los Santos Customs for a resale price of $1,126,800 (60% of the original purchase), plus 50% of the value of your upgrades.
Comet S2: GTA V Vehicle Info
Manufacturer

Pfister

Vehicle Features

Active SpoilerHas LiveriesHas VariantsHas Trade PriceTuners Vehicle

Acquisition

Legendary Motorsport

Base Model

GTA Online Price

$1,878,000

Trade Price

$1,408,500

(Discounted)*

Storage Location

Garage (Personal Vehicle)

Delivery Method

Mechanic

Modifications

Los Santos CustomsLS Car Meet Mod Shop

Variant / Conversion

Sell Price (Resale)

$1,126,800 ($1,390,240 when fully upgraded)

Race Availability

Can be used in Races

Top Speed - Game Files

97.18 mph (156.40 km/h)

Based on (Real Life)

Porsche 992
Seats

2

Mass / Weight

1,550

KG

Drive Train

RWD

Gears

7
Comet S2: GTA V Performance
The below Top Speed & Lap Time have been accurately tested by
Broughy
.
Top Speed - Real

123.00 mph (197.95 km/h)

Lap Time

1:05.365

Bulletproof

No

Explosive Resistance

Amount of explosives required to destroy the Comet S2, with 100% armor, and occupied by a player:

| Explosive Weapon | Amount |
| --- | --- |
| Homing Launcher / Oppressor Missiles / Jet Missiles | 1 |
| RPG / Grenades / Sticky Bomb / MOC Cannon | 1 |
| Explosive Rounds (Heavy Sniper Mk II) | 2 |
| Tank Cannon (Rhino / APC) | 1 |
| Anti-Aircraft Trailer Dual 20mm Flak | 1 |
Comet S2: GTA V Statistics
Speed

83.92

Acceleration

86.50

Braking

29.33

Handling

81.00

Overall

70.19
Note: The above statistics are coming from the Rockstar official website.
Comet S2 Description:
This isn't just a fast car. It's a car with the kind of reputation that no amount of targeted advertising can buy. So, when some people see a Comet they make a wish. Others run screaming for cover, prophesying doom, destruction, and crippling medical expenses. Either way, you made an impression.
Comet S2: GTA V Appearances
Release Date

July 29, 2021

DLC / Title Update

1.57 Los Santos Tuners

Game Edition

GTA Online

Platforms

PC

PlayStation 4

Xbox One
Similar Vehicles
Model ID

comet6

Notes

*The discounted Trade Price for the Los Santos Tuners vehicles are unlocked randomly, a new vehicle's Trade Price being unlocked every 5 Reputation Levels.

Comet S2: Vehicle Customization

Total Cost to Fully Upgrade in GTA Online

$526,879

Modification
GTA Online Price
Armor

No Armor

$1,000

Armor Upgrade 20%

$7,500

Armor Upgrade 40%

$12,000

Armor Upgrade 60%

$20,000

Armor Upgrade 80%

$35,000

Armor Upgrade 100%

$50,000

Brakes

Stock Brakes

$1,000

Street Brakes

$20,000

Sport Brakes

$27,000

Race Brakes

$35,000

Bumpers > Front Bumpers

Stock Front Bumper

$2,200

Tuner Bumper

$4,600

Backdate Bumper

$7,400

Backdate Comet SR Bumper

$11,700

Backdate Race Bumper

$14,500

Low Drag Bumper

$14,700

Performance Bumper

$14,900

Performance Bumper w/ Carbon

$15,100

Endurance Bumper

$15,300

Bumpers > Rear Bumpers

Stock Rear Bumper

$2,200

Bumper Grille Delete

$4,600

Half Bumper

$7,400

Full Rear Bumper Delete

$11,700

Primary Rear Diffuser

$14,500

Secondary Rear Diffuser

$14,700

Smooth Rear Bumper

$14,900

Backdate Rear Bumper

$15,100

SR Spec Rear Bumper

$15,300

Vented Smooth Bumper

$15,500

Vented SR Spec Rear Bumper

$15,700

Engine

EMS Upgrade, Level 1

$9,000

EMS Upgrade, Level 2

$12,500

EMS Upgrade, Level 3

$18,000

EMS Upgrade, Level 4

$33,500

Exhaust

Stock Exhaust

$260

Performance Exhausts

$750

Crossover Exhausts

$1,800

Race Exhausts

$3,000

Turbo Exhausts

$9,550

Turbo Exhausts II

$9,750

Explosives

Ignition Bomb

$5,000

Remote Bomb

$7,500

Fenders

Stock Fenders

$300

Front Fenders Vents

$900

Carbon Front Fenders Vents

$1,500

Vents & Overfenders

$1,700

Carbon Vents & Overfenders

$2,000

Fog Lights

None

$300

Primary Foglight Pod

$900

Secondary Foglight Pod

$1,500

Carbon Foglight Pod

$1,700

Headlight Covers

Stock Headlight Covers

$5,400

Yellow Lenses

$8,640

Red Headlight Tape

$9,180

Blue Headlight Tape

$9,720

Black Headlight Tape

$10,260

Iridescent Headlight Covers

$10,800

Yellow Headlight Covers

$11,070

Primary Headlight Covers

$11,339

Secondary Headlight Covers

$11,610

Carbon Headlight Covers

$11,880

Hood > Hood Catches

None

$1,800

Chrome Hood Catches

$2,880

Angled Hood Catches

$3,060

Straight Hood Catches

$3,240

Latch Hood Pins

$3,420

Blue Latch Hood Pins

$3,600

Red Latch Hood Pins

$3,690

Gold Latch Hood Pins

$3,779

Hood > Hood

Stock Hood

$1,600

Secondary Hood

$3,000

Carbon Hood

$5,000

Smooth Hood

$8,000

Secondary Smooth Hood

$9,600

Carbon Smooth Hood

$11,000

SR Spec Hood

$11,600

Secondary SR Spec Hood

$12,000

Carbon SR Spec Hood

$12,400

Vented Hood

$12,400

Secondary Vented Hood

$12,500

Carbon Vented Hood

$12,900

Endurance Hood

$13,250

Secondary Endurance Hood

$13,600

Carbon Endurance Hood

$13,900

Horns
See the full list of the available Horns options »
Interior > Dash

Stock Dash

$10,200

Carbon Dash

$16,320

Stripped Interior

$17,340

Stripped Interior & Carbon Dash

$18,360

Track Prepped Interior

$19,380

Stripped Track Prepped Interior

$20,400

Carbon Race Interior

$20,910

Carbon Dash & Stripped Interior

$21,420

Interior > Doors

Stock Doors

$7,200

Aluminum Panel Doorcards

$11,520

Carbon Doorcards

$12,240

Aluminum Race Doorcards

$12,960

Carbon Race Doorcards

$13,680

Interior > Seats

Stock Seats

$3,900

Sports Seats

$6,240

Painted Sports Seats

$6,630

Carbon Sports Seats

$7,020

Ballistic Fiber Sports Seats

$7,410

Painted Tuner Seats

$7,800

Carbon Tuner Seats

$7,995

Ballistic Fiber Tuner Seats

$8,189

Painted Bucket Seats

$8,385

Carbon Bucket Seats

$8,580

Ballistic Fiber Bucket Seats

$8,775

Painted Track Seats

$8,970

Carbon Track Seats

$9,165

Ballistic Fiber Track Seats

$9,360

Carbon Race Seats

$9,555

Interior > Steering Wheels

Stock Wheel

$8,400

Apex Basic

$13,440

Apex Clubman

$14,280

Apex Professional

$15,120

Formula Basic

$15,960

Formula Cutout

$16,800

Formula Clubman

$17,220

Formula Professional

$17,640

Sprint Basic

$18,060

Sprint Clubman

$18,480

Sprint MKII

$18,900

Sprint Lightweight

$19,320

Sprint Featherweight

$19,740

Sprint Professional

$20,160

Rally Basic

$20,580

Rally Clubman

$21,000

Rally Professional

$21,420

Interior > Roll Cage

No Roll Cage

$700

Street Half Cage

$1,100

Dash Dodger Cage

$1,350

Padded Dash Dodger Cage

$1,500

Full Roll Cage

$2,750

Padded Full Roll Cage

$3,600

Reinforced Cage

$4,900

Padded Reinforced Cage

$5,800

Lights > Headlights

Stock Lights

$600

Xenon Lights

$7,500

Lights > Neon Kits
See the full list of the available Neon Kits options »
Livery

None

$11,400

Retro Stone Guards

$18,240

White Pfister Stripe

$19,380

Black Pfister Stripe

$20,520

White Comet S2 Graphics

$21,660

Black Comet S2 Graphics

$22,800

Black Pfister Graphics

$23,370

Red Pfister Track Graphics

$23,939

Yeti Camo

$24,510

Retro Redwood

$25,080

Stronzo

$25,650

Air Herler

?

Ron Racing

Reward

Shark Attack

?

Rock N' Roll Legends

?

Republican Space Rangers

Reward

Plates > Plate Holder

Stock Plate Holder

$3,300

Remove Front Plate

$5,280

Left Mounted Front Plate

$5,610

Right Mounted Front Plate

$5,940

Plates > License

Blue on White 1

$200

Blue on White 2

$200

Blue on White 3

$200

Yellow on Blue

$300

Yellow on Black

$600

Respray
See the full list of the available Respray options »
Roof > Roof Accessories

None

$3,900

Aero Roof Box

$6,240

Secondary Aero Roof Box

$6,630

Carbon Aero Roof Box

$7,020

Off to the Track

$7,410

Packing Rubber

$7,800

Offroad Rack

$7,995

Roof > Roof

Stock Roof

$200

Secondary Roof

$700

Carbon Roof

$1,150

Skirts

Stock Skirts

$2,500

Carbon Skirts

$5,500

Street Skirts

$8,000

Carbon Street Skirts

$10,500

Aero Skirts

$14,000

Flared Aero Skirts

$14,500

Performance Skirts

$15,000

Carbon Performance Skirts

$15,500

Tuner Skirts

$16,000

Carbon Tuner Skirts

$16,500

Race Skirts

$17,000

Splitters

Stock Splitter

$6,900

Race Splitter

$11,040

Carbon Race Splitter

$11,730

Carbon Splitter & Canards

$12,420

GT Splitter

$13,110

Endurance Splitter

$13,800

Spoilers

Stock Spoiler

$6,000

Carbon Stock Decklid

$7,050

Smooth Wingless Decklid

$10,000

Carbon Wingless Decklid

$13,000

High Ducktail

$14,000

Carbon High Ducktail

$16,000

Mid Level Wing

$16,500

Backdate Decklid

$17,000

Carbon Backdate Decklid

$17,500

Retro SR Wing

$18,000

Retro SR Wing & Carbon Blade

$18,500

Tuner Wing

$19,000

Track Wing

$19,500

Drift Wing

$20,000

Street SPL Wing

$20,500

Race Wing

$21,000

Endurance Wing

$21,500

Extreme Performance Wing

$22,750

Autobahn Racer Wing

$24,000

GT Wing

$25,250

Time Attack Wing

$26,500

Loop Battle Wing

$27,750

Circuit Master Wing

$29,000

Retro SR Mega Wing

$30,250

Retro SR Mega Wing II

$31,500

Sunstrips

None

$300

Sunstrip

$900

Secondary Sunstrip

$1,500

Suspension

Stock Suspension

$200

Lowered Suspension

$1,000

Street Suspension

$2,000

Sport Suspension

$3,400

Competition Suspension

$4,400

Transmission

Stock Transmission

$1,000

Street Transmission

$29,500

Sports Transmission

$32,500

Race Transmission

$40,000

Turbo

None

$5,000

Turbo Tuning

$50,000

Wheels > Wheel Type
See the full list of the available Wheel Types options »
Wheels > Wheel Color
See the full list of the available Wheel Colors options »
Wheels > Tire Design

Stock Tires

$200

Custom Tires

$5,000

Wheels > Tire Enhancements

Standard Tires

$200

Bulletproof Tires

$25,000 (Rank 20)

Low Grip Tires

$500 (at LS Car Meet)

Wheels > Tire Smoke
See the full list of the available Tire Smoke options »
Wind Deflectors

No Wind Deflectors

$7,200

Primary Wind Deflectors

$11,520

Secondary Wind Deflectors

$12,240

Carbon Wind Deflectors

$12,960

Windows

None

$500

Light Smoke

$1,500

Dark Smoke

$3,500

Limo

$5,000
Comet S2: GTA V Screenshots
Comet S2: Custom Paint Jobs
Comet S2 Video