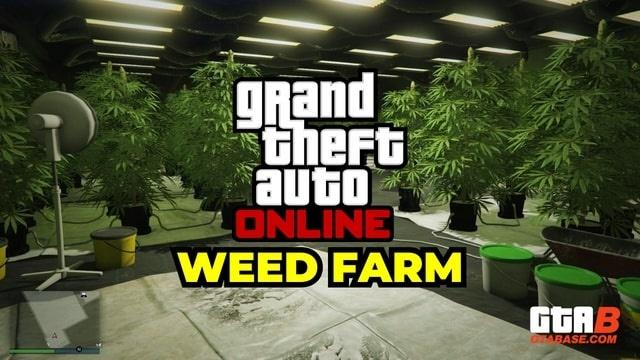 GTA illegal businesses are no less than an adventure. There's a fear of cops catching thieves and even your desperation to steal resources. Running a business is not all sunshine and rainbows, primarily the GTA Online Weed farm business. This is because you have to grind yourself hard to generate profits.
When I began with illegal businesses in GTA, I heard it was a loss. However, to diversify my income, I moved ahead with kudos; it works if managed efficiently. So, go for it only if you are a hard-core gamer, as it will also test your entrepreneur and gaming skills! If you are a GTA player who doesn't settle for less and extraordinary, let's check out more about it.
Requirements of Setting Up a Weed Farm
Like every GTA business, you also need a Motorcycle Clubhouse to run the Weed farm business.
If you don't have one, then here's how you have to get:
Head over to access the in-game laptop and access the Maze Bank Foreclosures Website
Navigate to the Clubhouse section and select your preferred location for it
Buy the MC Clubhouse and go to Motorcycle Club
Register as an MC president to proceed
It's important to note that it's most profitable if all your businesses are nearby and in centralized locations. Therefore, before buying MC Clubhouse consider your business location and choose accordingly.
How To Setup A Weed Farm Business in GTA Online
After setting up the MC Clubhouse, you must set up your business as the next step.
Go to Open Road Network in MC Clubhouse
Expand the Buy Business tab
Choose Weed option
Browse and finalize your preferred location
Proceed to buy it
For the first set of resources, you should drive to a location where you will get a Pony van. It would contain supplies, get them and begin your business production.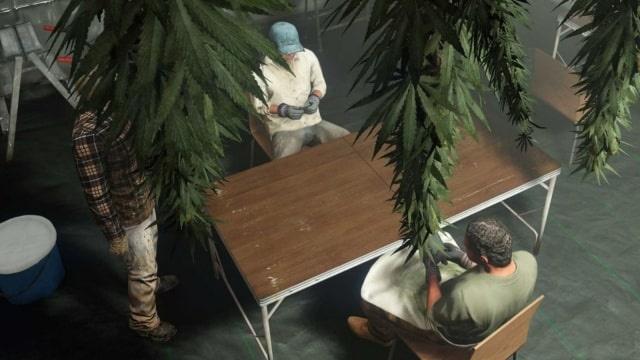 However, they will be your first set of resources. You have to buy further supplies, or else your production will stop. More supplies come for $15,000 per unit, which is the base price. It further increases depending on your needs.
However, the legitimate fun is stealing supplies from another organization. Surprisingly, it's more profitable as well!
GTA Online Weed Farm Location Options
There are various locations for GTA Online Weed Farm Business. You can choose the one you like from the given options!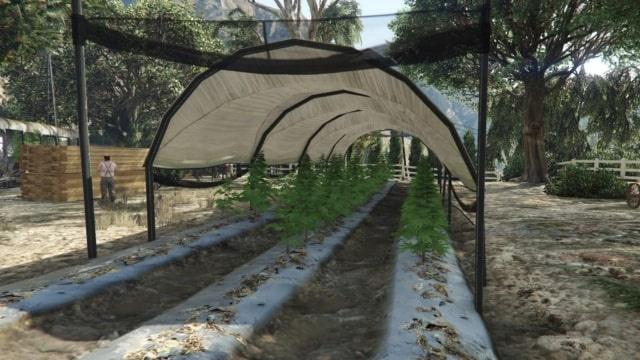 | | | |
| --- | --- | --- |
| Location | Price | Details |
| Downtown Vinewood | $1,358,000 | It is located in the neighborhood of Vinewood, a commercial area in the capital. The site is primarily known for shopping and business purposes. Consequently, there are more stores and greater chances of increased sales. |
| San Chianski Mountain Range | $715,000 | They are one of the longest Mountain ranges in the states. However, there are no roads or civilization in the area. Thus, it is more affordable than others on the list. It is remote, and many players get lost and stranded there. |
| Mount Chiliad | $805,000 | It is one of the three mountains in the capital San Andreas. It is the tallest peak in the state. Two towns are located at its base that can bring customers to your farm. However, that will be in small numbers, which makes it less expensive. |
| Elysian Island | $1,072,500 | It is located away from the mainland of the city. Thus, it is less popular than Downtown Vinewood. But, it is an industrial district with a port, warehouses, and shipyards. Therefore, getting supplies becomes easier, and you would also get certain customers. |
Downtown Vinewood is the ideal location for setting up your Weed farm since it is centralized. Thus, you can deliver supplies and get newer ones without wasting time and penny on travel.
It costs $1,358,000, which might be expensive, but it's worth it. You can visit other locations if you cannot afford it.
Upgrades for GTA Online Weed Farm
Choosing a farm and beginning the business gives you an extra edge in yielding high profits. In the long run, more profits will help you get resources and increased production that eventually helps serve more customers. Hence, going for upgrades is the apt solution.
Different upgrades include Staff, Security, and equipment upgrades. When you have all these three upgrades, it will increase production. Besides, it would require lesser time as well.
Consequently, you can earn more profits; however, you need to pay a specific price for that.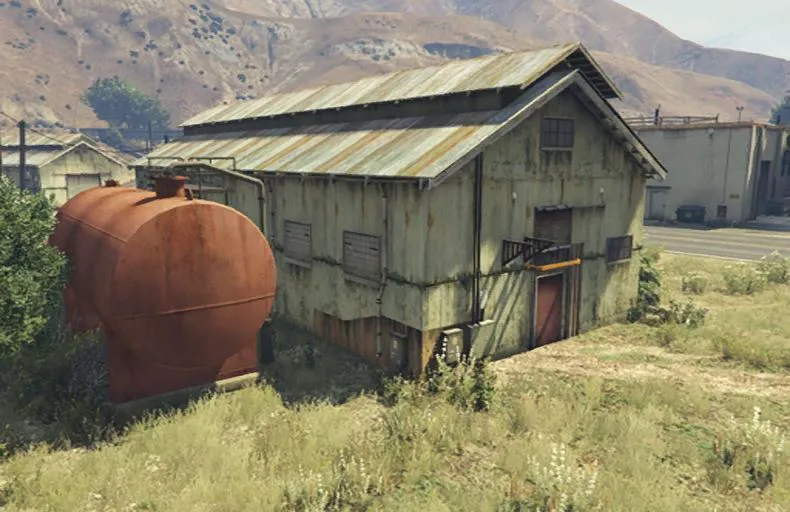 | | | |
| --- | --- | --- |
| Upgrade Name | Cost | Details |
| Equipment Upgrade | $990,000 | Do you want to install higher-quality equipment on your Weed farm? If so, you need this upgrade. It will help you increase your production levels. Alongside, it will make your products more expensive. |
| Staff Upgrade | $273,000 | To reduce your production time, you need a staff Upgrade. It will improve your production rate. Further, it will increase your profit levels. |
| Security Upgrade | $313,500 | There are chances that someone would steal your product before you can sell and earn from it. Or else the police might raid it, and you can lose your products. So, to prevent any raids, attacks, or theft, you need to get security upgrades. |
Maximum Earnings from Weed Farm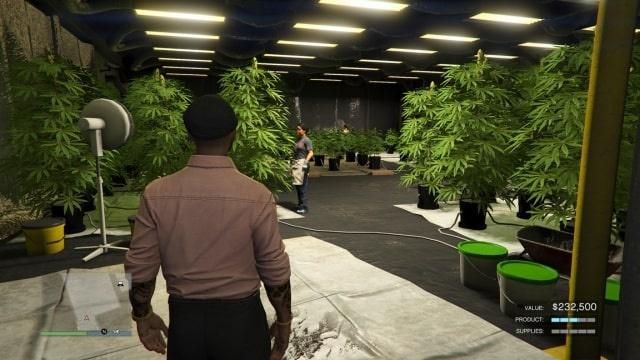 Arranging the requirements, buying the location, and paying for upgrades are also expensive. You might think you would re-earn the money you spend by making profits in the weed farm business. But it won't be easy.
It's because your pay will depend on the number of upgrades you have on your Weed Farm. You need to get all the updates to get the maximum profits available.
| Upgrade Status | Cost of Upgrade | Unit Profit | Minutes Per Unit |
| --- | --- | --- | --- |
| No Upgrade | $0 | $1,500 | 6 |
| Security Upgrade | $313,500 | $1,500 | 6 |
| Equipment Upgrade | $990,000 | $1,800 | 5 |
| Staff Upgrade | $273,000 | $1,800 | 5 |
| Equipment/Staff Upgrade | $1,263,000 | $2,100 | 4 |
| All Upgrades | $1,576,500 | $2,100 | 4 |
Profits in GTA Online Weed Farm Business
Weed farms are among the most popular illegal businesses in GTA online to make passive income. The total cost for set up and upgrades will be around $2,621,500. Moreover, you will need at least 55 hours to earn it back.
The psychoactive drugs from Weed Farm have a demand among limited people, particularly in Los Santos and Blaine County. However, specific bonuses will come in the following weeks if you plan to go ahead.
But, if you are a beginner, this can be the least profitable business to earn from.
The Wrap Up
GTA Online Weed Farm Business still stands underrated amongst the illegal prevailing businesses in the game. It's noteworthy that the business does generate significant profits after a specific time and a constant source of supplies.
For setting up your Weed farm, there are four locations; Downtown Vinewood, Mount Chiliad, Elysian Island, and San Chianski Mountain Range. You can choose the relevant one based on your budget and needs.
Further, you should get the staff, equipment, and security Upgrade for more efficiency and profitability.
BTW, which more illegal businesses do you run in GTA Online?
PS: I'm not a cop, so I won't RAID!