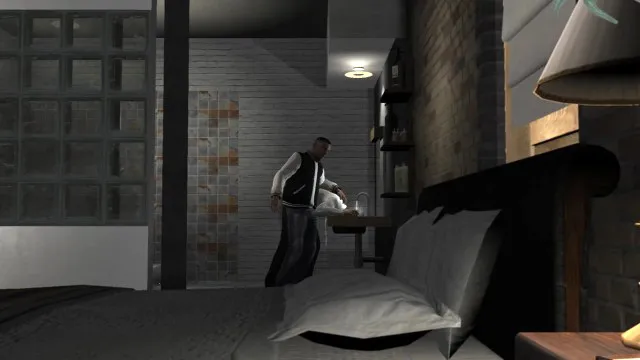 Bang Bang is a main story mission in GTA IV: The Ballad of Gay Tony, given by Gay Tony Prince.
It's the 8° TBoGT mission in chronological order, and it takes place in Algonquin.
Luis destroys a crane, a train and a plane using Sticky Bombs.
After the plane explodes, police radio chatter mentions 'terrorist activity'.
100% Completion Requirements
The following are the Mission Objectives required to obtain 100% completion in the mission "Bang Bang":
Complete the mission in 5:00
Take less than 50% Damage
Only five bombs were used (three for the crane, one for the subway car, and another for the plane).
Note: You can complete each requirement in multiple playthroughs of the mission. You don't need to obtain them all in one single playthrough.
Bang Bang: Mission Objectives
The first target is a construction foreman. He operates the nearby crane.
Throw several sticky bombs onto the base of the crane.
The crane is rigged to blow, get clear.
Now detonate the bombs to destroy the crane.
The next target is on an out of service subway train, intercept it at the tunnel exit.
Destroy the train using sticky bombs.
Get to the airport. The next target's plane is taking off soon.
You must destroy the plane before it takes off.
Lose the cops.
Bang Bang: Mission Info
Game Edition

GTA IV: The Ballad of Gay Tony
Mission Number

8

Mission Giver

Gay Tony Prince

Location

Tony's Apartment, Little Italy

State / Area

Algonquin

Available After Mission (Story Mode)
Rewards

$2500

Unlocked Items

Sticky BombBoulevard BabyFrosting on the Cake
Bang Bang: Video Walkthrough