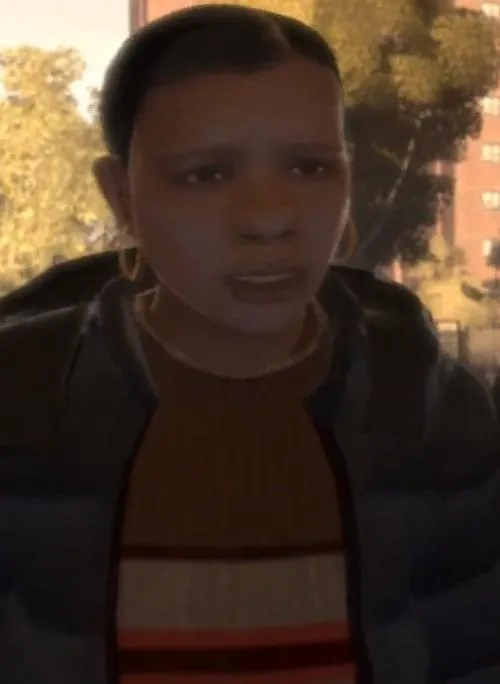 Cherise Glover appears as a Random Character and Minor Character in Grand Theft Auto IV.
Cherise is the ex-girlfriend of Dwayne Forge.
While Dwayne was incarcerated, she received money from him to pay rent, but she started dating Jayvon Simson, one of Dwayne's good friends.
Random Encounter
Unlocked after "The Holland Play", if Cherise was spared in "Ruff Rider".
Available 24 hours a day.
Found near the Cluckin' Bell in Northwood.
Niko reunites with Cherise and learns that her new boyfriend is beating her. Niko then is led to Cherise's boyfriend, who he will beat up and warn to stay away from Cherise. If Niko kills Cherise's boyfriend, she will get angry and tell him to stay away from her.
Cherise Glover: Character Info
Game Edition

Grand Theft Auto IV
Gender

Female

Born In Year

1979 (29 years old in 2008)

Nationality

United States

Location

Algonquin, Liberty City

Performer / Actor

Ja'Tovia Gary

Affiliation

Dwayne ForgeJayvon Simson
Cherise Glover: Appearances
Cherise Glover Spawn Locations in Grand Theft Auto IV

Where to find the Cherise Glover in

Grand Theft Auto IV

:

In her random encounter, she can be found near the Cluckin' Bell in Northwood.

Appearances in Story Missions: