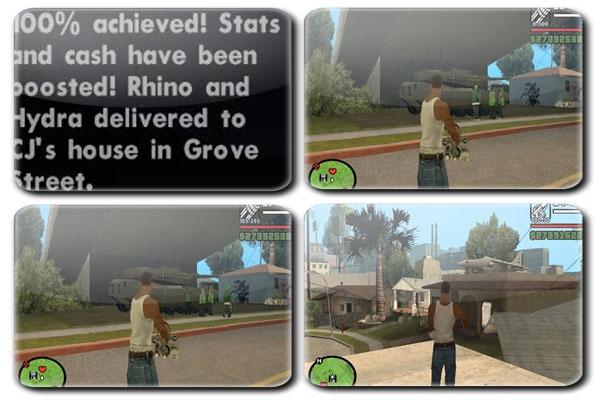 You might want to know why there are side missions or odd jobs to complete in GTA San Andreas, such as spraying 100 gang tags, completing trucking missions, looking for vehicles and exporting them, collecting 100 oysters, or completing all street races.
Here is the answer! GTA San Andreas is a game full of rewards like money, respect, new jobs, new properties, new assets, or new cities. Besides those rewards, of course, there are more special rewards for completing all missions in the game with 100% game progress.
The following are special rewards that you will get after completing the last mission "End of The Line" with 100% mission completion.
Note: You will get a message on the screen after getting 100% completion like the picture below: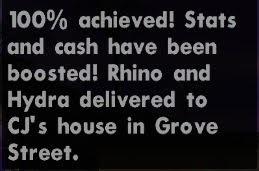 Rewards for Playing GTA San Andreas with 100% Completion
1. Carl Johnson will get $1,000,000 cash. Then, what is that much money for? If you want to have a "King of San Andreas" criminal rating in the Stats, every $5,000 adds 1 point.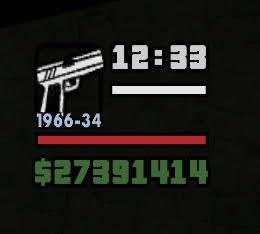 2. Carl Johnson will have "Infinite Ammo". It means every weapon will have unlimited bullets or items. Instead of getting reduced, the amount of the ammo will be increased, and it will reset if C.J. changes the weapon.
3. Every vehicle which Carl Johnson is driving will have double endurance. So, the car or motorcycle C.J. use will not get damaged easily.
4. The Hydra jet is parked on the roof of Sweet's House, and it can be used anytime.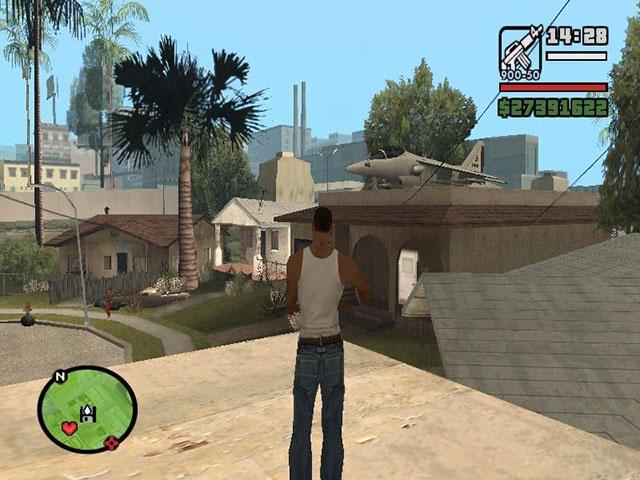 5. The Rhino Tank is parked under the Ganton Bridge, and it can be used anytime.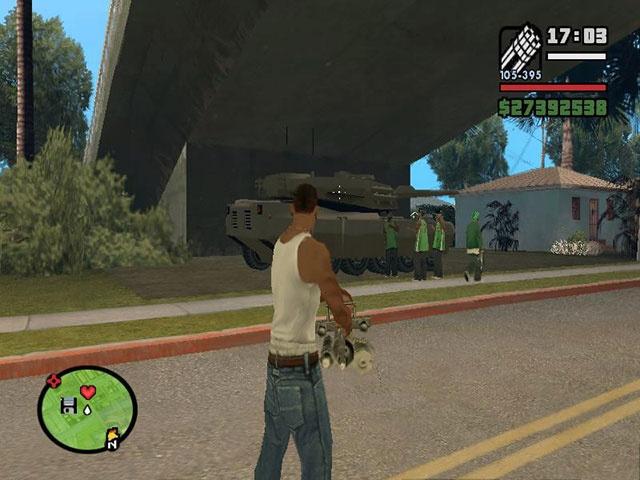 How to Get 100% Completion in GTA San Andreas?

The following is a quick list of things to do and complete to achieve 100% Completion. Note that the progress in completing all missions in GTA San Andreas can be seen in Pause Menu > Misc. > Progress Made.
Buying all Safehouses in San Andreas.
Collecting all collectible items:

Spraying all 100 Gang Tags with Grove Street Families' Tags in Los Santos.
Capture all 50 Photo Ops (Snapshots) in San Fierro with a camera.
Collecting all 50 Horseshoes in Las Venturas.
Collecting all 50 Oysters in San Andreas.

Completing the transport of 50 fares in the Taxi Driver mission. This mission is triggered by driving a taxi or a cab.
Completing 12 levels of the Vigilante mission. This mission is triggered by driving a police car or cop motorbike. The objective of the Vigilante mission is to eliminate all car-driving criminals cruising around San Andreas.
Completing 12 levels of the Firefighter mission. This mission is triggered by driving a fire truck. The objective of the Firefighter mission is to extinguish the fires which are burning cars and also pedestrians.
Completing 10 levels of the Pimping mission. This mission is triggered by driving a Broadway car in the main cities of San Andreas. The objective of the Pimping mission is to drive prostitutes who want to meet their clients.
Completing 12 levels of the Paramedic mission. This mission is triggered by driving an ambulance. The objective of the Paramedic mission is to save injured pedestrians by taking them to a hospital for treatment.
Completing the BMX Challenge in Los Santos. This mission is triggered by riding a BMX bicycle parked in Glen Park Skate Park, Los Santos. The objective of the BMX Challenge is to collect 19 floating coronas using the BMX bicycle in a limited time.
Completing all 3 Chiliad Challenges in Whetstone. This mission is triggered by riding a mountain bike parked on the peak of Mount Chiliad. The objective of Chiliad Challenges is to get a first-place finish in all races.
Completing the NRG-500 Challenge in San Fierro. This mission is triggered by riding an NRG-500 motorbike parked at a dry dock in Easter Basin. The objective of the NRG-500 Challenge is to collect 18 floating coronas using the NRG-500 motorbike in a limited time.
Winning all challenges at Los Santos Stadium, San Fierro Stadium, and Las Venturas Stadium.
Defeating all 3 trainers at the Gyms in Los Santos, San Fierro, and Las Venturas. After beating a trainer, Carl Johnson will be taught a new fighting style, which will be different, depending on where C.J. beats the trainer.
Winning all challenges at Ammu-Nation, i.e. Pistol Challenge, SMG Challenge, Shotgun Challenge, and AK47 Challenge.
Completing all of the tests at the four Schools in San Andreas:

Driving School Tests in San Fierro.
Pilot School Tests in Verdant Meadows.
Bike School Tests in Las Venturas.
Boat School Tests in Bayside Marina.

Completing all missions to acquire assets:


8 trucking missions at RS Haul in Flint County.
5 levels of Valet Parking missions in San Fierro.
7 missions at the Hunter Quarry in Bone County.

Completing all Courier missions:

Roboi's Food Mart in Los Santos.
Hippy Shopper in San Fierro.
Burger Shot in Las Venturas.

Winning all Street Races in San Andreas.
Completing all 3 Wanted Lists of vehicles to be exported in San Fierro.
Completing all Freight Train Challenges.
Completing all Main Story Missions.
So, there are 20 things to do in the game GTA San Andreas to get the five special 100% completion rewards above. All these missions can be accessed gradually and along with the completion of all main story missions in the previous cities. Some of them require Carl Johnson to buy an asset or property.
For more details, check out our dedicated GTA San Andreas 100% Completion Guide.
Which mission do you find hard to complete? Leave your comments below.