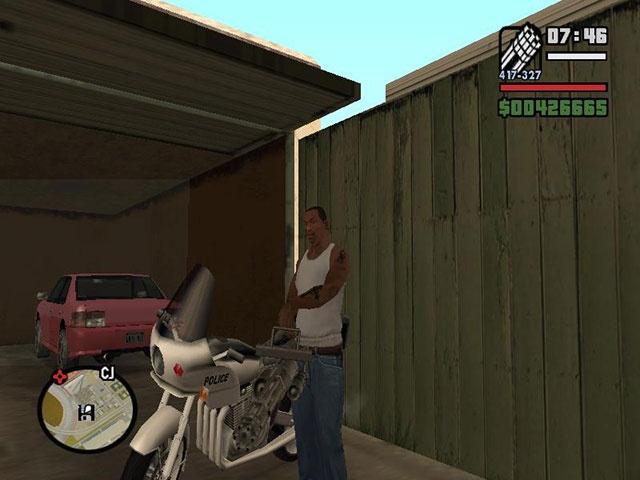 Vigilante is a sub-mission in GTA San Andreas that must be completed at least up to level 12 to achieve 100% Completion.
Basically, Vigilante is a mission to hunt and eliminate criminals who are driving cars around San Andreas. The vehicles triggering the Vigilante mission are the vehicles that are used by the cops, the FBI, or the soldiers.
Completing Vigilante Early in the Game
Vigilante should be completed early in the game because the reward given will help Carl Johnson complete missions in GTA San Andreas. The Vigilante mission reward is the Body Armor that C.J. is using becomes 150 points, instead of 100 points normally.
For some GTA gamers, completing Vigilante up to level 12 might be not easy. However, of course, there are easy ways and tricks to complete the mission easily and fast such as maneuvering when being chased by the cops, choosing suitable vehicles and weapons, or being familiar with the Police Bribe locations.
Recommended Location to Start Vigilante
The most suitable location to complete Vigilante easily and fast is The Countryside or The Badlands, e.g. Red County.
Recommended Vehicle to Use in Vigilante
The vehicles to use for triggering Vigilante vary, including the following: Barracks, Enforcer, FBI Rancher, FBI Truck, HPV1000, Hunter, Police Car, Ranger, Rhino, and S.W.A.T.
Because Vigilante is better to complete early in the game, the kinds of vehicles to use are limited, i.e. the cop bike HPV1000 and the cop car LSPD and Ranger. I recommend HPV1000 because the bike can run very fast, and Carl Johnson can fire an object forward and sideward.
Recommended Weapons to Use in Vigilante
Micro SMG or Micro Uzi is suitable to use because Carl Johnson can fire forward while riding HPV1000. The Micro SMG icon spawns at the back of the Johnson's House in Ganton. To be precise, it is under the bridge that connects Ganton and East Beach. Note that an icon that has been taken will reappear after 6 hours in the game, or if you save the game.
The main weapon to use in this tutorial is Minigun. The Minigun is one of the strongest weapons in GTA SA. It can fire up to 500 bullets per 16 seconds. The range of fire is very long so that Carl Johnson can destroy the criminals' cars from a long distance. By using Minigun, the time needed to successfully eliminate the criminals becomes short. Using Minigun has overcome one of the difficulties of the Vigilante mission, right?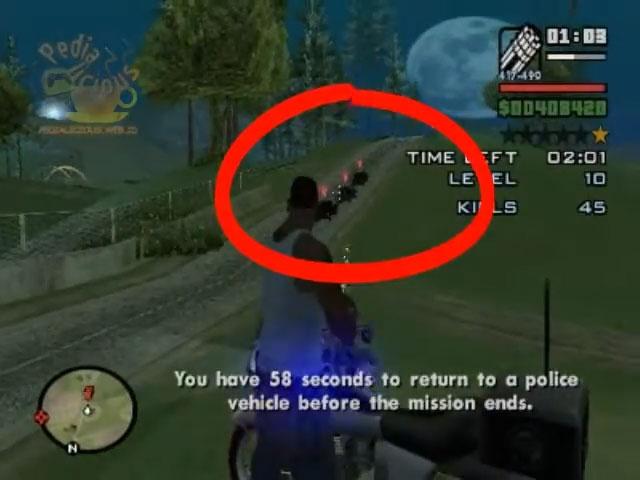 Below is a tutorial video on "How to Get 2 Miniguns in Las Venturas Early in the Game".
GTA San Andreas Vigilante Mission Structure
Vigilante Mission Levels
Level 1: Eliminate 1 Criminal (1 Car)
Level 2: Eliminate 2 Criminals (1 Car)
Level 3: Eliminate 3 Criminals (1 Car)
Level 4: Eliminate 4 Criminals (1 Car)
Level 5: Eliminate 5 Criminals (2 Cars)
Level 6: Eliminate 6 Criminals (2 Cars)
Level 7: Eliminate 7 Criminals (2 Cars)
Level 8: Eliminate 8 Criminals (2 Cars)
Level 9: Eliminate 9 Criminals (3 Cars)
Level 10: Eliminate 10 Criminals (3 Cars)
Level 11: Eliminate 11 Criminals (3 Cars)
Level 12: Eliminate 12 Criminals (3 Cars)
Vigilante Mission Rewards per Level
Level 1 - $50
Level 2 - $200
Level 3 - $450
Level 4 - $800
Level 5 - $1250
Level 6 - $1800
Level 7 - $2450
Level 8 - $3200
Level 9 - $4050
Level 10 - $5000
Level 11 - $6050
Level 12 - $7200 and Maximum Armor Increased by 50% (Complete Level 12)
Vigilante Mission Failure
Vigilante mission will fail if certain conditions are met, as follows:
Carl Johnson is busted.
Carl Johnson exits the vehicle and does not re-enter after 60 seconds.
The player cancels the mission by hitting the keyboard button "2".
Carl Johnson is running out of time.
Carl Johnson is wasted.
Other Tips for Completing Vigilante in GTA San Andreas
It is better to get maximum Bike Skill before starting the Vigilante. The easiest and fastest way to increase Bike Skills is to ride any motorbike frequently, and the most suitable place is the runway of Los Santos International Airport.
Grab Body Armor before starting the Vigilante.
Below is a tutorial video on "Easy Vigilante Mission Using Miniguns Early in the Game".

The Vigilante mission is very easy to complete, right? It depends on which vehicles you choose, weapons to use, police bribes to take, and the place to start the mission. If you have any questions, do not hesitate to leave them below!