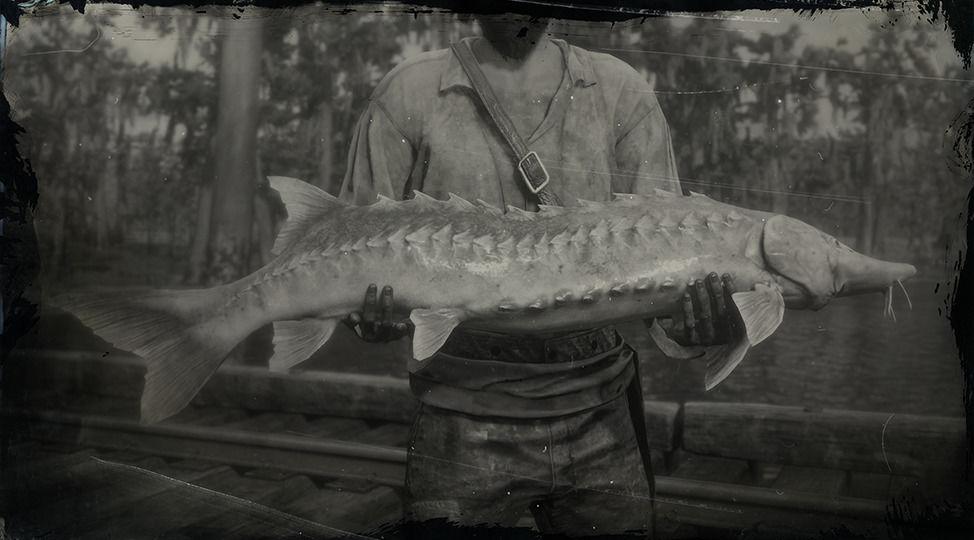 The Lake Sturgeon is a Medium-sized fish featured in Red Dead Redemption 2 and Red Dead Online.
It's not required for the "Zoologist" and "Skin Deep" Achievements.
Lake Sturgeon Details & Location:
Lake Sturgeon are large, strong, bottom-feeding fish that dwell in the deeper waters of some Southern lakes and swamps. They can be tempted to bite by man-made Lake Lures. Lake Sturgeon are known to be more active during overcast weather. A huge Legendary Lake Sturgeon is rumored to have been spotted around the Lannahechee River delta.
Lake Sturgeon Fishing Tips:
Using a Lake Lure will increase your chances of a successful catch
Lake Sturgeon Info
Animal Species

Lake Sturgeon

Animal Class

Fish

Animal Family

Acipenseridae

Size

Medium

Location

Found in Lakes in the South Region, or in Swamps (Lemoyne), preferably with Overcast Weather

Hunting

Can be fished

Required for Achievement

No
Scientific Name

Acipenser Fulvescens
Lake Sturgeon Appearances
Game Edition

Red Dead OnlineRDR 2 Story Mode
Screenshots
Artworks