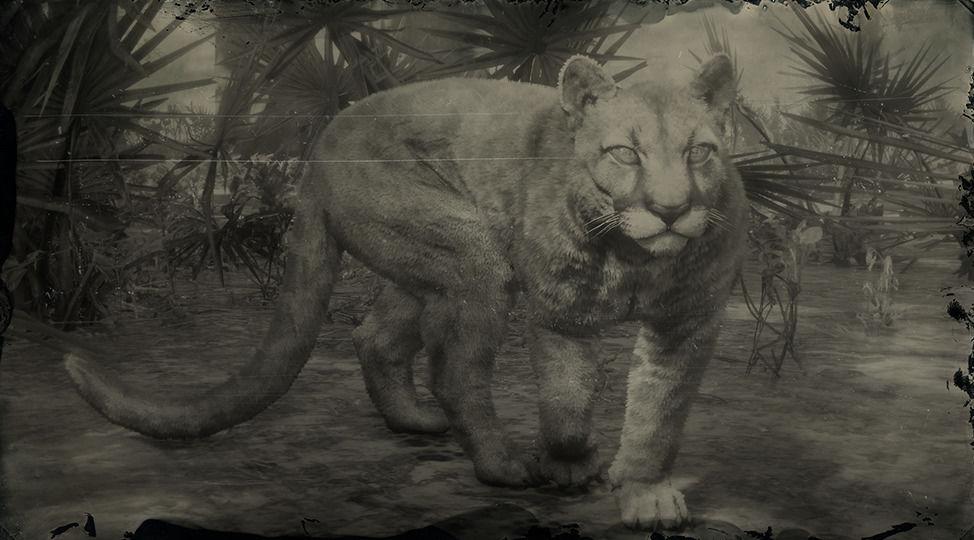 The Florida Panther is an animal of the Panther species, featured in Red Dead Redemption 2 and Red Dead Online.
This animal can be hunted and skinned. Studying and skinning the Florida Panther is required for the "Zoologist" and "Skin Deep" Achievements.
Florida Panther Details & Location:
The Florida Panther can be found in the remote forested wetlands of Lemoyne. As carnivores, they prey on armadillos, raccoons, white-tailed deer, feral hogs, and occasionally alligators. These temperamental cats can be killed or wounded using a rifle, or a Bow with Poison Arrows. The heart and claws from panthers can be used for crafting, and their meat can be used for cooking.
Florida Panther Hunting Tips:
The Florida Panther yields a pelt and big game meat. Used in crafting and cooking or can be sold. Use a rifle for a clean kill.
Florida Panther Info
Scientific Name

Puma concolor coryi
Florida Panther Appearances
Game Edition

Red Dead OnlineRDR 2 Story Mode
Screenshots
Artworks
Coming soon.