Back in June, Rockstar revealed the Red Dead Redemption 2 Editions, preorder bonuses, and a really cool Collectors Box, which is available now for preorder at Gamestop, with a price tag of $99.99 (the game is sold separately). You can check here for all the content included in each edition and the Collectors Box which comes with some really cool stuff all packed inside a Metal Tithing Box with Lock & Key.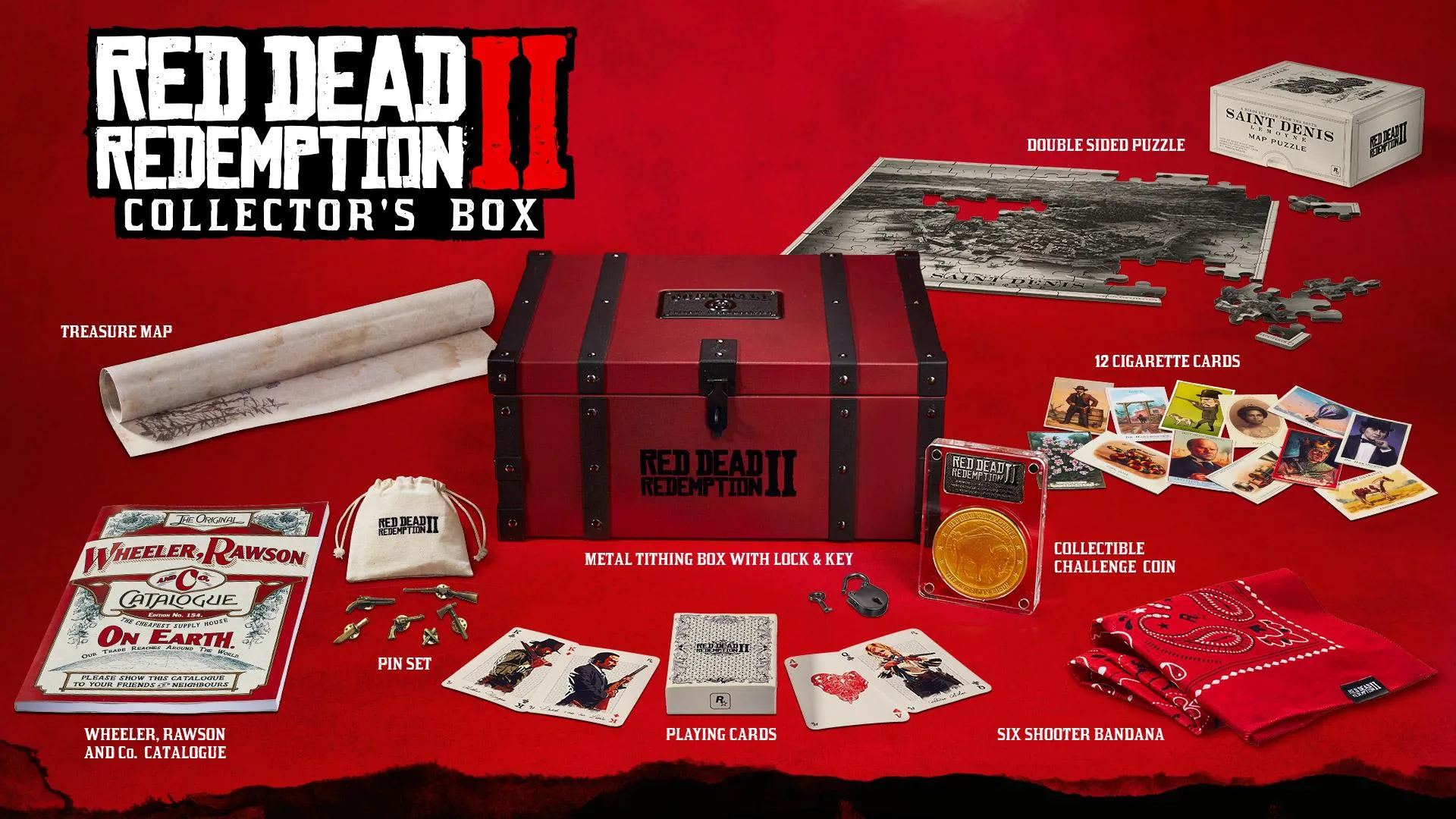 We've listed and detailed the contents included in the Collectors Box below
Metal Tithing Box with Lock & Key: Inspired by the lockbox used by the Van der Linde gang to stash contributions to the camp's upkeep, this thick gauged metal box includes a lock & key, and features black metal band detailing and an engraved Cornwall Freight & Commodities plaque.
Collectable Challenge Coin: Featuring the majestic American Buffalo on one side and a scenic landscape on the other side, this engraved, gold-colored collectable coin comes in a magnetic presentation holder with a black, engraved plaque describing the history of this endangered species.
Double Sided Puzzle: This double-sided, 100-piece wooden jigsaw puzzle features an illustrated view of the bustling port of Saint Denis on one side, and a classically inspired Rockstar Games logo on the reverse.
Six Shooter Bandana: A staple for any frontier outlaw, this bandana features a traditional paisley-inspired pattern with hidden weapon iconography throughout.
Treasure Map: Printed on durable, unrippable paper, this exclusive treasure map reveals the location of some buried treasure that may start Arthur on a search for more riches hidden throughout the world of Red Dead Redemption 2.
Pin Set: This set of six individual pins includes representations of key weapons from Red Dead Redemption 2 including a shotgun, revolver and Dead Eye "X" marker. The set comes in a canvas carrying bag.
Playing Cards: Commemorate the outlaws of the Van der Linde gang with this fully illustrated deck of playing cards featuring key members of the gang including Arthur Morgan, John Marston, Javier Escuella, Bill Williamson and Dutch van der Linde.
Wheeler, Rawson and Co. Catalogue: The one-stop shop for everything from weapons to clothing, the Wheeler, Rawson and Co. Catalogue is an essential shopping tool for turn of the century life. This complete 150-page book is a replica of the edition found in stores throughout Red Dead Redemption 2.
12 Cigarette Cards: These beautifully-illustrated collectable cards can be found throughout the world of Red Dead Redemption 2. This physical collection includes one select card from each set like Famous Gunslingers and Outlaws, Stars of the Stage and Marvels of Travel and Locomotion.
Gamestop has announced that a special Red Dead Redemption 2 Collector's Box will be hitting its shelves soon. -GameRant
Head over to gamestop.com and get ready for that pre-order.