Earn the following rewards on all races this month in Red Dead Online:
4 X RDO$ for participating in Standard Races
3X Gold for cutting your own route between points A and B in Open Races
5X XP for steady shooting while out-racing the competition in Target Races
All Blood Money Contracts are also paying out 2X RDO$ and XP, all month long. Free Roam Missions will pay out 2X RDO$ and XP as well.

Free Community Outfit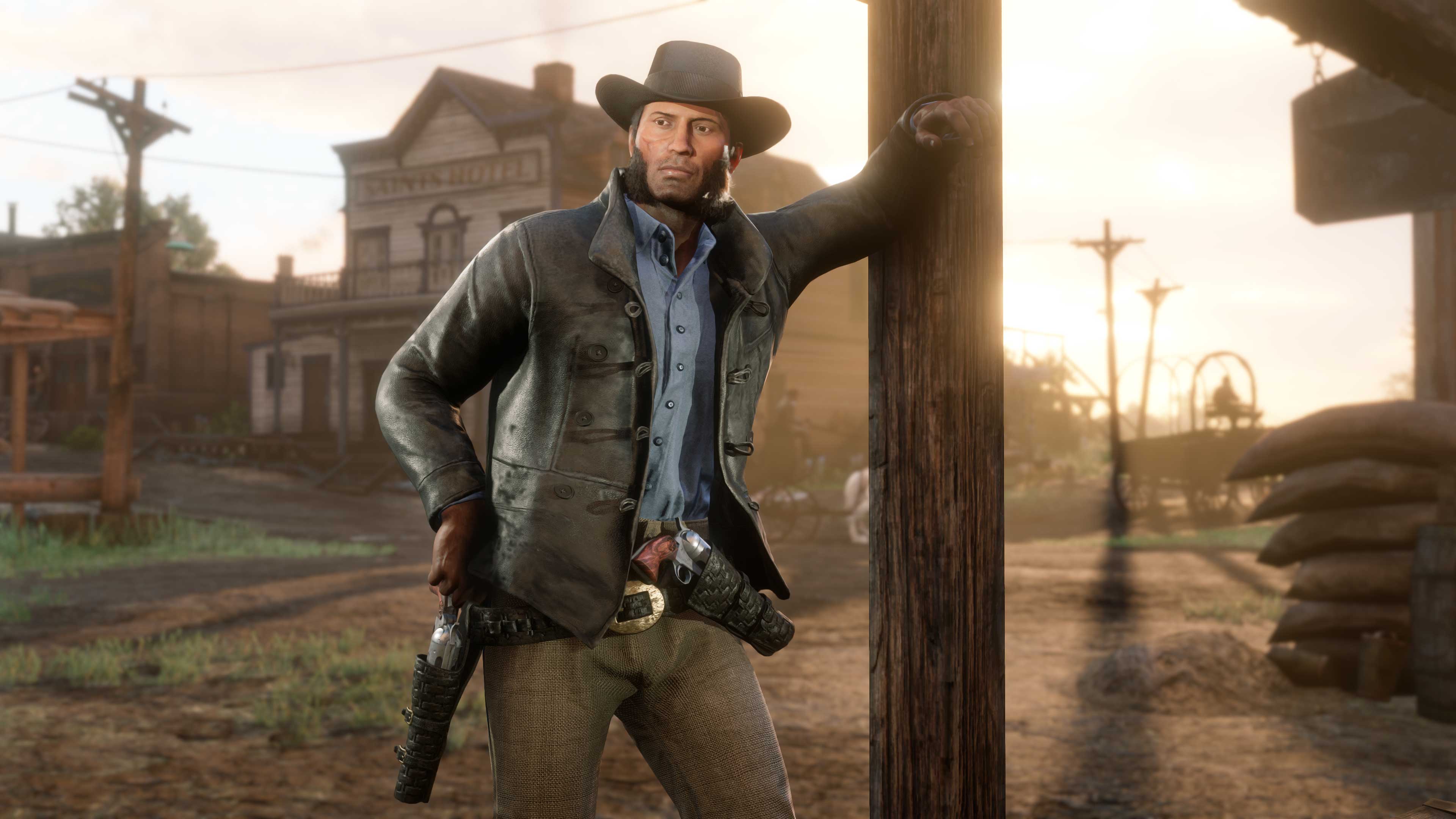 Assemble the outfit above, inspired by Redditor happychrimus from the r/reddeadfashion subreddit, by claiming the following:
Gambler's Hat

Black Clymene Coat or Hartman Jacket

White Casual Shirtwaist or Everyday Shirt

Bandito Pants

Worn Roper Boots

Woven Pistol Gun Belt and Woven Pistol Holster
To fully replicate the happychrimus look, you'll need to swap in the Wakeeney Hat, so we've also made a select colorway of the Wakeeney Bounty Hunter Outfit free to Bounty Hunters this month as well. All the above are available from local Tailors and the Wheeler, Rawson & Co. Catalogue, free of charge until June 6.
Featured Series Calendar
Here's a rundown of each week's rotating Featured Series, along with special weekly bonus incentives. All Rewards and Offers will be delivered within 72 hours of completion.
May 3 - May 9: Race Series
Dispense some frontier justice by completing any Bounty Hunter Mission to receive an Offer for 40% off a Bounty Hunter Novice or Promising Role Item

Completing "A One Horse Deal" will yield an Offer for 50% off the Fast Travel Post for your Camp
May 10 - May 16: Open Target Races and Overrun
Collectors who reach Rank 10 and above will receive an Offer for 40% off a Collector Novice or Promising Role Item

Win 2 rounds of this week's Featured Series to receive a bonus to the tune of RDO$100
May 17 - May 23: Races and Shootouts
Complete 10 Daily Challenges this week to receive the Yeehaw Emote

Complete 2 Trader Sell Missions to receive a Citadel Rock Treasure Map
May 24 - May 30: Select Races
Play with your Persistent Posse to receive the Respectful Bow Emote

Pave the way for your bootlegging route by destroying 3 Revenue Agent Roadblocks to receive a select colorway of the Levens Gun Belt
May 31 - June 6: Target Races and Capture Mode
Riders who place Top 3 in any race this week will receive a select colorway of the Vaquero Baroque Spurs

Purchase any Pamphlet this week to receive a bonus of RDO$150
In addition to the above, Red Dead Online players will receive 10 Classic Oatcakes, 10 Horse Meal, and 10 Apples to keep their mount nourished every week this month. Participating in a Nominated Series every week before June 6 will reward you with 10 Capitale. Plus, purchasing any Weapon Modification will result in a bonus of 5 Special Horse Stimulant.
Discounts

50% Off
Horse Food
Stable Slots
Stirrups
Reinforced Lasso
40% Off
30% Off
Emotes
Race Horses
War Horses